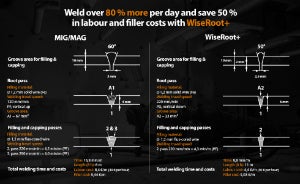 Kemppi's FastMig X product series offers superior welding quality for demanding industrial applications. It features three alternative high-end sample setups for different purposes: FastMig X Regular for MIG/MAG pulse welding, FastMig X Pipe for pipe and root welding and FastMig X Intelligent for diversified welding applications, for all metals and processes. Or one can order a tailored version.
The new FastMig X series is a modular welding system that can be optimized for specific professional welding applications by choosing suitable components and software package options. Arc Mobile Control software is bringing totally new and flexible way to use and control the welding machine, for both production management and for the welders.
When ArcVoltage feature is enabled, FastMig X automatically shows the actual arc voltage on the display during welding. This means that you can see exactly the right voltage from the welding arc, and can easily keep your welding values inside the predefined range regardless of the size and length of the cables.
FastMig X Regular – Top quality for industrial welding
FastMig X Regular is designed for basic pulse MIG welding, especially for robust metal plates and thick base materials. It suits demanding welding tasks in industrial welding applications at a workshop or construction site.
In addition to MIG/MAG and Synergic MIG welding processes, it has also pulsed and double-pulsed MIG as a standard.
FastMig X Pipe – Five times faster root welding
FastMig X Pipe is specially designed for pipe welding. It is also suitable for plates and fast root welding from one side. It produces excellent weld quality, especially when running open gap root passes on pipes or plates without using backing support.
WiseRoot+ is up to five times faster than TIG in root welding and three times faster than Synergic MIG. Strong and precise twin-motor wire feed mechanism is reliable even in the most demanding welding environments.
FastMig X Intelligent – For all metals and processes
FastMig X Intelligent is suitable for all high-end welding applications, all metals and processes, including the welding of thin sheets. It suits all demanding welding tasks in any industrial welding application at a workshop, shipyard or construction site. It has a DuraTorque DT wire feed mechanism and a full palette of welding programs for various purposes, filler wires and shielding gases.
The Intelligent configuration has the complete software package as a standard. Additionally, Arc Mobile Control software for Android mobile devices can be used for easy monitoring, control and adjustment of welding parameters and settings. Once set, the settings can be copy-pasted from one welding machine to another.
Technical brief
Multi-process welding system: MIG, Synergic MIG, pulsed MIG, double-pulsed MIG, MMA, and TIG. In addition all modified Wise welding processes are compatible.
Two power levels: 450 A @ 60 % and 350 A @ 80 % (also multi-voltage model)
Arc Mobile control for wireless adjustment of welding parameters and settings.
Sampling rate 20 million per second.