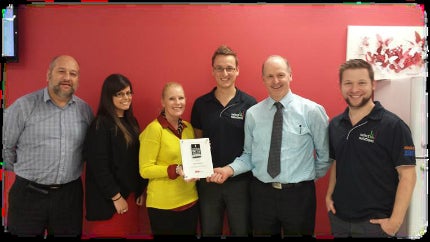 Each year, Aon Hewitt holds their 'Best Employer' Award Programme in nine separate global regions. This year Select Solutions has been announced as one of the top 16 companies, out of 120 competing businesses from across Australia and New Zealand, to receive accreditation as a Best Employer for 2014.
Select has been recognised as having outstanding employee engagement scores and delivering excellence in people management practices.
Since its establishment in 2009, Select Solutions has grown to nearly 900 employees, delivering services to the utility and infrastructure sectors across Australia, and this recognition is a proud moment in what has been a monumental year for the company.
The prestigious accolade from Aon Hewitt is based on the overwhelmingly positive results of an employee engagement survey, which reflects the commitment Select Solutions has given to people management and workplace culture over the last three years.
Select Solutions is now assessed as being in the top quartile of each of the four talent management indexes:
Employee engagement: for our 80% overall engagement rating in 2014
Effective leadership: being people focussed
Aligned employer brand: being part of a customer focussed growth business with our trademark 'united, trusted and dynamic' behaviours as our centrepiece
High performing culture: alignment with our business vision, strategy and plans
In addition to this accomplishment, the past 12 months has seen Select Solutions complete its third business acquisition, gain significant exposure in new markets, and establish a state-of-the-art laboratory in Singapore.
Collectively, these accomplishments are living proof that where you find high levels of employee engagement you also see great financial results, strong growth, and high levels of customer satisfaction.
Select Solutions, with its breadth of service offerings and number of field based staff, has become a unique employer within the traditionally low engagement utility sector to receive Best Employer status.
Power transformers are a key element of power networks and therefore their periodic condition assessment...