Modern thermal systems (including steam generators in nuclear power plants) work with a high level of effectiveness and require suitable construction materials in order for them to be safe and work without any problems for a long period of time. Steel tubes are important construction materials used in these types of facilities.
Steel tubes for power generating facilities
Železiarne Podbrezová produces a wide range of steel tubes. Tubes for power generating facilities (frequently referred to as boiler tubes) are from the set standards point of view classified into a group of tubes for pressure usage at higher temperatures.
Production and testing of these tubes goes through a very tough screening process. In terms of European Standards this is a three-level structure. The appropriate directive for pressure equipment is at the level of being a law. This is closely connected with the whole set of standards for construction of appropriate power generating facilities and they in turn determine the standards for individual construction materials (tubes, sheets, etc.). Producers and suppliers of tubes must have the proper certification for the system and production.
Pressure seamless steel tubes
Železiarne Podbrezová produces pressure seamless steel tubes according to EN 10216 standards (except steel tubes made out of rust-resistant steels) and their corresponding standards and directives.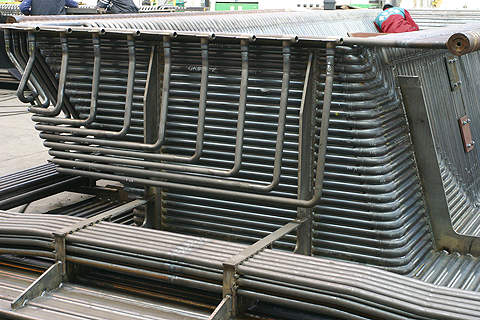 These images show some examples of Železiarne Podbrezová tubes in action. Shown here is Alstom Power, Brno, Czech Republic.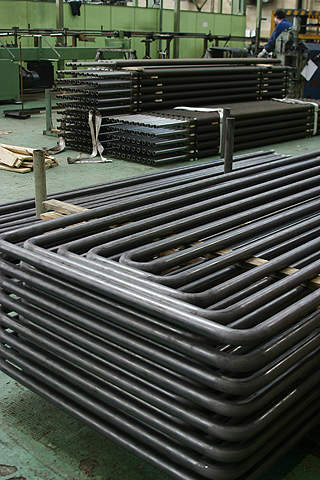 Bronswerk Heat Transfer, Dečín, Czech Republic.
Slovenské energetické strojárne, Tlmače, Slovakia.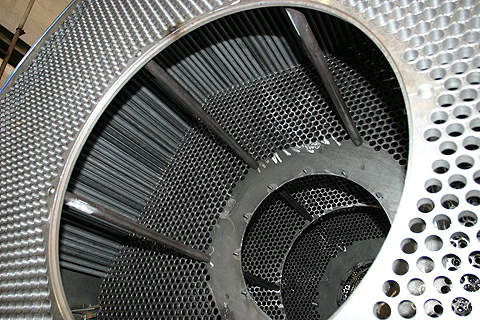 PBS INDUSTRY, Třebíč, Czech Republic.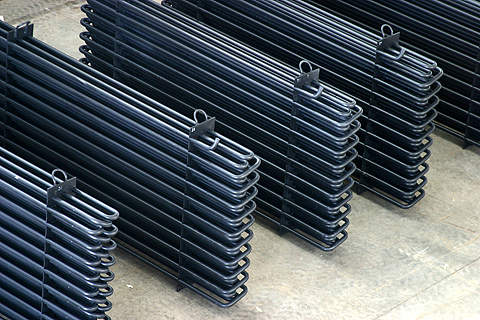 Liberecké kotlárny Hölter, Liberec, Czech Republic.
Tubes for pressure services have a wide application in many industries. Use for a particular kind of tube (depending on pressure value, temperature and the kind of transported medium) is specified in the appropriate regulations for pressure services.
Boiler tubes
Boiler tubes are used for power plant construction, such as boiler components and steam superheaters in power plants, heating plants and boiler rooms.
Heat exchanger tubes
Heat exchanger tubes are used mainly for heat exchangers in which energy is transferred from one medium to another. This heat transfer can be combined with or without medium phase change. Heat exchanger tubes are used in the power and chemical industries and in heating or air conditioning devices.
Tubes for heat exchangers are supplied as cold drawn and can be delivered with internal riffling.
Fine grain steel tubes
Železiarne Podbrezová produces fine grain steel tubes. These pressure services tubes are made from steel with feritic grain size 6 and less. Fine grain steel tubes are used when the required characteristic of impact strength should be guaranteed.
Steel tubes for low temperature
We also manufacture steel tubes that are suitable for use in apparatus and appliances using low temperatures.
Steel tube grades
Here is a brief overview of the technical parameters of steel tubes we supply:
Carbon steel: St 35.8, St 45.8, P 235GH, P 265GH (DIN, EN), Grade A, Grade B, Grade C, according to US standards
Mo steel: 15Mo3, 16Mo3, T1, T1a, T1b (DIN / EN / US)
Cr-Mo steel: 13CrMo4 4, 13CrMo4-5, T12, P12, 10CrMo9 10, 10CrMo9-10, X11CrMo9-1, T22, P22, 7CrMoVTiB10-10, T24, (X11CrMo5, T5)
Cr-Mo-V steel: 14MoV6 3, 14MoV6-3
Cr-Mo-V-Nb steel: X10CrMoVNb9-1, T91, P91
Other steel is available as per agreement.
Seamless steel tube dimensions
The means of production and dimension interval of our seamless steel tubes are as follows.
Hot rolled:
OD: 21.3mm – 139.7mm
Wall: 2.3mm – 12.5mm (depending on the D)
Length: commonly 5m – 6m, as per agreement 22m or 24m
Cold drawn:
OD: 12.7mm – 76.2mm
Wall: 0.89mm – 5.6mm
Length: commonly 5m – 6m, as per agreement up to 18.3m
Comments regarding the dimensional assortment:
After agreement we can make steel tubes according to US standards
After agreement we can also make steel tubes that are cold drawn with other dimensions
Besides boiler tubes we also deliver heat exchanger steel tubes as drawn tubes for low and high temperatures
Production and testing of steel tubes
Tubes for all segments of power engineering and machinery are delivered according to the appropriate CSN (STN) DIN, EN, ASTM A, ASME SA, GOST, JIS standards and others. In EU countries we should not be using the original national standards but the EN standards.
Železiarne Podbrezová owns all necessary system and production certificates and has the necessary technological equipment for production and testing of steel tubes used in power generating plants.