After manufacturing our first compressor in 1924, MYCOM / Mayekawa Manufacturing steadily grew to be one of the largest oil flooded screw compressor manufacturers in the world.
Due to their simple and robust design, oil flooded screw compressors have been successful in a wide variety of applications, from simple industrial refrigeration to highly specified offshore petrochemical compression. It has become the ideal and recent standard solution for many gas turbine power plants' feed gas compressors worldwide.
To better serve our customers in the highly specified and severe duty markets, MYCOM / Mayekawa Chemical Process Division has been formed in major world locations such as Tokyo, Los Angeles, and Brussels. This division is dedicated to providing dependable high quality screw compressor solutions for fuel gas compression for power plant and petrochemical gas compression and refrigeration applications.
Under one roof, we have the skills to engineer, manufacture and service custom built equipment for the most demanding applications. All our employees work to be the industrial leader in quality and customer satisfaction.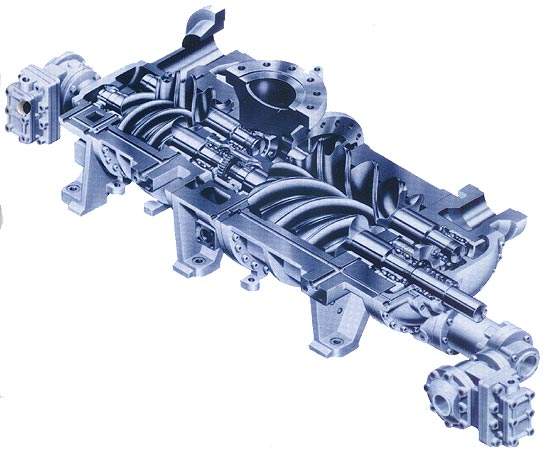 Two stage compound compressor cut out view.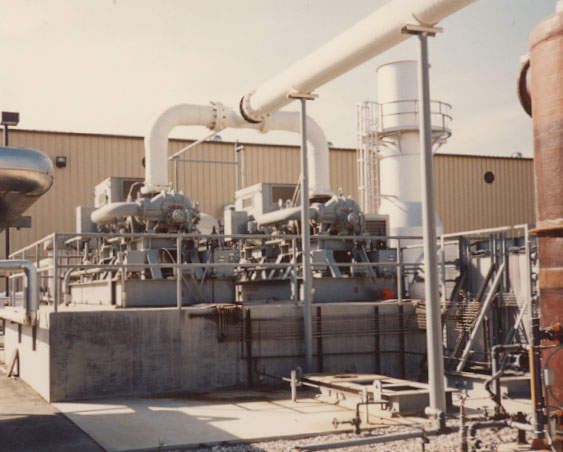 Two stage compound, landfill gas power plant compression system, operating in the USA.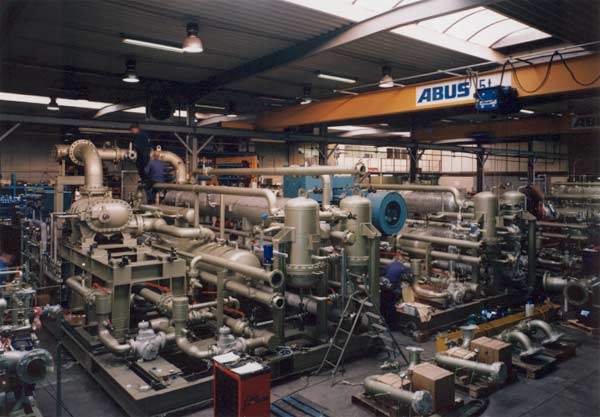 Complete packaged system assembly view.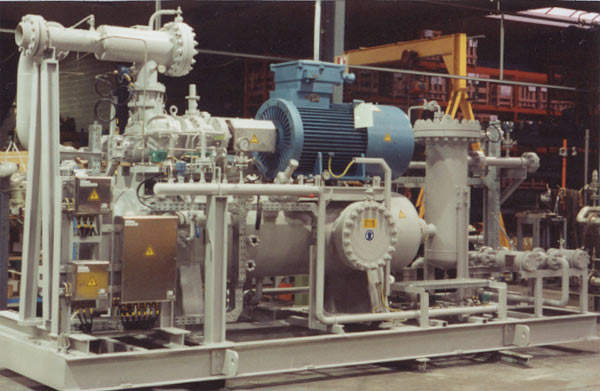 Single stage, gas turbine power plant fuel gas compression system, operating in the UK.
Mycom's full range of compressor models
MYCOM has been continuously developing a variety of compressor models and achieved the widest range in the industry up to the world fastest rotor tip speed of 400 series.
Single stage compressors, swept volume from 196m³/hr to 13,820m³/hr. MYCOM has also developed two stage compound compressors for both low inlet pressure and high compression ratio, maximizing efficiency with a simple one casing, single-driven shaft package design.
For the fuel gas compressors for petrochemical services, MYCOM specializes in providing screw compressors in conformity with API-619 requirements, including cast steel casings, forged steel rotors, tilting pad thrust bearings and more professional options available.
Skid mounted package engineering
MYCOM's engineering team specialises in critical service gas compression and process refrigeration skid mounted packages. Our team is dedicated to providing reliable high quality packages for the most demanding service and applications. With over 75 years of direct experience and complete understanding of compressor designing, manufacturing and packaging, MYCOM's engineering team stands ready to work for you.
MYCOM SCREW COMPRESSOR APPLICATION
We provide virtually 100% reliability for all possible gases for power plant gas turbines and gas engines' fuel gas feeding:
Any kind of city gases
Hydrocarbon fuel gasses
Boil off gasses
Natural gas and LNG vaporized gases
Offshore platform gases (FSO and FPSO)
Landfill gases
Bio-gases
Waste gases / vent gases of refinery, petrochemical plants
Methane, ethane, propane, ethylene, propylene, butane, etc
All hydrocarbon gases and various mixtures
Hydrogen and various mixtures
Worldwide service – always on call
MYCOM has experienced service support engineers stationed in more than 20 countries, as well as strategically located spare parts stock centers to ensure maximum availability of your MYCOM compressors. Rely on MYCOM for full support of our manufacturing facilities in Japan, Belgium, USA, Brazil, Mexico and Korea and for replacement parts that meet original tolerance and material specifications.