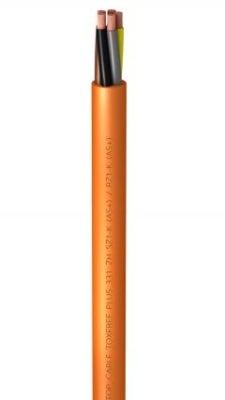 The fire-resistant TOXFREE PLUS 331 ZH SZ1-K (AS+) / RZ1-K (AS+) low-voltage cable is specially designed to transmit electricity in the extreme conditions of a prolonged fire, providing an electric supply for emergency services.
The Toxfree Plus 331 ZH SZ1-K (AS+) fire-resistant cable is especially designed to enable transmitting electrical energy in the extreme conditions that are present in a prolonged fire, guaranteeing supply to emergency equipment such as signal lighting, smoke extractor, acoustic alarms, water pumps, etc.
In case of fire, it does not emit toxic or corrosive gases, thereby protecting public health and avoiding any possible damage to electronic equipment.
For this reason, its use is recommended in public places such as hospitals, schools, museums, airports, bus terminals, shops, tunnels, metros, etc., as well as in computer centres, offices, production plants, laboratories, etc.
Three hours of electrical supply at 800°C
This cable prevents the loss of visibility due to smoke produced by combustion, facilitating the evacuation of people and the work of rescue personnel.
Its special silicone insulation (S) permits a great transmission of power as well as a greater resistance to overloads.
Additionally, it reaches a maximum service temperature of the conductor of 90°C.
The fire resistance of this cable causes it, in case of fire, to maintain the continuity of the electrical supply for three hours at temperatures of 800°C, according to EN50200.
The Toxfree Plus cable, like the rest of the 'Toxfree' range, is ecological, not containing any chlorated material such as PVC, which prevents the emission of dioxins into the atmosphere.
Toxfree Plus 331 ZH SZ1-K (AS+) cable
The Toxfree Plus 331 ZH cable is highly recommended in emergency circuits in tunnel installations.
Please contact Top Cable to find out more.