Eleo² Engineering, based in Rome, Italy, is home to qualified and motivated engineers. The mission of the company is to provide thermal-mechanical, structural design and consulting services to the power and process industry.
We are experts in thermal, structural, mechanical calculations and engineering of boilers, tanks, vessels, heat exchangers, reactors, waste heat boilers, surface condensers, machineries, furnaces and piping special components.
We work with many fabricators and suppliers of equipment, components and materials and we are associated to ANIMA-UCC, the Italian association of pressure vessel manufacturers. Eleo² Engineering can develop applications according to specific materials and processes, providing a good quality-cost ratio.
Engineering
Eleo² Engineering can provide thermal, mechanical and structural calculations and engineering of plants components and equipment according to the most important and globally-recognised plant industrial standards: ASME VIII, ASME III, RCC-MR-ASME B31x, EN codes, HEI, API, ISO, TEMA, PD 5500, EEMUA and many others.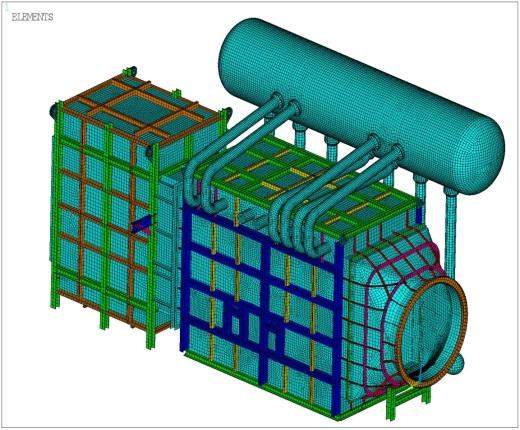 This waste heat boiler (WHB) has been completely designed and engineeried by Eleo² Engineering.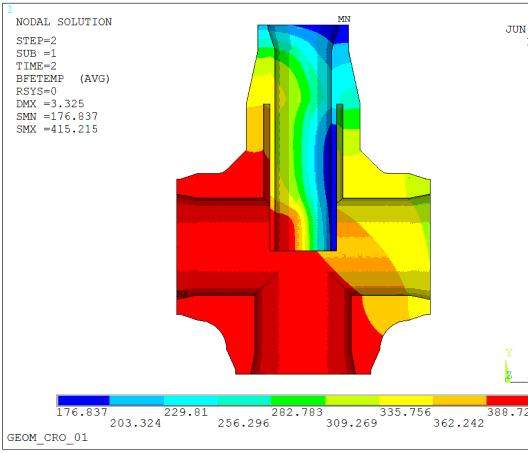 Thermal and structural analysis and design of a piping special component.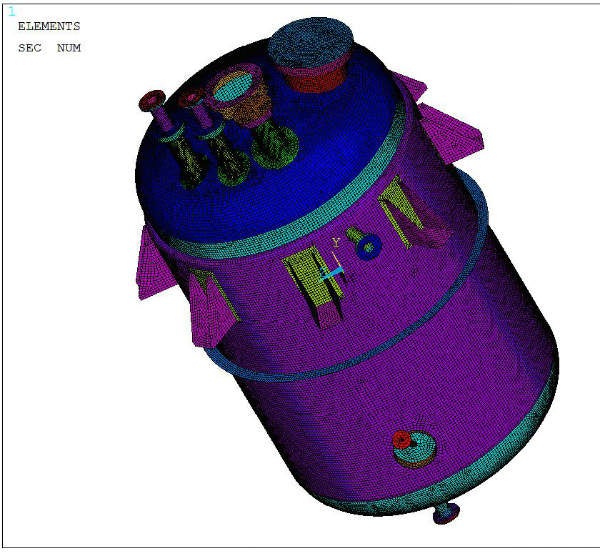 Thermal fatigue analysis of complete nichel alloy reactor.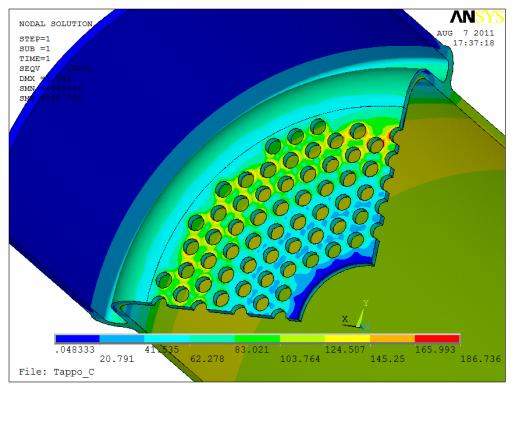 Hydrogen reformer WHB tubesheets design.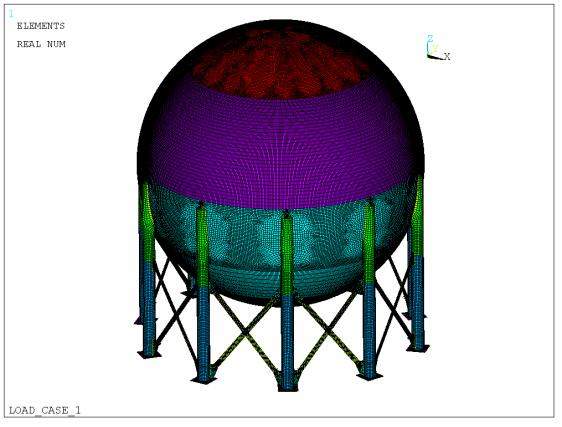 Liquefied petroleum gas (LPG) storage spheres are analysed to verify their integrity during different load conditions.
We can provide piping stress flexibility, fatigue and dynamics, vibration and acoustic analysis, integral coupled thermo-fluidodynamics analysis with state of the art CAE tools and according to international standards and codes.
Consulting
We can provide finite analysis of small plant assembly, heat exchangers, reactors and their components, piping special components, slosh analysis of liquid in tanks, dynamic structural analysis with implicit or explicit approach, non-linear and creep analysis and high temperature material characterisation, as well as fatigue and creep-fatigue damage assessment, also according to nuclear codes such as ASME III part NH, RCC-MRX, or according to fitness for service codes and guidelines like BS7910, R6, R5, API579 and EN12952.
Training
Methods and procedures are in continuous evolution just as codes and standards are updated in the analysis, design, testing and inspections procedures of new equipment, materials and structural integrity assessments.
International codes establish procedures and best practices for the assessment of potential failure modes of piping, equipment, machineries and their components. Engineers need to stay on top of new technologies and improvements in old ones
The use of advanced Cae tool for thermal, mechanical and structural calculations is in continuous evolution and engineer's formal education is no longer adequate to keep up with these changes; engineers need to be constantly retrained on the new technologies and methods as they become applicable to their industries.
Eleo² Engineering has a broad offering of educational and training services, including basic and in-depth courses on the use of specific simulation software packages and their features. We also provide customised courses, created on demand for your specific organisation's needs, for example on the implementation of design by analysis procedures.