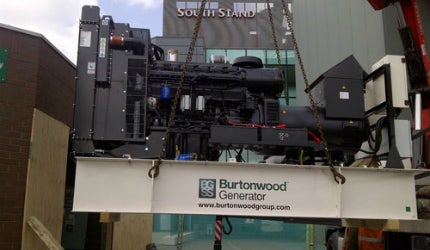 Burtonwood Generator & Switchgear Services offers a comprehensive range of products and services for emergency power generators, diesel generator sets, complete generator power systems, diesel generator maintenance and generator installation, in addition to switchgear installation and switchgear maintenance.
Services also include planned or reactive maintenance and diesel generator systems refurbishment or generator upgrades across the power generation sector, with staff having more than 30 years combined experience.
Customised design and manufacturer of diesel generators
Power is no longer a luxury but a necessity with many businesses relying on it for critical applications. That is why, for so many of Britain's big businesses and services, Burtonwood's experience is so valuable.
Established in 1995, operating from our company headquarters near St Helens in north-west England, with branch offices and depots nationally and internationally, the company also carries out design and manufacturing of customised diesel generators up to 3MW to meet specific customer requirements.
Burtonwood Generator & Switchgear Services
Alternatively if the project is more generalised, a number of standard off-the-shelf units are available from selected 'key' manufacturers. As a result, the company completes build, maintenance, upgrades and turnkey projects with values from £5,000 to £3m for customers across the UK and Europe.
Diesel generator hire, mobile generators and sets
Burtonwood's critical power solutions also include diesel generator hire, mobile generators and generator sets. This small modern fleet allows complete flexibility of supply during installation projects and for emergency power requirements.
Energy efficient switchgears
As an ISO9001:2008 and ISO14001:2004 accredited company, Burtonwood is keen to develop its products and services in line with corporate responsibilities. The company builds partnerships with all suppliers in order to develop sustainable, visible supply chains for the products on offer. These partnerships ensure responsible sourcing and production, as well as high standards of product safety that are essential in such a highly sensitive and critical marketplace.
This corporate responsibility means that the company aims to ensure that all of its stakeholders have confidence that any environmental and social issues associated with the products offered for use are correctly managed through design, operation and final disposal.
This means that each generator or switchgear product has its own life-story, which starts with the raw materials that it was made from, to how it was manufactured and transported and the people and organisations involved. It also includes how the product is used and operated, as well as how it is likely to be disposed of at the end of its useful life. Each step in the product's lifespan may be associated with some particular environmental or social concern, for example energy efficiency.
Power solutions with low environmental impact
As a major product and service provider, Burtonwood ensures that production, use and end-of-life treatment of these associated products and services offered result in as little environmental damage and impact on society as possible. The company actively researches the environmental and social issues associated with production, distribution, use and disposal of the different types of products available.
This involves working with suppliers to find solutions to the environmental and social issues associated with critical product types and the set standards for these. In addition, Burtonwood supports the development of products that are more energy efficient to manufacture, distribute and use, as well as innovation of new products that help customers save energy and protect their premises from the impacts of climate change.
Burtonwood Generator & Switchgear Services
2 St Michaels Rd
St Helens
Merseyside
WA9 4WZ
United Kingdom