ELETTROPICENA SUD
Switchboards and Load Break Switches for Medium Voltages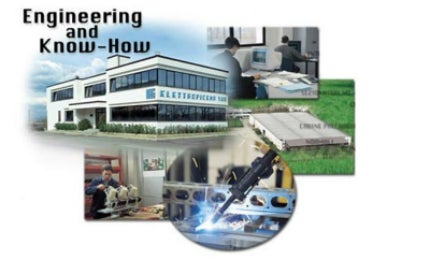 ELETTROPICENA SUD is involved in the distribution of electricity, producing both panels and electrical equipment for medium-voltage (MV) applications.
Switchgear components manufacturer
The facility in Ancarano contains advanced machinery to carry out every step of production, from machining fittings and electrical wiring, using renewable energy. The flexible control of the whole process allows ELETTROPICENA SUD to provide for the different needs of its customers.
Switchboards for power plants and substations
The company's flagship products include a switchboard with an air or gas-insulated load break switch, ring main unit compact switches, and medium voltage metal clad panels. ELETTROPICENA SUD is also known for its production of low-voltage switchboards which, are used for power centres, auxiliary services and protection.
ELETTROPICENA SUD has been ISO 9001 certified since 1997, and ISO 14000 certified since 2008.
Medium and low voltage switchboards and switch-disconnectors
ELETTROPICENA SUD can provide MV switchboards for both power plants and electric substations. The switchboards can be in protected or armoured execution and have been through internal arc testing. The company can also provide MV switchboards for primary and secondary cabins of distribution and MV outdoor pole-mounted switch-disconnectors, which are SF6 insulated.
ELETTROPICENA SUD also produces low-voltage (LV) switchboards for distribution, auxiliary services, protections, control and remote control. As well as, indoor switch-disconnectors, which are wall mounted and rotating, air and SF6 insulated.
Company history
Elettropicena Sud s.r.l. started in 1927 as small workshop of water raising systems, with switchgear production starting in the post-war period with transformation boxes.
In 1977 today's company name was appointed with the factory built in Ascoli Piceno's industrial zone being the first 6,000m² modern facility. In 1979, ELETTRORESIN, a new company focusing on the production of epoxy components was created. The aim of the 2,000m² facility was the quality control of critical components for MV switchgear.
A new industrial complex was built in Ancarano in 1990, the company's current location. Investments were made in modern machinery including entirely automatic punching for metal sheets and welding robots with four workstations. The company is extending an extra 2,000m² of buildings in Ancarano.
With an experienced and motivated team, ELETTROPICENA SUD is a recognised provider of the highest quality, reliability and flexibility. This is evident from the qualifications and approvals obtained from major industry bodies such as ENEL, Endesa, Terna, ACEA, A2A, and many industrial customers internationally.
ELETTROPICENA SUD Legal Office
ELETTROPICENA SUD Factory Address
Strada Pv.1 Bonifica km14
64010 Ancarano (TE)
Italy