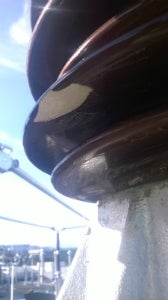 H.V. Bushing Services has recently carried out insulator repairs for IQA, subcontracted to Iberdrola and working on a new installation at Hunterston Power station, a Scottish power site.
The unit worked on was an Alstom 275kV rated disconnector. This new electricity circuit was due to be switched on within a couple of days of the subcontractor finding the damaged insulators. Without this repair the circuit would have had to go into service with a damaged insulator or stay out of service awaiting replacement.
By carrying out the necessary repairs quickly and efficiently H.V. Bushing Services have prevented any downtime and contributed to significant savings on the cost of the replacement insulator.
For more information on the insulator repair service, please contact H.V. Bushing Services
A white paper detailing the repairs on offer from H.V Bushing including returning broken, chipped...