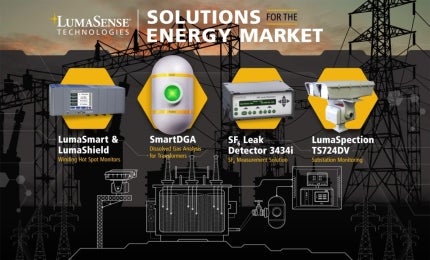 LumaSense Technologies provides professional solutions for the global energy market.We offer dedicated solutions for utilities to control and monitor aging assets.
LumaSense Technologies provides a suite of products designed to allow customers to continuously monitor Load Tap Changers (LTCs) and transformers. These products provide early warnings for countermeasures to reduce transformer failures and serious damages.
Transmission and distribution substations and assets are under heavy stress and are increasing in age without quick relief in sight. Utilities need to extend the life of their assets with automation to compensate for the aging and retiring workforce. In order to accomplish this, an increasing number of utilities are installing sensor technology on critical assets.
The value of continuous online sensor monitoring on transmission and distribution (T & D) systems has been well documented. Benefits of this monitoring include such things as asset optimization, enabling condition based maintenance, detecting component failure before it actually occurs, and enabling safe dynamic loading.
LumaSense invites T&D professionals to take a close look at our range of solutions for energy markets that might help them extend the life of their assets:
The SmartDGA® System is a cost-effective online monitoring solution based on proven, state-of-the-art non-dispersive infrared (NDIR) technology. This suite of products is designed to allow customers to continuously monitor and control the condition of LTCs and transformers.
The LumaSMART® Fluoroptic® Thermometry Fiber Optic Temperature Sensing System for Winding Hot Spots is the most advanced and reliable real-time monitoring solution available today. With more than 30 years of fiber optic experience, LumaSense is the leader is Fiber Optic Technology (FOT), with decades of proven expertise. The LumaSMART FOT hot spot monitoring systems provide accurate, real-time temperature readings for protection and control of your critical power transformer assets. Monitoring the transformer winding hot spot is critical to safeguard the transformer from damage and extend its usage.
The LumaSHIELD® GaAs-Based Fiber Optic Temperature Solution for Winding Hot Spots is a high value, cost-effective alternative to LumaSense's Flouroptic System that is based on field-proven Gallium Arsenide (GasAs) crystal technology used in transformers since the 1990's. The LumaSHIELD controller's direct, real-time temperature measurement addresses the critical issues encountered by transformer and electric utility managers.
The SF6 Leak Detector Monitor 3434i measures the total concentration of the SF6 gas in an enclosed area of a GIS Substation to determine the leak rate. By accurately measuring the leak rate, utilities can improve quality while decreasing costs and emissions.
LumaSpection for Substations: TS724DV is an automated, continuous thermal and visual imaging system used to identify thermal abnormalities within electrical substations and other process control systems.
About LumaSense Technologies®
LumaSense Technologies, is one of the world's most trusted providers of innovative temperature and gas sensing devices.
LumaSense's resource-intensive customers in the Global Energy, Industrial Materials, and Advanced Technologies markets harness their Industrial Big Data using the company's proven systems, software and platforms to detect, reduce, and prevent waste and inefficiency.
LumaSense LS6 sensor systems and LumaSpec software solutions awaken an industrial 6th Sense that empowers customers to achieve progressive and lasting performance gains. With offices in Asia, Europe, and the Americas, LumaSense serves many of the world's largest industrial companies.