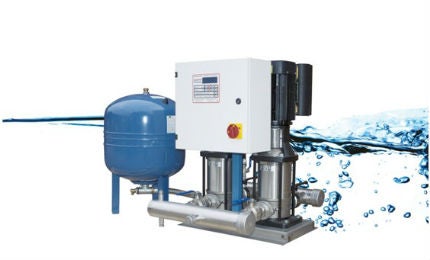 Aquatech Pressmain designs, manufactures, installs and maintains bespoke booster sets and pressurisation units for the power industry.
Aquatech Pressmain booster sets and pressurisation units are manufactured in the UK at the company's two purpose-built factories in Manchester and Essex. Aquatech Pressmain is the only UK producer that designs, programmes and manufactures its own range of microprocessor controllers in-house, offering unrivalled versatility to customers.
Booster sets
Aquatech Pressmain's range of quality-assured booster sets is versatile enough to suit any customer's building specifications. For buildings where incoming mains or feed tanks are incapable of supplying adequate system pressure, Aquatech Pressmain's cold water pressure booster sets are well-suited for these requirements, as they increase the pressure of the cold / hot water services within a building.
The booster system works by incorporating inverter driven variable speed pumps, which continually alter the motor speed to match the changing flow demand pattern, while simultaneously maintaining a constant system duty pressure. This operation dramatically reduces the system's power consumption.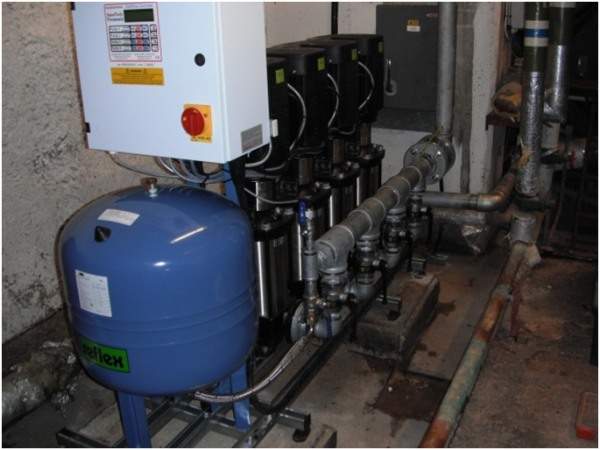 John Lewis' London headquarters installed a bespoke version of Aquatech's water booster unit.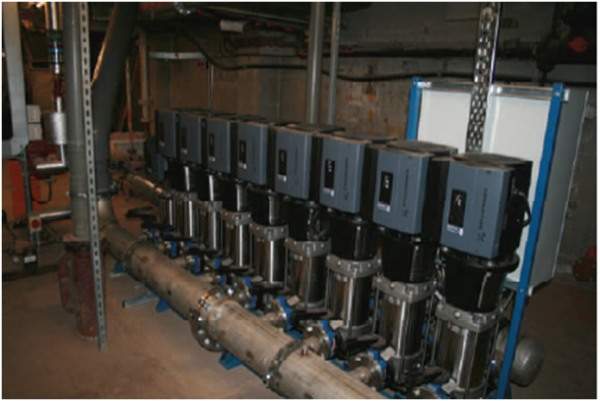 The University of Liverpool employed Aquatech to work on a project that involved the installation of a bespoke AquaTech Pressmain HY9 variable speed booster set.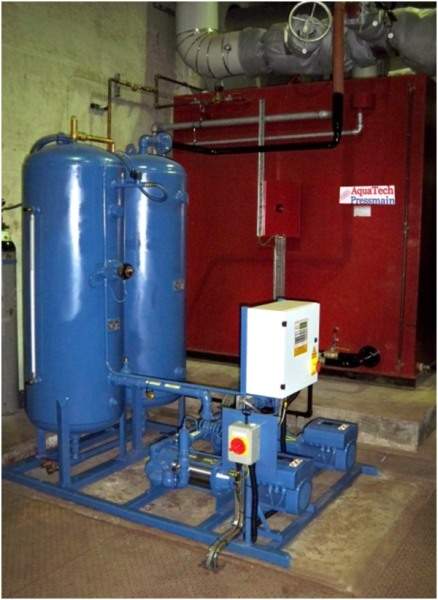 Aquatech's engineers can maintain and repair pressurisation units with design flaws in the pump and spill modules.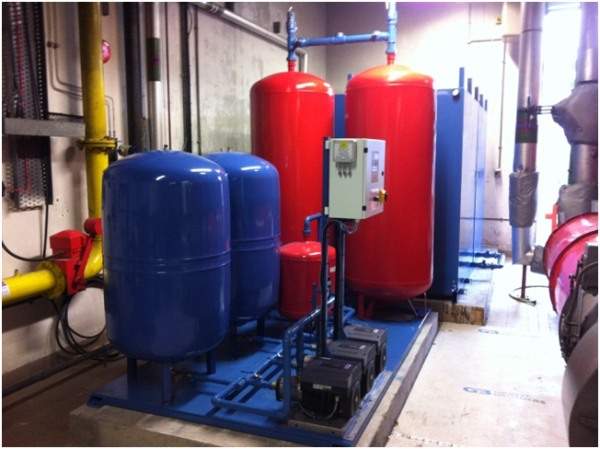 Aquatech can provide pressurisation units for large buildings or high-security areas, such as this AquaTech Pressmain AS3AV MTHW pressurisation unit for Gatwick Airport.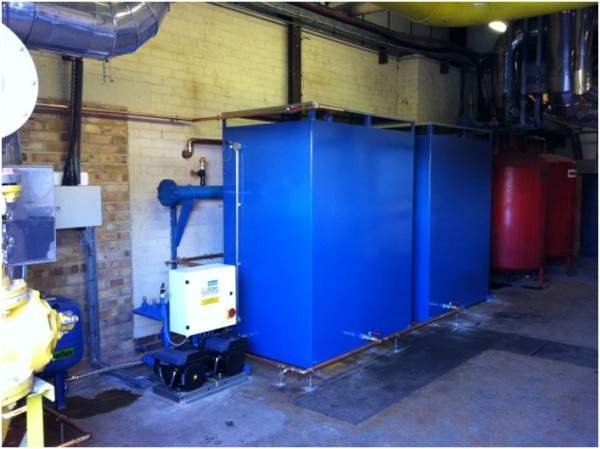 For highly complicated repairs or partial replacements, Aquatech's engineers can make the installation process a seamless transition without disrupting any additional systems.
Aquatech Pressmain's multiple pump sets are arranged for operation as duty pump, with a maximum of assist / standby pumps. All are programmed to run in staged cascade operation as flow demand increases and similarly as demand decreases. All pumps are assembled on a common base frame with a microprocessor control panel and all necessary valves and fittings to ensure ease of installation and reliable operation.
Features include:
Energy-efficient variable speed pumping on all motors to maintain constant pressure
'2020Plus' microprocessor / transducer control for long-term reliability and accuracy with 'REPRESS' system protection
Automatic cascade control for up to eight pumps
User-friendly keypad and illuminated two-line LCD display for 'plain English' information for both system status and system pressure
Electronic low water cut-out for pump dry running protection, with auto re-start upon water restoration
All pumps are WRAS-approved and are ECA Energy Technology Listed Product
BMS volt-free enhanced package fitted as standard
Built to latest CE requirements and in accordance with ISO9001
Copper pipework as standard; stainless steel, galvanised and plastic options also available
Pressurisation units
Aquatech Pressmain's range of pressurisation units is designed to maintain a minimum set pressure in a heating or chilled water system. Once the set pressure has been initially set, the pumps will automatically operate to restore the pressure if it falls below that measurement.
Volt-free contacts are also supplied to interrupt the operation of the boiler or chiller in high or low-pressure conditions, and a spill / expanded water tank is also provided so the system can refill during the contraction phase. In addition to this, a spill valve is included in the unit to maintain a maximum system no greater than 0.6bar above the cold fill pressure. All packaged equipment is manufactured in accordance with ISO9001 quality assurance procedures and the Pressure Equipment Directive.
The main features of the pressurisation units include:
Temperature range of between 4°C to 150°C with a cooling vessel
Cold fill pressure 1.0bar to 20.0bar
Reliable 2020Plus microprocessor / transducer control
Boiler / chiller safety interlock relay
Low water level pump protection switch mounted in spill / fill tank
Audible alarm with mute and reset operates on high and low pressure
Control vessels – tested to BS EN13831: 2007 – maximum working pressure 10bar
Twin pump models with duty / standby pumps and automatic alternation of duty pump to even wear
All models are fully compatible with building management systems
fluid category 5 (water supply regulations 1999)
Built to latest CE requirements and in accordance with ISO9001
Pressure equipment directive CE marking
Installation of replacement pressurisation units and booster sets
Installation of replacement pressurisation units and water booster sets has always been an integral part of Aquatech Pressmain's service, but Aquatech Pressmain's technicians offer customers more with a custom design service for equipment and installation around any existing services, and undertake to keep disruption to an absolute minimum.
Service network and support
Aquatech Pressmain operates a network of service engineers located throughout England, Scotland and Wales, who are supported by two main service centres located in Colchester and Manchester. This distribution means that in a majority of cases we are less than four hours away from attending a breakdown.
The company places great emphasis on providing technical back-up to support service engineers and in resolving some difficult operational and technical issues.
All of our service engineers have the following:
Contractor Client National Safety Group Safety Passport
CSCS cards
Confined space training (where appropriate)
Training in all aspects of pressurisation and water booster systems
Training for the examination of pressure systems
Aquatech Pressmain is registered with:
BSI ISO9001 Quality Assurance
B&ES membership
Construction Line
CHAS
Achilles
Safe Contractor
Please do not hesitate to use the form below to send Aquatech Pressmain any enquiries.