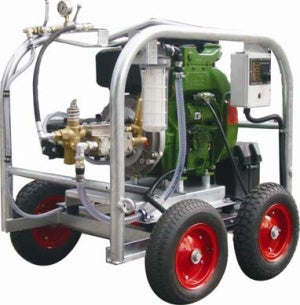 Midwest Valves & Controls is pleased to announce it is a gold distributor for Aussie Pumps, and can now supply hydrostatic testers up to 500 bar.
The super high-pressure hydrostatic testers are driven by petrol or diesel engines, with super high pressures up to 500 bar (7,300psi) and big flows up to 20l/m. They have a simple piston pump design and a double pressure gauge with lock of valve, as well as an integrated control valve and a gear box drive.
Machines come in a sturdy and fully galvanised four-wheel trolleys with four big pneumatic tyres. Bertolini triplex piston pumps are used for up to 350 bar and Udor Quintuplex piston pumps for 500 bar models.
Applications include:
Leak detection in water pipelines
Hydrostatic testing of boilers
Hydrostatic testing of pressure vessels
Oil or gas pipeline testing
Hydrostatic testing of pumps, valves or fire mains
Benefits include:
Can handle a wide range of tests
Easy to service
Easy to check for leaks
Operator can adjust to required pressure
No exposed moving parts, safer
Easy to move on site
Through years of field application experience, research and development Bray has designed products that meet the stringent requirements of today's flow control industry.
The opening and closing of a valve is just one simple act, yet so much depends on it. Valves must always operate reliably, without any...