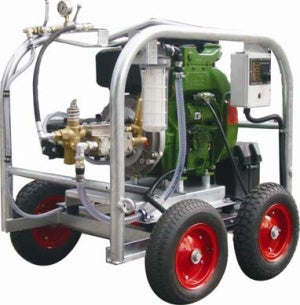 Midwest Valves & Controls is pleased to announce it is a gold distributor for Aussie Pumps, and can now supply hydrostatic testers up to 500 bar.
The super high-pressure hydrostatic testers are driven by petrol or diesel engines, with super high pressures up to 500 bar (7,300psi) and big flows up to 20l/m. They have a simple piston pump design and a double pressure gauge with lock of valve, as well as an integrated control valve and a gear box drive.
Machines come in a sturdy and fully galvanised four-wheel trolleys with four big pneumatic tyres. Bertolini triplex piston pumps are used for up to 350 bar and Udor Quintuplex piston pumps for 500 bar models.
Applications include:
Leak detection in water pipelines
Hydrostatic testing of boilers
Hydrostatic testing of pressure vessels
Oil or gas pipeline testing
Hydrostatic testing of pumps, valves or fire mains
Benefits include:
Can handle a wide range of tests
Easy to service
Easy to check for leaks
Operator can adjust to required pressure
No exposed moving parts, safer
Easy to move on site