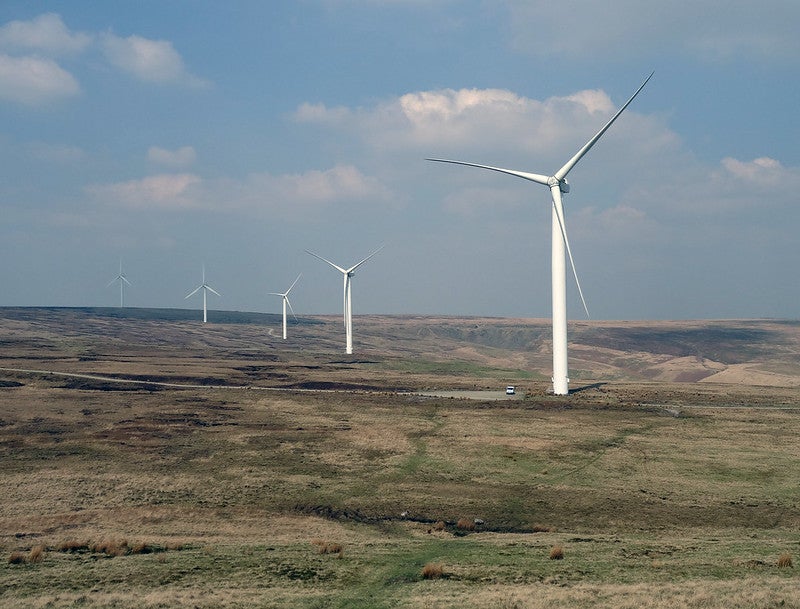 In 2014, then UK Prime Minister David Cameron urged the public, industry, and his political colleagues to confront some of the myths he said were barriers to becoming "a successful science-based country". Speaking to a Parliamentary Liaison Committee, he catalogued several areas where "myths" needed to be challenged, including fracking, GM farming and the alleged instability of nuclear power.
However, it was arguably a myth disseminated by Cameron himself that has led to the biggest impact. During the committee hearing, he told his audience the public were "fed up" with onshore wind farms, arguing for the abolition of subsidies available to owners and developers. After several more critical commentaries by Cameron, in 2016 his government officially blocked onshore wind from bidding for financial support, effectively choking off any new wind farm development.
The Cameron years
"Onshore wind is a mature, proven technology and one of the quickest to build. It has always enjoyed a high level of backing among the public," says Luke Clark, RenewableUK's director of strategic communications, in direct conflict with Cameron's statements. He says even opinion polls conducted on behalf of the government have proved the appetite for onshore wind since canvasing began in 2012. "The economic, environmental and political case for onshore wind has always been clear and strong," he says.
At the time of the Cameron decision, the not-for-profit trade association warned against the exclusion of onshore wind, arguing it was one of the cheapest sources of power and vital to the UK's power mix, as well as being a major tool in the fight against climate change. In 2015, the sector competed in the first round of auctions for Contracts for Difference, government-backed agreements that support the development and then operation of low-carbon renewable power projects.
The auction – the first of three to have taken place to date – was the first and only bidding process onshore wind has been able to participate in. Just a year later it was officially blocked from participating.
"The exclusion of onshore wind from the next two rounds meant that consumers were being denied cheaper power," says Clark, adding:"We also saw a steep decline in applications to build new projects.".
The numbers support his assertion: in 2018 just 651MW of new capacity was installed across 91 projects, the following year that fell to just 623MW, with only 23 projects going operational.
"That (2018) was a huge drop in capacity compared with the year before, as 2017 was the main deadline to qualify for Government support. So we saw a surge that year, with 2,683MW installed across 343 project as developers raced to get their projects generating in time," says Clark.
According to RenewableUK data, in 2019 local authorities only approved two onshore wind projects in England, three turbines totalling 1.9MW. There was just one new project submitted into the English planning system, with a capacity of 5MW. In Wales the picture was even more bleak, not a single project was submitted or approved.
In Scotland, however, where the Government takes a different stance and continues to support onshore, 556MW of capacity was given the go-ahead in 2019, across 26 projects. A further 1,969MW was submitted into the planning system by way of a further 35 projects. Northern Ireland approved 25MW and 127MW went into planning.
UK communities embrace onshore wind
In 2014, Cameron had suggested mainstream Conservative Party voters were against the commissioning of onshore wind farms. However, as the party faced its leadership election in mid-2019, its own MPs began to call for a policy rethink as opinion polls of the very voters Cameron was hoping to appease suggested views had changed. A survey on behalf of the Conservative Environment Network concluded three-quarters of Conservative voters backed onshore, supporting RenewableUK's arguments.
In August 2019, the Parliamentary Science and Technology Committee waded into the issue, criticising the Government's net-zero ambitions and labelling them undeliverable unless action was taken. It urged more to be done to facilitate new onshore wind, particularly given its environmental and cost-efficiency credentials.
In March 2020 Prime Minister Boris Johnson's Government overturned the ban, opening the door to onshore wind to compete in a new auction set for 2021, with significant new capacity coming onstream as early as 2025. Cameron's decision left a legacy though, resulting in an 80% drop in new onshore wind by 2019, with the number of new turbines becoming operational at an eight year low.
UK will benefit from more onshore
"New auctions will allow a pipeline of shovel-ready onshore wind projects, which have already gone through the planning system and won consent, to compete for contracts to provide new renewable generation capacity," says Clark. He adds the Government's decision on onshore is "great news for all of us".
As well as being a significant boost for the industry, RenewableUK says it promises consumer benefits too, being one of the cheapest sources of power. "We'd expect onshore wind to deliver new capacity at the kind of low prices we saw last year for offshore wind, which secured contracts at below the current wholesale price of electricity," Clark says.
It's believed the shift in Conservative Party voters', and the government's, position was largely the result of the increased awareness of the climate emergency. Speaking to The Guardian in mid-2019, Conservative MP Vicky Ford said people were now more concerned about climate change than they ever have been. "Back in 2015, many members of the public were concerned about onshore wind planning applications. That clearly isn't the case anymore – our own voters are telling us otherwise," she said.
Announcing the policy change, Business and Energy Secretary Alok Sharma said: "Ending our contribution to climate change means making the UK a world leader in renewable energy. We are determined to do that in a way that works for everyone, listening to local communities and giving them an effective voice in decisions that affect them."
Clark says Government ambitions to reach net-zero by 2050 will be bolstered by onshore wind: "It's vital that the UK secures new power sources to meet net-zero and avoid the energy gap as coal power ends in 2024, and other ageing power plants come offline later this decade."
The news will be good for the economy too. According to the most recent figures from the Office for National Statistics, this industry already supports 13,300 jobs and has an annual turnover of £3.67bn.
"This announcement will help us to grow the workforce and attract new investment into the sector," says Clark. "As well as bringing much needed investment to communities around the UK, and creating thousands of jobs, many developers provide community benefits which support local schemes, led by local people to improve their areas by creating new community facilities and supporting local organisations."
What of the concerns from local communities many opponents of onshore wind used to cite? It seems they are no longer a hindrance, but where they are the industry is ready to engage. "Onshore wind developers already work closely with local communities to ensure that they have local support. The planning process is rightly rigorous and developers take every possible step to ensure that any concerns are fully addressed," Clark concludes.
Even before the Government's policy change, energy providers were beginning to unveil plans for new onshore capacity. In January, EDF Renewables announced proposals for a new facility in mid-Wales – comprising 22 turbines, each generating approximately 5MW, with a tip height of up to 149.9m. Vattenfall has also announced a 77MW project extension at its Scottish facility, Clashindarroch 2. The turbines are rated up to 6MW with a 180m tip height. It seems what is already an energetic market looks set to bounce back from Cameron's curtail.