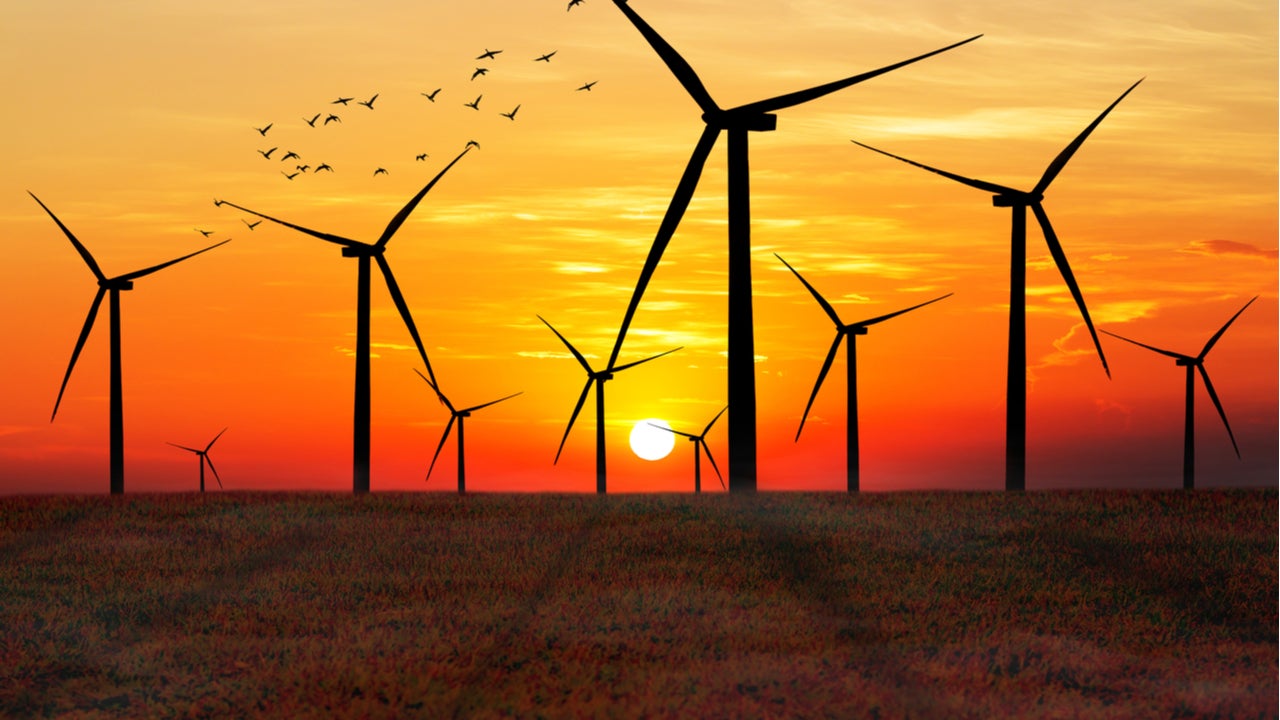 GlobalData research has found the top influencers in wind power based on their performance and engagement online. Using research from GlobalData's Influencer platform, Power Technology has named ten of the most influential people in wind power on Twitter during Q3 2020.
Biggest influencers in wind power: The top ten in Q3 2020
Arik Ring is an energy engineering consultant specialising in solar, power plants and other clean-tech technologies. He has nearly three decades of experience in energy systems engineering and has been part of major renewable power projects.
Ring utilises his experience in working with multinational companies including Siemens, an industrial manufacturing company, to provide long-term support, engineering solutions, research and development services to clients across the globe.
Twitter followers: 86,770
GlobalData influencer score: 100
#RenewableEnergy is Rising#Coal is Spiraling Down#Wind #Solar #Energy #EnergyTransition #CO2 #Carbon #Sustainability #EndCoal #ActOnClimate #ClimateAction #FridaysForFuture #SDGs@ProfStrachan @jellsmoor @SaleemulHuq @mwt2008@Dahl_Consult @ECOWARRIORSShttps://t.co/NWpZWZaRP6 pic.twitter.com/a4kybxtweB

— Arik Ring – Energy Engineering Expert (@arikring) September 13, 2020
Saleemul Huq is the director of International Centre for Climate Change and Development (ICCCD), an environmental research institute based in Bangladesh. He is an authority on the relationship between sustainable development and climate change and has been studying it from the viewpoint of developing nations.
Huq is currently working on engaging least developed countries (LDCs) in climate change negotiations. He has also authored many intergovernmental reports on climate change.
Twitter followers: 30,006
GlobalData influencer score: 77
First ever grid-connected wind power projects re-tendered https://t.co/szAAI7nCQm

— Saleemul Huq (@SaleemulHuq) September 20, 2020
Mike Hudema is the director of communications at CanopyPlanet, an environmental organisation working in tandem with conglomerates to protect climate and forests. He worked with various climate change firms in the past including Greenpeace and Global Exchange, a non-profit human rights organisation.
 Hudema is also an author and has anchored news programmes on a Canadian community-based radio station.
Twitter followers: 130,294
GlobalData influencer score: 77
A little good news. Thanks to #wind & #solar, Canberra just became the first city outside of Europe to go 100% #renewable.

We have the solutions to the #climatecrisis, implement them. #Go100re.#ActOnClimate #climate #energy #tech #climatestrike #GreenNewDeal @GretaThunberg pic.twitter.com/7tF4uN2Ouv

— Mike Hudema (@MikeHudema) September 12, 2020
Simon Holmes is a mentor at the Energy Transition Hub, a collaborative venture between Australia and Germany working on energy transition challenges. He pioneered the community power endeavour in Australia by founding the Hepburn Wind, the nation's first community owned wind project.
Holmes also established Embark Australia, a non-profit consultancy firm endeavouring to enable communities reap the benefits of domestic renewable energy.
Twitter followers: 58,455
GlobalData influencer score: 69
🤓 the growth in wind and solar energy has been remarkable.

how is your country doing?https://t.co/7YXFjpcNEg pic.twitter.com/EEcqGDeSw1

— 💧simon holmes à court 🍩 (@simonahac) September 7, 2020
Jesse Jenkins is an assistant professor of mechanical and aerospace engineering at Princeton University. A macro-scale energy systems engineer by profession, he specialises in the electricity industry and its transition towards zero-carbon resources, along with the role of electricity in global decarbonisation.
Jenkins is also a consultant offering analytics and policy advisory services to clients working in the domain of clean energy. He is a speaker and his research work is regularly published in top media outlets across the US.
Twitter followers: 29,399
GlobalData influencer score: 65
Firm, flexible, cheap, fast & low-risk to build, designed to integrate with high shares of low-cost wind and solar: these are the features a next generation of nuclear plants must deliver. It's a big departure from the industry's past performance. I hope they can succeed. ⚛️ https://t.co/8eUOYBiQ80

— JesseJenkins (@JesseJenkins) September 13, 2020
Kees Van Der Leun is a director at Greenhouse, an international consultancy that works on environmental sustainability. He has more than three decades of extensive experience in the energy domain in various roles including a strategist, business developer and consultant.
Leun specialises in the fields of renewable energy, carbon emission reduction and energy efficiency. He is also an energy transition advisor for various governments and companies.
Twitter followers: 31,168
GlobalData influencer score: 65
On my way to Vlissingen, to see @Orsted's brand new 752 MW offshore wind farm! First such encounter since a visit to the Princess Amalia wind farm, that we helped develop, in 2008. pic.twitter.com/VIcn7XxwhT

— Kees van der Leun (@Sustainable2050) August 31, 2020
Mike Shellenberger is the founder and president of Environmental Progress, an organisation formed with the purpose of saving the environment. He has been a climate advocate for more than three decades advising policy makers across the globe on the need for environmental sustainability.
Shellenberger is also a writer and has delivered several TED talks. He is also a journalist reporting on various issues including climate resilience and Amazon deforestation.
Twitter followers: 98,666
GlobalData influencer score: 60
"Construction of new wind turbines in Germany has collapsed in response to growing resistance from local activists"

"Shortfall cannot be compensated for by solar"

"The more turbines that are built, the more people will resist" @TobiasBuckFT @FT
https://t.co/KlJN93N4iM pic.twitter.com/1xb59Nicry

— Mike Shellenberger (@ShellenbergerMD) August 28, 2020
John Pratt is a climate change consultant and a writer covering environmental issues on his blog Climate Action Australia. He aims to spread awareness worldwide on burning issues such as climate change triggering a global crisis, the disastrous effects of carbon emissions, need for supporting refugees and accountability of environmental polluters.
Twitter followers: 35,114
GlobalData influencer score: 59
Wind blows UK renewable energy to new record share | Recharge#auspol #qldpol #ClimateCrisis#StopAdani demand #ClimateAction a #GreenNewDeal

— John Pratt (@Jackthelad1947) July 31, 2020
Allan Margolin is the editorial director of Climate Nexus, an organisation committed to changing the discourse on clean energy and climate change. He had a long and successful stint in the domain of public relations and marketing where he executed strategic communications that enhanced the standards of health, welfare and child education.
Margolin was a part of various media teams including ABC News and consultant teams, which worked on raising funds for causes related to environmental change.
Twitter followers: 28,997
GlobalData influencer score: 58
The wind turbines standing up to the world's worst storms https://t.co/24g3TfakPV via @BBC_Future

— Allan Margolin (@AllanMargolin) September 5, 2020
 10. Ramez Naam (@ramez)
Ramez Naam is the co-chair at the Energy and Environment programme at Singularity University in the US. He has played several roles of a public speaker, cleantech angel investor, computer scientist and author. His areas of interest are energy, innovation, and disruption.
Naam also worked with leading global firms such as Microsoft and founded Apex Nanotechnologies, the first company that works exclusively on creating software tools for accelerating molecular design.
Twitter followers: 41,003
GlobalData influencer score: 58
For context, this figure from the LBL Wind Technologies Market Report seems to suggest that real PPA prices (for PPAs already signed) are locked into nominal dollars, or in some other way rise more slowly than inflation. @posamentier @MB_MJones pic.twitter.com/ov3iiJ9tHP

— Ramez Naam (@ramez) August 5, 2020
Methodology
GlobalData's influencer identification framework identifies influencers based on relevance; size of network, connections and followers; engagement levels with their content and analysis and input from sector experts. Influencers are then evaluated on a series of specific topic-related keywords used over the period and weighted by engagement metrics.