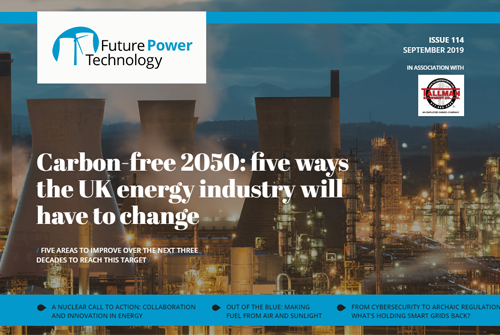 Future Power Technology is back for another issue packed with industry news and analysis. You can read the magazine for free online on any desktop, laptop, tablet or smartphone. If you'd like to be notified by email when a new issue is available, simply sign up here.
In this issue
The UK Government has pledged to make the nation carbon-free by 2050. We explore five key ways the energy industry needs to change to meet the ambitious target. We also find out about the work of the Energy Data Taskforce, and ask whether meeting carbon targets could be facilitated by making data open source, allowing everyone to benefit from lessons learned.
We also speak to Moltex Energy about its stable salt reactor, which the company believes could provide a safer and cheaper alternative to traditional nuclear technologies. We also check out a new technology capable of creating hydrocarbons using just water and sunlight, created by a team of researchers at ETH Zurich, and catch up with the Advanced Clean Energy Storage project in the US, which has received a $1bn investment to build salt cavern to help store renewable energy.
Finally, we look at the areas of nuclear technology that need to be improved, catch up with the US Department of Energy's Coal FIRST initiative and ask, what is holding smart grids back?
Carbon-free 2050: five ways the UK energy industry will have to change 
The UK Government's target of reaching net-zero emissions by 2050 is ambitious, with reliance on North Sea oil and a ban on onshore wind farms hamstringing the burgeoning UK renewable industry. JP Casey looks at five areas where the UK Government needs to improve over the next three decades to reach this target.
Unlocking new power potential: the Energy Data Taskforce
To achieve the net-zero carbon goals set for 2050, the Energy Data Taskforce has been established to shift the business environment from one that jealousy guards data to one where data is more open. Umar Ali finds out the role data will play in the energy transition.
Out of the blue: making fuel from air and sunlight
Researchers at ETH Zurich have developed a technology capable of producing liquid hydrocarbon fuels from just sunlight and air. At their solar mini-refinery, the team has become the first in the world to demonstrate the process under real conditions. Umar Ali explores this potential carbon-neutral fuel source.
How salt caverns could transform renewable energy storage for the US
A new project called Advanced Clean Energy Storage has been launched in Utah by a consortium of partners including Mitsubishi Hitachi Power Systems to store energy in a salt cavern. The $1bn project will be able to store as much as 1,000MW in wind and solar power in the form of hydrogen or compressed air by 2025. Umar Ali takes a look.
Inside Coal FIRST: America's tech drive to clean up coal 
In April, the US Department of Energy (DOE) announced the recipients of $1.95m in funding as part of its Coal FIRST (flexible, innovative, resilient, small and transformative) initiative, which aims to make coal plants more efficient and less environmentally damaging. From carbon capture techniques to the repurposing of waste carbon dioxide, JP Casey looks at four projects that aim to clean up the performance of coal.
Talking stable salt reactors and the future of nuclear with Moltex
Proponents of molten salt reactors say they are safer and cheaper than anything in use today, but despite the promise, the technology has yet to achieve commercialisation. Could reactors being developed by British-Canadian company Moltex Energy be the first? Heidi Vella spoke to the company's Canadian CEO, Rory O'Sullivan to find out more.
A nuclear call to action: collaboration and innovation in energy 
Nuclear industry leaders have announced a "call to action" at a three-day summit in South Korea, asking for a more collaborative approach to overcome the challenges facing the nuclear sector, and for the industry as a whole to consider new innovations more seriously. JP Casey speaks to Ed Bradley of the International Atomic Energy Agency about the project's lofty goals, and how it could inspire a cultural change in the nuclear industry.
From cybersecurity to archaic regulation: what's holding smart grids back?
For the past decade, smart grids have been on the verge of breaking into our energy system, but projects have so far been limited to small communities and islands. So what will it take to see wide-scale roll out of the technology? Scarlett Evans looks at the main challenges still holding smart grids back.
Next issue
Working in the energy industry can mean dangerous conditions, working with heavy machinery and in challenging environments. But there are some misconceptions as to which area is the most dangerous to work in. We look at what is the most deadly form of energy.
Around the world, energy revolutions are taking place, in India, small-scale renewables are taking over, while in Australia large-scale solutions like the Walcha Energy Project are gaining momentum. In the UK, wave energy is beginning to make a splash with CorPower Ocean signing an agreement with Simply Blue Energy to collaborate on "several significant wave energy projects," and we look at one of the projects that started the renewables shift, the oldest tidal plant in the world, La Rance.
Finally, we talk to Nils Røkke, chairman of the board of the European Energy Research Alliance about developing the hydrogen market in Europe, ask whether a regulated asset base model could unlock UK nuclear, and look into the world of investor activism.