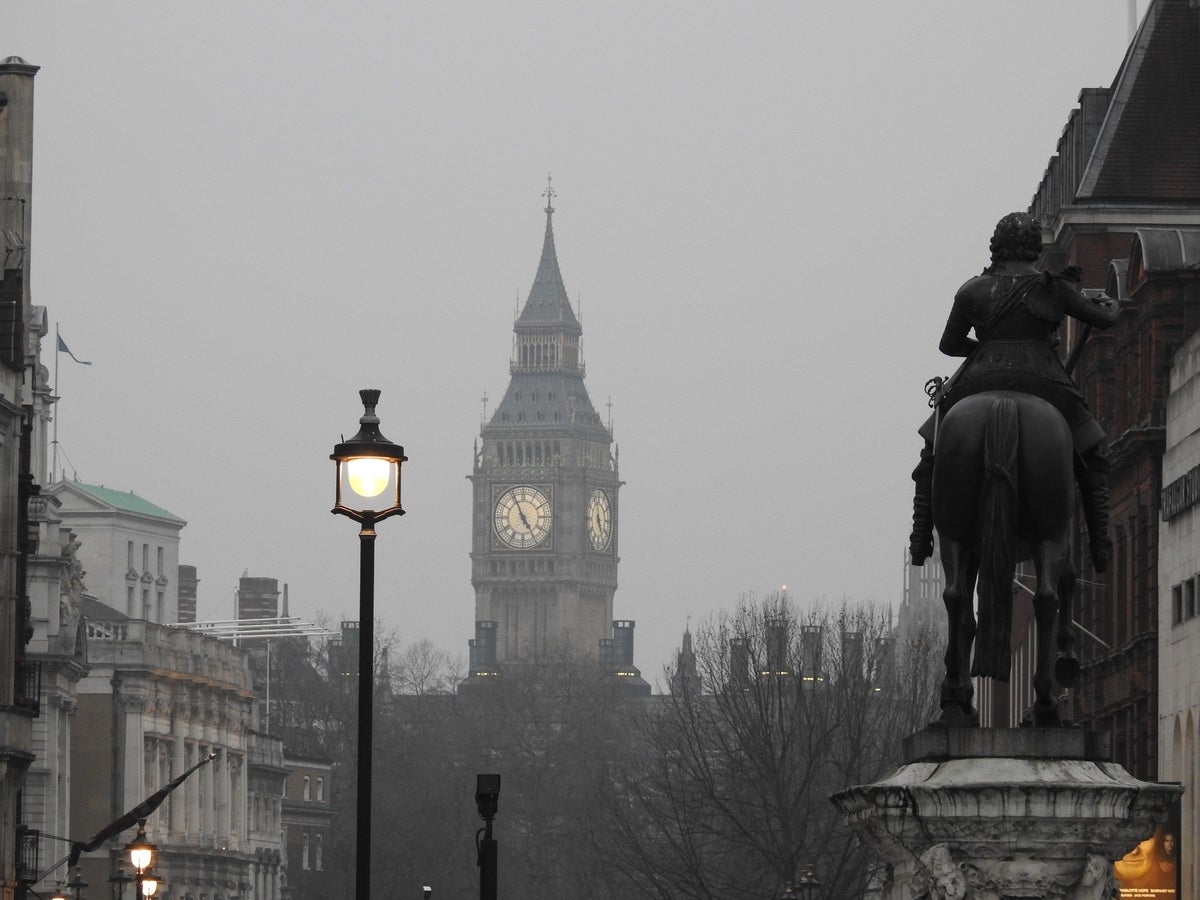 Since the UK began switching to renewable technologies, there has been a fear that these intermittent energy sources could affect energy security. What happens when the sun doesn't shine, sceptics asked? What happens when the wind doesn't blow?
So far the shift has been fairly seamless: renewables integrating with minimum impact on supply reliability. Important milestones have been reached, such as occasions when the country ran without coal in 2018 for the first time since the industrial revolution thanks to wind power.
But renewables' variability must be managed. The perfect alignment of weather capable of stopping wind and solar generation is an extremely rare possibility; a cold, calm, cloudy snap, however, is technically possible.
As the UK relies increasingly on intermittent renewables, how would it cope with a worst-case weather scenario?
Out with the old, in with the new
The share of renewables in the UK mix has increased dramatically from just 1.9 million tonnes of oil equivalent (Mtoe) in 2010 to 5.8Mtoe in 2017. Renewables' share has increased by 1,193% compared to 1990.
The majority of this has been wind, which produced 18.8% of the UK's electricity in the first quarter of 2018. During this time, it was particularly used in cold periods, providing 12%-43% of electricity during the six sub-zero days. Hand-in-hand with this continued increase in renewables has been the reduction in coal.
The energy system itself is also undergoing a period of change, as mechanisms have been altered to allow for the intermittency of renewables without a loss of security.
"Perhaps the most meaningful changes in recent years involve the electricity system, especially the introduction of the carbon price floor in the UK, a policy that increases the cost of carbon dioxide emissions," says Giorgio Castagneto Gissey, senior research associate in Energy Economics & Policy at University College London (UCL). "The price paid to emit carbon here is much higher than in the rest of Europe and – since carbon-intensive generators mostly set the electricity price – this is driving GB electricity prices upwards and leading to power flows into GB. In fact, the three interconnections involving the highest electricity price differentials all involve GB."
The electricity system has already dealt with a number of extreme weather events, such as 2018's 'Beast from the East'. Despite increased renewables in the mix, the availability of quick-response thermal sources and interconnectors with mainland Europe and Ireland has meant the lights have remained firmly on.
The capacity market
As the amount of variable sources has increased, a number of measures have already been put in place. In 2013, the government introduced its Electricity Market Reform designed to prepare the electricity system for capacity fluctuations.
"The GB electricity market is changing but remains resilient," says Gissey. "This is thanks to our capacity market, which is particularly useful in situations like these. 2017/18 was the capacity market's first full year of operation. There were higher daily margins between demand and supply this winter than in 2016/17, and this suggests that the capacity market has been effective in stimulating capacity investment, which is promising in terms of future situations such as [unfavourable weather conditions].
"From 2007 to 2015, the electricity capacity margin mainly increased year on year, due to both a decrease in peak demand and an increase in capacity. However, in the period 2013 to 2017, the capacity of major power producers fell quicker than peak demand due to plant closures and conversions, resulting in the capacity margin falling from a peak of 44% in 2013/14 to 29% in 2016/17, the lowest since 2009/10.
"Although embedded renewable capacity increased over that period, the uncontrollable production from solar and wind meant it did not cover the drop due to these plant closures. A drop in peak demand in 2017/18 and an increase in generation capacity saw the margin rise to 36%."
This goes a certain distance to ensuring the security of electricity supply in the UK, regardless of weather events. But these measures alone cannot fully mitigate the concerns associated with increased renewable capacity.
"The thing that capacity markets don't do at all is incentivise capacity that can respond just like that, flick a switch and the power comes on instantly," says UCL Professor of Energy and Climate Change Michael Grubb. "National Grid issued a call for what's called fast frequency response and actually got about 500MW of batteries built, not because they store electricity and they're available if there's not enough wind, but because they can respond extremely quickly to fluctuations on the system."
An over-reliance on interconnectors?
While efforts have been made to ensure the security of energy supply, there are still challenges ahead. One major challenge is Brexit, as the UK will lose its membership of the European Union's (EU) legal framework regarding interconnectors. While we do not know what will replace this, the uncertainty has led to questions around energy security.
The UK has increasingly relied on these interconnectors, which run under the English Channel connecting Britain to France's vast nuclear fleet among other sources. This trading of power has been facilitated by EU law, designed to ensure the energy security of all member states.
"There's a lot of scope for countries to help each other if it needs it," says Grubb. "I'm quite sure that the EU wouldn't be very happy, and I don't think the UK would even ask, to be part of those security sharing arrangements after Brexit. And so countries that would currently be providing significant flow, whether it's France or, for example, in the future Norwegian hydro project, would have a legal obligation to help other EU countries before they offered any help to the UK if there was a common problem.
"So by excluding ourselves from the EU security sharing processes, I think almost by definition we do slightly increase risks to UK energy security. Or at least, we'll have to spend more on domestic measures to compensate for that."
Fundamentally, with Brexit looming there is little decided with regards to energy sharing mechanisms. It is unlikely that the UK will be left in a position where it does not import any electricity from Europe, but the country would almost certainly drop down the European priority list, and intraday coupling will be affected.
There is hope on this front, however. Currently, there are four interconnectors, allowing the UK to import a capacity of 4GW. Plans are underway for a further 11 connections to come online by 2025. This increase would mean that, if necessary, the UK could import a fifth of its electricity needs.
Arrangements will need to be clarified within the Brexit agreement, but the new connectors do highlight the continued commitment by National Grid and its European counterparts to energy trading. As renewables increase throughout the continent, energy sharing can bring a greater level of security to all.
What would a calm, cold, cloudy snap do?
So, would the UK be left without power if the wrong weather conditions hit?
It seems unlikely; there are numerous backups in place and the system is becoming increasingly flexible. The UK is still reliant on thermal fuels; in April 2018, the country ran for three days without any coal, and throughout this time wind accounted for 24.9%, and there were smaller contributions from solar and biomass. However, the highest proportion, 30.3%, was covered by gas and a further 23.3% by nuclear.
"We retain a lot of thermal-based plant, the majority of which is now gas power," says Grubb. "There's also, for example, the Drax station that has a lot of biomass power. We have increased the incentives to improve our ability for demand to flex, some industrial consumers do more regularly turn down demand if they're going to be paid for it. So on those cold, windless days, we still have those reserves plus quite a significant contribution from interconnectors."
There are already projects and upgrades being made to secure the grid, including the construction of new interconnectors. To further increase energy security, Grubb highlights the importance of transmission and distribution.
"I think we have this semi-psychological issue that everybody thinks security means that you don't have enough power, but actually all of the power interruptions are due to failures on the transmission system. It follows that distributed generation actually located on distribution systems is probably more valuable to security."
Renewables will continue to increase, providing clean, efficient and economic sources of power. A cold, calm, cloudy period, which would dramatically reduce their output, would simply mean falling back on increased thermal and imported power, facilitated by advanced grid management and the capacity market. But the UK must continue to upgrade the grid to meet the challenge to come.
"In the short run, the big lesson is that the scare stories about how the grid can't cope with more than 10% of variable sources, has already been proven just completely wrong," says Grubb. "We've got to 25% and nothing's fallen over, and we've not even had to make much change to the system yet. I think moving from 25% to 50% [renewables share], the system needs to evolve quite substantially, and we're starting on that process, the capacity mechanism is part of that. I think we've only scratched the surface of demand-side response in vehicles and that kind of thing."