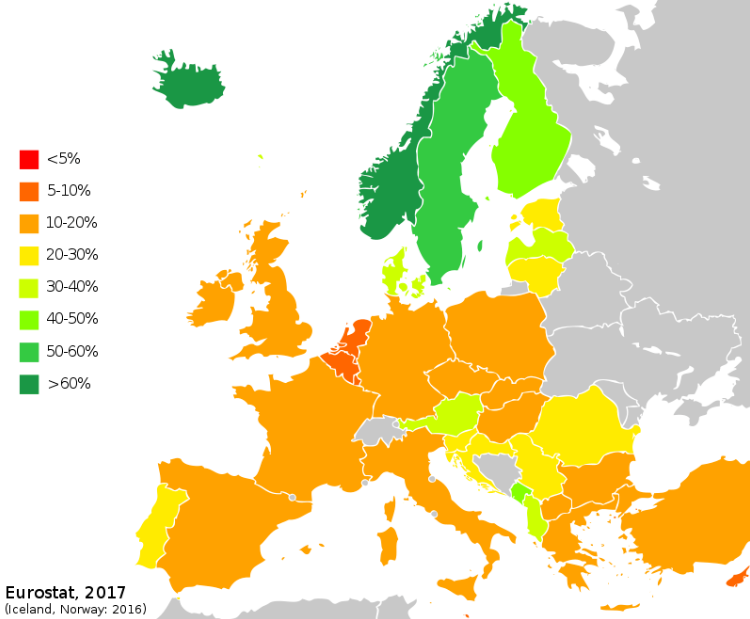 New statistics produced by the EU statistical office Eurostat show that the share of renewable across Europe was up to 17.5% in 2017. This is an increase of 0.5% from 2016, and more than double the share in 2004.
Eleven countries have already exceeded the EU's target to obtain 20% of energy in gross final consumption of energy from renewable sources. It is aiming to increase this to 32% by 2030.
The statistics take into account a number of factors, and are not based on countries individual targets. "The national targets take into account the Member States' different starting points, renewable energy potential and economic performance," the report explains.
So which countries are in the green, and which are lagging behind in the energy transition?
Green
Sweden
Sweden has long been a frontrunner when it comes to renewable energy. The country reached its 2020 target of 50% renewable energy in 2012, and is currently aiming to reach 100% renewable electricity by 2040.
Wind power is the fastest growing source of renewable power in Sweden, increasing from 0.5 TWh to 17.5 TWh between 2000 and 2017. Bioenergy and solar also form part of the country's energy network, while heat pumps and body heat are used as green sources of heating.
Estonia
The Estonian Government has pushed heavily for renewables in the past few years, as well as energy efficiency measures. Generous government subsidies are available for wind, solar, biomass and other forms of renewables power, helping the country to meet its individual 2020 target of 25% gross electricity from renewables in 2011.
However, despite the countries progress it remains the most carbon intensive economy in the OECD due to its attachment to shale oil mining.
Latvia
Latvia relies on hydropower for the majority of its renewable power, accounting for 97% of total production. Biomass and wind also currently contribute to renewable production in the country, giving it highest ranking of any of the Baltic States. It currently sits just 1% away from meeting its 2020 target and is thus predicted to meet it in the next year.
As renewables grow in Latvia, the share of natural gas in the nation is falling. In 2017, it accounted for just 23.4 %, down by 5 percentage points in a decade.
Amber (Those that should just meet or just miss their targets)
Spain
Spain has faced a number of stumbling blocks in its transition to renewables, including its controversial "sun tax" which made solar power uncompetitive. However, it is still predicted to just meet its 20% target for 2020.
In 2018, Spain committed to an ambitious scheme to switch to 100% renewable electricity by 2050. It intends to add 3,000GW of wind and solar power every year, from now to 2028.
Germany
Despite Germany's strong start as a wind power pioneer, the country has struggled with transitioning to renewable power for a number of reasons. The transmission and distribution system has hindered the country to a certain extent, as it often struggles to get wind power from the north to the south of the country.
Predominantly, it has been the dominance of coal that has held Germany back and led Eurostat to predict that it will just miss its 2020 target – achieving just 18%. Things are changing however, with 2018 seeing renewable sources overtake coal as the countries second biggest energy source for the first time.
Croatia
The newest member of the EU, Croatia, is making inroads towards renewable energy but must also balance growing demand and its reliance on imports in its future. Currently it imports 40% of its electricity, and moving away from this could create challenges for its renewables capacity.
The state-run power utility HEP is working to increase renewables capacity, and in 2018 announced that it was aiming to boost its share of renewable to 50% by 2030. It plans to invest a billion Croatian kuna ($153.96 million) a year in hydro, wind and solar in order to meet this goal.
Red
Luxemburg
The country with the lowest amount of renewable energy according to Eurostat was Luxemburg, with a dismal 6.4% in 2017. It is predicted to reach just 11% by 2020, falling far short of its target.
Luxemburg relies on imports to meet all of its energy needs, making energy security a particular priority for the nation.
Poland
Poland is Europe's largest producer of coal, and the second biggest consumer, as such it is possibly unsurprising that it is predicted to miss its renewable energy targets. The coal industries political influence in particular has led to a number of unfavourable government renewable policies, such as the quadrupling of tax on wind turbines in 2016.
But change seems to finally be underway, with plans to greatly increase solar installation in particular announced by the Polish Government.
UK
Despite having more offshore wind power than any other nation, the UK's renewable transition has been slow. It is predicted to miss its target by 5% in 2020, as not enough is being done to transition the nation to renewables.
While phasing out coal power has been relatively successful, natural gas still makes up the majority of the country's electricity demand. The exception to this would be Scotland, where the majority of the UK's wind energy is situated. Recent statistics show that renewables provided 74.6% of Scotland's gross electricity consumption in 2018.
The rest (2020 predictions):
Belgium 13% – Red
Bulgaria 16% – Red
Czechia 13% – Red
Denmark 30% – Green
Germany 18% – Amber
Estonia 25% – Green
Ireland 16% – Red
Greece 18% – Amber
Spain 20% – Amber
France 23% – Green
Croatia 20% – Amber
Italy 17% – Red
Cyprus 13% – Red
Latvia 40% – Green
Lithuania 23% – Green
Luxembourg 11% – Red
Hungary 13% – Red
Malta 10% – Red
Netherlands 14% – Red
Austria 34% – Green
Poland 15% – Red
Portugal 31% – Green
Romania 24% – Green
Slovenia 25% – Green
Slovakia 14% – Red
Finland 38% – Green
Sweden 49% – Green
United Kingdom 15% – Red
Albania 38% – Green
Montenegro 33% – Green
Former Yug. Rep. of Macedonia 28% – Green
Serbia 27% – Green
Turkey 13.2% – Red
Kosovo** 25% – Green