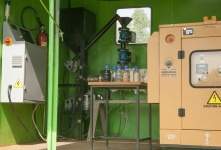 In three remote villages in the rural Punjab area of India, an ambitious renewable energy project between a UK and Indian University is currently undergoing its first onsite pilot phase, supported by high hopes it will, in the near future, transform village life forever.
The Energy Harvest project, unveiled this week by the European Bioenergy Research Institute (EBRI) at Aston University and the Institute of Technology in Ropar (IIT Ropar), India, uses patented technology to turn unwanted crop waste into useable oils, gas and biochar.
"Using technology called a Pyroformer villagers can convert this otherwise wasted by product into fuel."
This waste is usually burnt to the ground, causing harmful effects to the environment and negative health implications, as well as wasting a potential economy.
Using technology called a Pyroformer villagers can convert this otherwise wasted by product into fuel. For example, it can make oil to mix with diesel to fuel the old fashioned style engines they use to pump water out of wells, create gas for power generation or make biochar to use as a fertiliser to increase crop growth.
During the pilot of the project each village will take it in turns to use the self-contained portable Pyroformer to do just this. If successful, it could see the end to the practise of crop burning.
"It is win, win, win – there is nothing negative about this," says Professor Dame Julia King, vice-chancellor of Aston University.
Professor Robert Berry, executive dean at Aston University, adds that different villagers see different benefits from the Pyroformer.
"They all want to see the economic value and many want to stop the burning, whereas some are interested in lowering the cost of electricity, which is expensive in these remote areas," he says.
Building on German technology
The Pyroformer works in a similar way to German biofuel vehicles, but the technology itself was actually based on work done by an earlier project between Aston University and IIT Delhi.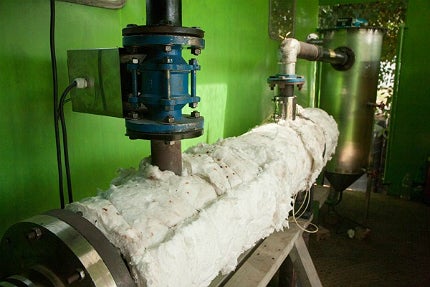 Unlike conventional German biofuel vehicles, the Pyroformer does not need a constant waste stream, different wastes can be entered at the same time and it has been tested with 20 – 30 different waste streams.
The unit is currently produced in Germany, but to make it more affordable it can be made in India for much less, King says.
A unit can process 25kg per hour, which can service half a village – the typical size of a village is 1,000 – 1500,00 people – and payback its cost in four years.
In the future, the team hope to double the Pyroformer in size so it will payback in half this time.
Economic model a must for future success
Inevitably the Pyroformer technology will need tweaking, but for the project to really work long term, the universities together need to come up with a stable business model for the project, while also capturing the imagination of the village community.
"The biggest problem is engaging the community and making it worth their while. People need to be motivated by real economic benefits," Berry says.
"It can not succeed as a UK only initiative, what we need is an Indian face and presence, so we're going to create a charity for Indian philanthropy and businesses to invest," he adds.
As well as finding a slick business model to run Energy Harvest project under, the universities' next goal is taking the current small decentralised system and scaling it up.
Berry says in the next six months they want to produce six more units and put them in more villages for a longer duration of time. But to do this they'll need more funding – the project has so far been funded by The Oglesby Charitable Trust and Aston University – and the support of the community who, although they have shown keen interest, at times have been difficult to win over.
However, Professor M K Surappa, director of IIT Ropar, says: "Technical support throughout the trials that have taken place has also been given and IIT Ropar has built strong relationships with the villages participating in these trials."
From India to the world
"For now the project is completely focused on India and transforming its rural way of life."
Energy Harvest still has a few more milestones to climb before it can say it has successfully transformed rural village life in the Punjab.
But when the current issues are resolved the model could be replicated in other parts of the world.
"We think of this as a charitable thing in India, but it could actually work in many places, like Egypt, for example," says King.
But for now the project is completely focused on India and transforming its rural way of life.
And the goal is simple, as Surappa expresses: "I hope this project will provide a socially and economically viable solution for farming communities, not only in the Punjab but for the rest of the country."

Related content
---
A new innovation that can 'print' coloured glass and use it to harness electricity from the sun's rays is currently reaping awards – so what's all the hype about?
Forecast spending for 2012 has been lowered as government officials confirm the UK will pull out of Afghanistan by 2014.A Nasa-funded research programme at the University of Washington is testing whether nuclear fusion could replace rocket fuel and propel a spacecraft to Mars.
---