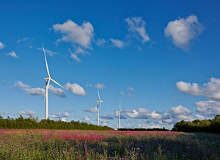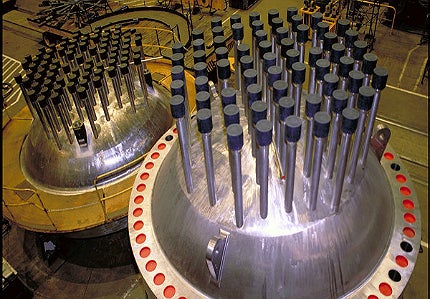 Power equipment manufacturer Siemens has won an order to supply, install and commission 24 direct-drive wind turbines for four wind projects, in the Nord Pas-de-Calais and Picardie regions of northern France.
According to the contract, Siemens will supply the model SWT-3.0-101 wind turbine, each having a capacity of 3MW and a rotor diametre of 101m.
The contract also includes maintenance of the wind turbines for a period of 15 years, while erection and commissioning are scheduled for 2014.
Mitsubishi Heavy Industries (MHI), along with Taiwan EPC firm CTCI, has won a full-turnkey contract from Taiwan Power (Taipower) to construct a 2.6GW natural gas-fired gas turbine combined cycle (GTCC) power generation plant in Miaoli County, Taiwan.
According to the contract, MHI will manufacture and supply the gas and steam turbines and its group company Mitsubishi Electric will supply generators, while CTCI will be responsible for construction and installation at the plant site, as well as EPC work for the balance of the plant.
The proposed plant, which is being built at a site in Tunghsiao Township, will include three GTCC power generation islands, each featuring two M501J gas turbines, one steam turbine, a heat recovery steam generator and three generators.

Danish utility DONG Energy has officially inaugurated the 400MW Anholt offshore wind farm in the Kattegat, located off Denmark's eastern coast, around 20km north-east of the Jutland peninsula.
The project, which features 111 Siemens 3.6MW wind turbines, will supply enough electricity to power approximately 400,000 Danish households.
The project, which is owned by DONG Energy (50%), Pension Danmark (30%) and PKA (20%), connected its first turbine to the grid in September 2012, and has become fully operational by connecting the 111th turbine to the Danish grid in 2013.
Japanese firm Toshiba will acquire a major part of Indian-based manufacturer Vijai Electricals' electricity transmission and distribution (T&D) business, for a cash consideration of around $200m, to expand its business in India and the global market.
To be completed in November 2013, the acquisition will see Toshiba consequently launch a new company, which will take over Vijai's T&D business and integrate Toshiba's design and manufacturing technologies for T&D systems.
The new company, which is being positioned as a core production base, will foray into other power-related markets in India, and will help expand Toshiba's T&D business in the country and global market. Toshiba already has production bases in Japan, China, Brazil, Russia and south-east Asia.

US-based solar PV modules manufacturer First Solar has commenced construction on the 150MWac Solar Gen 2 project in Imperial County, California.
Construction of the plant, which will generate enough electricity to power more than 60,000 average California homes, is likely to be complete by July 2014.
The project will help to reduce more than 115,000 metric tons of CO2 annually, and will sell its output to San Diego Gas & Electric (SDG&E) under a 25-year power purchase agreement.
Composed of three neighboring sites; Sonora, Arkansas, and Alhambra; Solar Gen 2 will create around 800 construction jobs and boost the local economy by generating approximately $150,000 in property taxes annually and $4.6m under the public benefits agreement.
Iberdrola Renewables has won a land lease bid from the New Mexico State Land Office for a proposed wind energy project to be built on the state trust land in Torrance County.
The company has secured a 45-year lease of 39,000 acres in Torrance, San Miguel and Santa Fe counties, which will be used for the wind-power project and transmission lines, construction of which will take place in several phases in the next ten years.
The proposed El Cabo project, spread across some 87,000 acres of private land, including 39,000 acres of federal land, will generate an estimated 1,000MW of electricity, which will generate enough electricity to power 400,000 homes.

General Electric Company (GE) has secured three contracts worth $2.7bn from Societe Algerienne de Production d'electricite (SPE), an affiliate of Sonelgaz, to supply heavy-duty gas turbine combined-cycle and aeroderivative gas turbine technology for nine power plants in Algeria.
Under the three contracts, GE will supply a total of 26 heavy-duty gas turbines, 12 steam turbines and 38 generators for the nine plants, located in the northern part of the country.
The first contract, worth $1.9bn, will see GE supplying 9F three-series gas turbines, equipped with its Dry Low NOx (DLN) dual-fuel combustion technology, for six new combined-cycle power plants, which will have a total capacity of more than 8GW, enough to power around eight million Algerian households.
China Techenergy, a 60/40 joint venture owned by China General Nuclear Power (CGNPC) and Beijing Hollysys, has won a contract to supply and commission automation control and reactor protection system for units five and six at the 6,000MW Yangjiang nuclear power station.
The contract will see the supply of Hollysys' proprietary distributed control system, HOLLiAS-N DCS, and China Techenergy's proprietary reactor protection system for both units.
The DCS system, which is specifically developed for 1GW level nuclear plant and touted as the nervous system of such plants' operations, will help in automatic control and operational monitoring of the units at the plant.