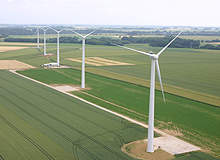 Not only is wastewater a major by-product of traditional power stations like coal and nuclear power, but these stations also use a staggering amount of water during the energy-generation process. An increasing focus on renewable energy – and wind power in particular – can go a long way towards safeguarding our most precious commodity: fresh water.
As human populations across the world continue to swell, the pressure on shrinking water resources is reaching bursting point. The next few years will be crucial in ensuring the efficient management of communal, municipal and national water supplies in the long-term. In light of this, a move away from water-intensive power generation is vital if we are to relieve some of the pressure on limited water resources, particularly in some of the more arid parts of the world.
While many countries have turned to hydroelectricity in an attempt to cut down on the harmful emissions synonymous with power generation from nuclear and fossil fuel sources, this does not lessen water shortages. On top of this, environmentalists have pinpointed the threat posed to water reserves by both floods and drought, as climate change continues to affect global weather patterns.
Wind farms in arid areas
Nelson Mandela Bay in South Africa's Eastern Cape Province, for example, is in the midst of a severe drought, with water storage dams across the region approaching critical levels.
"Traditional power stations use a staggering amount of water during the energy-generation process."
Wind farms are likely to be important sources of electricity production in areas with limited access to water. Kevin Minkoff, project manager of wind farm development at InnoWind South Africa, points out: "Fresh water requirements for conventional power stations are often overlooked by renewable energy sceptics. In the Eastern Cape's current water crisis, these considerations are very relevant."
Dr Garth Cambray, a leading advocate for renewable energy in the Eastern Cape, agrees. Based nearby in Grahamstown, he believes wind energy production can curb significant local water and power shortages, which is why he became involved in InnoWind's planned Waainek Wind Farm project just outside Grahamstown.
"The current water requirement in a coal plant is about 1,000l/MWh minimum," Cambray explains. "In Grahamstown our data to date shows more than 60% output, around double the average for wind farms globally, meaning that every hour a single 3MW turbine will save around 1,500l of water that would have been used in a coal plant. That's 43,200l of water saved per turbine, per day."
Waainek Wind Farm will feature ten turbines, theoretically saving 432,000l of water every day. According to Cambray, this is highly significant for small or remote communities: "In Grahamstown we just don't have that amount of water to generate power, so we would never be able to rely on nuclear or coal power. For small, water deficient towns – whether they are attempting to gain a level of energy independence from the unreliable national power grid or simply trying to localise their power supply – the only real options are wind or solar power."
The relatively dry state of Texas is way ahead of the pack in terms of wind power generation in the US, with the American Wind Energy Association (AWEA) citing 9,708MW installed capacity as of June 2010 (the next largest capacity is found in Iowa, with 3,670MW). It is also home to the world's largest wind power generation site, the 781-MW, 627-turbine Roscoe Wind Farm.
With projects of this scale the benefits are starkly apparent. "If we take a projected approximate average yield of 40% for wind farms in South Africa and look at 10,000MW of installed wind farm, this would equate to a saving of 96 million litres of water a day," Cambray notes.
Waste not, want not
Coal and Nuclear-fuelled power stations also produce wastewater from the power generation process. Karin Oskarsson's reference book A Planner's Guide for Selecting Clean-Coal Technologies for Power Plants, compares wastewater production in several Scandinavian power stations with water usage in other stages of the process. To take one example, a 744MW coal-fired plant uses 570 million cubic metres of cooling water and 260,000m³ of process water every year, while 74 000 m³ of wastewater is produced.
"The current water requirement in a coal plant is about 1,000l/MWh minimum."
It is clear from this that wind power can achieve significant water savings. The amount of wastewater produced in comparison appears fairly negligible, but there are other considerations to take into account.
Polluted wastewater must be treated to reduce its environmental impact. According to Oskarsson, this includes "neutralisation of pH by addition of acid or base, oil separation from wastewater, flocculation and precipitation of metal ions and detoxification of process streams." The excess sludge produced must then be transported to landfills, while treated wastewater is reintegrated into the water cycle.
By removing the need for this treatment process and the transportation of solid waste, wind power further reduces energy requirements for the power generation process, while it can even be usefully integrated into the current system by providing the power needed to run existing water treatment facilities for coal and nuclear plants.
Radioactive waste and acid mine drainage
Jeff Siegel, managing editor of investment research company Green Chip Stocks, says that nuclear power carries "an environmental burden of uranium mining and of course, nuclear waste," while a 2007 Department of Energy environmental management report points to "millions of gallons of radioactive waste", "thousands of tons of spent nuclear fuel and material" and "huge quantities of contaminated soil and water" across the US.
Coal power also requires mining operations with the potential for severe environmental consequences. "Once a mine is decommissioned it fills up with water. This water, polluted with sulphuric acid, which forms as exposed rocks break down, then spills out into nearby rivers," explains Cambray. "Sulphuric acid leaches out radioactive elements, heavy metals and other lethal elements, so even after the coal power plant has finished operating, it will still pollute water for thousands of years to come via acid mine drainage," he continues. "Estimates suggest that pollutants such as acid mine drainage and human waste could render as much as 80% of South Africa's water unusable within the next 25 years."
Benefiting rural communities and developing countries
"Wind farms are likely to be important sources of electricity production in areas with limited access to water."
Clearly wind energy has great potential for alleviating global water shortage concerns, particularly in arid areas and low-income communities. Wind farms can supply power to the main grid, while individual turbines can supplement power via personal or communal electricity generation at the point of delivery. Hermann Oelsner, president of the AWEA, was quoted on windmonthly.com as saying that communities far removed from power grids across sub-Saharan Africa "could benefit from mini-grids linking small wind turbines with photovoltaic and biofuel generation, building from the bottom up." These hybrid renewable systems combining wind power with biodiesel and solar / photovoltaic technology will make electricity more readily available in remote areas.
According to windmonthly.com's Shem Oirere and Jan Dodd, wind is the crucial factor: "On-grid generation through the use of micro turbines can bring large potential benefits to the developing world. Off-grid micro turbines can create power for water pumping and desalination and power brings economic benefits by opening up remote regions to development, creating jobs and benefiting health."
"Wind energy is also occasionally used to reduce the output of hydroelectric dams, which can store water to be used later to replace more expensive fossil fuel generation," adds Michael Goggin, electrical industry analyst at AWEA.
Any way you look at it, the winds of change are starting to blow, turning the turbines that will generate cheaper, cleaner and more reliable energy, simultaneously alleviating the strain being placed on worldwide water resources.