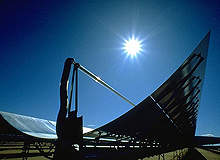 Still a relatively young region in comparison to Europe and the US, the Gulf Cooperation Council (GCC) is maturing and so too are its industries. It is, therefore, timely and fitting that professionals from around the globe are making their way to Qatar to speak about their experiences in the solar power industry at the two-day Arena GCC Solar Power Meeting.
With so much solar radiation available, the Middle East is an ideal spot to generate power through photovoltaic panels, stations and plants, but there questions to consider before it can be implemented; what are the incentives for the initiation of solar development projects? And what are the carbon reduction policies which will increase the drive to implement solar technologies?
Here we talk exclusively to US-based IEEE Power and Energy Society vice president and chaired professor and director at the Virginia Tech Advanced Research Institute Saifur Rahman about these issues and what messages he would like to get across to delegates at the conference.
Sarah Blackman: What will be the main topics of discussion at the GCC Solar Power Meeting?
Saifur Rahman: The speakers will look at what policies have been in place around the world, including Europe, Asia and North America, to encourage a higher level of deployment of renewable energy. I will be talking about tax, incentives, government programmes, price reports, technology improvements and which countries have been successful in implementing solar technology and which have found it challenge. It is a global summary of different policies that have made wind and solar energy a market force.
SB: Why is solar power technology taking off in some countries but not in others?
"The speakers will look at what policies have been in place around the world."
SR: To use European countries as examples, the feed in tariff (in terms of Euros) to attract solar projects is more attractive in Germany than in Spain. But, more importantly, in Germany, when they change the tariff, they do not apply this retroactively to projects already on the ground or projects that are on-going. In Spain they apply these revised, usually lower, tariffs retroactively which throw investors off because they have already made their business plan based on the tariff that was in effect at the time the project was initiated.
SB: What are the major lessons to be learned about solar in the Middle East?
SR: Through my presentation, delegates will learn from global experiences so that they can move quickly, without having to do carry out tests on solar technology themselves. They will also learn what was successful in country X and what was not in country Y. To my knowledge, there will be policy makers attending from Gulf countries that already run or would like to run solar programmes. Some academics will also attend, and may talk about developing new technologies.
SB: How has the Middle East adopted to solar power compared to the rest of the world?
SR: Compared to what has happened in the US and Europe, the Middle East has not done much. Countries such as the UAE, Jordan, Saudi Arabia and, to some extent, Libya and Morocco, are getting into this business slowly, because they believe this is going to be a long-term, sustainable opportunity to maintain leadership due to the large amount of solar radiation available.
"There are also some wind and solar energy projects coming up in Egypt and Jordan."
I think the policy makers in the Middle East are interested to learn about experiences in other countries so they can emulate them and use them to their advantage.
But, from my 15 years experience in the Middle East, I have learned that Middle Eastern countries show interest in new technologies, but when it comes to implementing them they take a step back because they are worried about short-term financial returns.
They will choose oil as a form of energy because it is fundamentally cheaper.
SB: What can be done to change their habits?
SR: Somehow they have to make a fundamental shift in their thinking – to realise that what will be good for them 20 years from now may not be what is good for them in 2012. Hopefully this meeting will show them that countries such as the US, which has a lot of coal and nuclear power, is focusing on renewable energy, and countries such as Thailand, which has a significant amount of other resources, is opting for solar because it is looking at the long term.
SB: What solar power projects are expected to come online in the Middle East in the next year?
SR: The Masdar project is being built in the UAE and contractors are implementing photovoltaic panels. There are also some wind and solar energy projects coming up in Egypt and Jordan. Given the financial crisis, companies are looking at other options to make money. At the same time, the price of solar panels has dropped by at least 50% over the past 18 months, creating huge business opportunities.