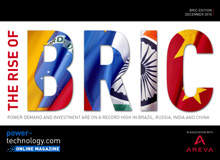 Electricity demand in the BRIC economies – Brazil, Russia, India and China – is expected to increase by 75% over the next decade. This, combined with record investment, has created new opportunities for suppliers of power plant, transmission and distribution technology.
In this month's issue we look at the challenges and opportunities arising from the rapid growth of the BRIC nations' power industries. While Russia is reforming its nuclear sector to become a global energy player, India struggles to meet power demand with bureaucracy issues delaying new infrastructure projects. Meanwhile, China is becoming a global leader in renewable energy with landmark legislation and massive investments, and Brazil is investing in thermoelectric generation in a bid to move away from its dependence on hydropower after a series of shortages.
To view the latest issue online, click here. The online magazine is also viewable on mobile devices, iPhones and iPads.
Powerful Steps
At their second summit, BRIC leaders spelt out their intention to cooperate in the fields of infrastructure construction, clean energy and nuclear power. Mark Brierley investigates how productive the BRIC countries' bilateral ties are likely to be.
Read the full article.
A New Generation
Russia's nuclear energy industry has undergone large-scale reforms, resulting in the development of a complete nuclear fuel cycle production chain. Sergey Kirienko, director general of Rosatom, reveals how the country is changing its role from a raw isotopes supplier to an equal partner in international joint venture projects.
Read the full article.
Let the Light In
As the world's sixth largest energy consumer, India has energy ambitions just as dramatic as those of China. However, while China is renowned for its rapid project implementation, India's new power generation ventures are often hindered by bureaucracy, delays and cost overruns. It's time for the country to rethink its power strategy, writes Nigel Ash.
Read the full article.
Caught Short
After a series of droughts, Brazil's dependence on hydropower led its government to introduce the Thermoelectric Priority Programme in 2000 in order to diversify the country's power mix. However, large-scale blackouts and severe energy shortages in 2009 again highlighted the risk of relying solely on hydropower. Mark Brierley investigates.
Read the full article.
Rising Clean
Due to landmark legislation and huge levels of investment, China is quickly becoming a global leader in renewable energy. Alex Hawkes investigates the sector's meteoric rise.
Read the full article.
Industry Projects
In our industry projects section we take a close look at power plants and new projects under construction in the BRIC countries.
Floating Nuclear Power Stations – Russia's Rosatom Atomic Power Agency is building eight 70MW floating nuclear power stations to be stationed at remote locations around the country.
Read the full article.
Barh I and II Coal-Powered Plant – Around 3,300MW of coal-generated power is being added to India's Barh power station, with the 1,980MW Barh I and the 1,320MW Barh II extensions under construction.
Read the full article.
Ethanol-Fired Power Plant – The world's first ethanol-powered plant, launched by Petrobras in January 2010, will generate electricity on a commercial scale using sugarcane-derived ethanol.
Read the full article.
Tianwan 1 and 2 Nuclear Reactors – The largest nuclear reactors ever built in China use pressurised water technology and have an output of 1060MW each.
Read the full article.
Next Issue
Before we tackle the year ahead, it is time to take a look back on the year 2010 in the power industry.
We team up with industry experts to review the most important developments in the power market. We also round up the biggest players, trends and projects of the past year and take a look at major decisions made on the global political stage that will affect the power industry.
To make sure you get next month's edition first, sign up for a free subscription.
Online Magazine FAQ
The online magazine is viewable on any computer with Flash Player installed. It is also viewable on mobile devices, iPhones and iPads though some features and videos will be disabled. To view the online magazine, click here.