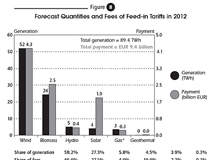 In September 2010, the German government extended the planned life of the country's 17 nuclear power plants. As a result, the 11 pressurised water reactors and 6 boiling water reactors will, after 2020, continue to generate 20GWe – a quarter of Germany's total electricity supply.
The previous coalition (Social Democratic Party/Green Party) had planned to phase the plants out by 2021. The new coalition (Christian Democrat/Liberal Democrat) has reversed that decision and plans to keep the plants open an average of 12 years longer, into the 2030s. Chancellor Merkel has called it a "bridge technology" that is needed until, she says, renewables are ready. The decision, however, is not popular within Germany with most voters decidedly opposed.
Bringing in revenue
Extending the life of the plants will certainly bring the Government large amounts of revenue. The four operators (EnBW, E.ON, RWE and Vattenfall) will pay over £30bn for the extra operating life, and up to £1bn into a renewable energy fund.
The reactors, however, will need to be overhauled. They will, for example, need to be structurally reinforced to resist a major terrorist air strike. That alone could cost £1bn per site, and other safety improvements could cost over £1bn per site per year. Some of Germany's plants (Biblis, Brunsbüttel, Krümmel and Neckarwestheim) have had operating problems, and it may not be worthwhile upgrading the older plants. 
"The decision has also been criticised for slowing the development of renewable energy in Germany."
From the one side the fees have been opposed by the large energy companies, who were hoping for bumper profits. From the other there could still be a legal challenge, the public has been protesting against the decision, and the Greens have promised to reverse it if the party again shares power.
Part of that determination comes from the difficulties of getting rid of the other major output of a nuclear power plant – the waste.
Getting rid of nuclear waste
The government has been accused of pocketing energy company money with no plan for where or how to get rid of the thousands extra tons (around 450t per year) of nuclear waste. At the moment all that is known is that spent fuel transports will be reprocessed in France and Britain and temporarily stored at reactor sites and two waste repositories, at Konrad and Gorleben.
A permanent storage site has to be found by 2030, and Gorleben was also at first considered a candidate. It was rejected in 2000, however, because the salt mine geology was found to be unsuitable. The site is being reviewed again over the next seven years, but it is hard to see how the rocks might have improved since then. There is pressure to look elsewhere in mountainous regions, but there are no obvious sites yet.
A "bridge" to renewables?
The decision has also been criticised for slowing the development of renewable energy in Germany. The major energy companies may actually reduce investment in renewable sources since a guaranteed nuclear profit makes wind power look less attractive. That would be serious for the healthy German renewables industry: the country now generates 10% of its electricity from hydroelectric / wind power, and 5% from biomass / waste.
The plan is still to generate 20% from renewable sources by 2020 and over 80% by 2050. The left / green coalition made serious inroads on these targets by, for example, setting generous feed-in tariffs for solar and wind developments. Grid operators have to buy electricity produced from renewable energy sources at a minimum price. The electricity price for renewables is guaranteed to operators for up to 20 years, with costs being passed onto consumers. 
As a result, there are already over 20,000 wind turbines in Germany, and the industry employs around 100,000 people. Turnover is above £8bn, almost a third of the world's total £22bn. Typically for renewables, wind energy is more labour intensive than fossil fuels and nuclear power, so benefits and jobs are kept within local communities.
Many generators are now being replaced with more modern versions to increase power output, and new ones are being built. The 60MW West Borkum wind farm, opened in April 2010, was the country's first offshore farm.
Solar demand has flourished too, with Germany having around half the world's photovoltaic panels. The country is the world's largest biodiesel producer, with production growing by 20%-30% a year. 
Germany's new approach to cutting CO2
Germany now produces enough electricity to supply its domestic market, and exports the rest (around 15bn kWh). Most of the supply (45%) comes from coal, however, and another 15% from oil and gas. Germany has coal reserves (mainly lignite) but only small hydrocarbon reserves, and is one of the world's biggest importers of coal, gas and oil.
The nuclear extension will help to reduce those imports. Most Germany nuclear plants have also actually been upgraded over the past 10 to 15 years. Closing them would therefore have meant importing expensive electricity from plants in surrounding countries that are older and perhaps less safe than the ones Germany would have just closed. Once a nuclear reactor has been built, it also has to be decommissioned, the site cleaned up, and the waste stored. Shutting it early means there is less revenue to pay for the decommissioning.
"Once a nuclear reactor has been built, it also has to be decommissioned, the site cleaned up, and the waste stored."
Here and elsewhere, renewable sources have been criticised for relying on subsidies. This is somewhat hypocritical in view of the hundreds of the billions of dollars of subsidies that still go to nuclear and fossil fuels yearly. If nuclear power is indeed needed to keep the German lights on, it is mainly because the economics have been so heavily slanted towards nuclear and fossil-fuel generation. 
The government could perhaps defend using nuclear as a 'bridge technology' if the money was being invested in renewable energy projects like Desertec, but it is not.
The country is reported to have over 8GW of coal fired electricity plants currently under construction, and the Environment Minister Sigmar Gabriel wants more. Gabriel seems to have let slip Germany's new approach to reducing emissions "You can build 100 coal-fired power plants and don't have to have higher CO2 emissions".
The new government seems intent on trading its way out of emissions increases – a potentially fraudulent sleight of hand that would require no CO2 cuts at all.