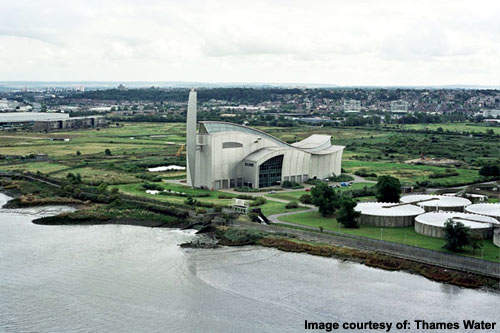 Energy efficiency projects fall squarely into the overlap between economic and environmental drivers, where these two compelling – but often competing – influences push for the same common purpose.
Unsurprisingly, the mounting urgency of both has seen cogeneration grow in stature over recent years, which means it now occupies a much larger position in the energy panorama, not to mention – at least in some cases – the physical landscape.
Seen from the Thames, the defining view of Crossness sewage treatment plant (one of the largest such plants in Europe) is the building that houses the facility's 5MW sludge-powered generator.
The plant deals with the sludge from 2.2 million people, incinerating around 30,000t a year – 15% of the company's total – and generating around 20GWh of 'green' electricity annually as a result.
ON-SITE COGENERATION
Crossness is certainly not unique in this respect. On-site cogeneration is a natural fit for municipal wastewater treatment facilities, particularly given their need for standby power to overcome any outages in utility supply, the rising cost of energy and the ready availability of sludge and digester gas as free fuels.
In addition, in many countries, there are often grants or other incentives available to encourage plant operators to go down this route – and a number of nations have. And while many of the generators used are somewhat smaller than the steam turbine at Crossness, there are many installed that come in even larger.
"The Crossness sewage treatment plant generates around 20GWh of 'green' electricity annually."
The Renton works in Washington's King County, for instance, boasts two cogeneration systems – a 1MW fuel cell and an 8MW digester gas-fuelled installation which uses two gas and a steam turbine.
The generator at Crossness began running in 1998 with the Renton installations coming online some six years later. But cogeneration is scarcely a novel idea – combined heat and power (CHP) has been around for a very long time.
And despite cogeneration's rising popularity within the water industry, it is not just sewage treatment plants alone that see the benefit of using fuel in such a thermodynamically efficient way. According to Peter Löffler, head of public affairs at Cogen Europe, conditions could soon be favourable for the development of as much as 100GW of new cogeneration projects over the next ten to 15 years in Europe alone.
DRIVING COGENERATION
Against a backdrop of rising energy prices, growing environmental regulation and concerns of security and continuity of supply, the uptake of cogeneration – particularly small-scale installations in the100kW to 2MW range – has been steadily gaining ground.
For an individual factory or plant owner there are a number of issues which may form the primary motivation to explore the cogeneration route, including reliability of operation, volatile fuel prices, overall cost savings and the need for standby power or lower emissions.
"On-site cogeneration is a natural fit for municipal wastewater treatment facilities."
On top of this, changes both in public perception, driven largely by increased environmental concern, and changing attitudes in the energy sector have combined to open the way for small-scale cogeneration projects.
Awareness of the potential offered by CHP has also grown amongst the business community in recent years; at the same time, advances in the areas of technical design and system reliability have made CHP look like a more attractive option.
Enhanced fuel efficiency and emission reduction have played a significant part in this and there is one trend which seems to be gathering particular momentum as a result of this – the move towards enhanced microprocessor control. The worldwide market for power electronics components in this sector currently stands at around $3.8m; it is expected to top $7.5m by 2011.
Part of the reason for this lies in the need for installations to be able to make increasingly sophisticated, intelligent decisions for operations at the systems level. Small CHP plants are principally constructed to meet onsite needs but since it is seldom possible to strike an exact balance between the need for heat and electricity, the chance often arises to export the surplus.
"There are often grants or other incentives available to encourage plant operators to go down the cogeneration route."
With cogeneration being most efficient when the heat element is used within close proximity to where it arises, options for selling excess heat are usually limited to adjacent businesses. Neighbouring operations may also form a customer for the surplus electricity, as may the utility where the site is connected to the grid.
This has clear benefits to cogeneration economics, which can be maximised by basing the decision when to sell on factors such as the market price, original fuel cost and the efficiency of on-site thermal recovery – making the advantages of advanced automated control clear.
COGENERATION – THE LITTLE FACTS
At a smaller scale, micro-CHP systems are also emerging as serious contenders for individual homes or small commercial premises. Unlike larger-scale installations, the micro-cogeneration approach is heat-driven, with electricity effectively being generated as a useful by-product. This, coupled with the typical fluctuating domestic electrical demand, often leads such systems to be generating a surplus over and above what is required at a given instant.
Currently, take-up is very country-dependent, with Japan topping the league table for micro-CHP with more than 50,000 units, many of which are sophisticated systems from Honda, boasting low operational noise and a solid-state interface with the grid.
A system utilising this same Honda technology has recently launched on the American market – it claims to be able to produce about half of the electricity needed by the average US home from the same amount of fuel currently being used for heating alone.
"Micro-CHP systems are emerging as serious contenders for individual homes or small commercial premises."
The aptly-named 'Freewatt' units are initially being targeted in the north-eastern parts of the US – where the climate drives a high heating demand – in conjunction with a series of incentive programmes from the local utility providers. It is, of course, far too early to know whether the take-up levels will replicate Japan but the initial signs have been encouraging.
Despite an estimated 75% of the UK's 24 million households being suitable to benefit from micro-CHP, fewer than 2,000 homes actually do, though changes to the VAT payable on these systems are starting to make them look more appealing.
Reducing the rate to 5%, an effective subsidy of 12.5% was established in 2005 which – along with changes to the grid interconnection and metering requirements – was expressly designed to improve the sector's cost competitiveness.
If all of Britain's suitable homes installed these systems, the result could be as much as 20GW of distributed electrical power and an annual carbon dioxide reduction of around 1t to 2t per household.
COGENERATION – KYOTO AND EUROPE
At the other end of the spectrum, the pendulum has also begun to swing more firmly towards cogeneration for larger power plants, particularly within Europe. But the drivers on this are slightly different – chiefly comprising the EU's own energy policy objectives.
Although the liberalisation of the energy market in the early 1990s undoubtedly took its toll on the development of CHP, allied moves towards ensuring security of supply and protecting the climate have seen many power companies now looking to grow their cogeneration portfolios.
In this respect, two trends seem to be emerging – the tried and trusted district heating route, with combined cycle plants burning natural gas or gasified coal and a joint venture approach, to implement on-site industrial cogeneration schemes.
"Japan is topping the league table for micro-CHP with more than 50,000 units."
Part of the renewed interest arises out of Europe's firm commitment to achieving its targets under the Kyoto agreement – an 8% reduction in greenhouse gas emissions compared to 1990 levels, by 2012 at the latest. It is clear that since current emissions are higher than this figure, by the time the deadline arrives the actual cuts required will need to be greater – perhaps 20% or more.
With the contribution of renewable energy set to grow in absolute terms, but without significantly increasing its market share, and nuclear predicted to decline, at least over this timeframe, increasing energy efficiency becomes the obvious solution. If Europe is to adopt a more sustainable model for energy with any degree of success it seems inevitable that cogeneration will have to play a role in that transition.
However, much of how this plays out will depend on the emissions trading scheme (ETS) and particularly how, in the medium term, it affects electrical utility companies with large thermal generation capacity. If emissions trading pushes up the price of power to the sort of eventual levels that some analysts have predicted, energy efficient methods of generation will become very attractive.
NOTHING IS PERFECT – COGENERATION PITFALLS
Despite the many advantages, it is not all plain sailing. While micro-CHP has great potential advantages both to the householder in reduced cost and the utility in lowered carbon emissions, there are problems which may become more pressing if the take-up rate grows.
Currently, much of the incentive comes from the net metering model, where excess electricity is sold back to the grid. Although this is a highly efficient approach, and relatively simple to configure, the purchasing utility typically compensates the micro-generator by the same amount as consumers will pay per unit – or less. In addition, while the numbers of homes with these systems remain low, the overall effect on the grid itself is negligible.
"There are problems with micro-CHP, which may become more pressing if the take-up rate grows."
However, if increasing numbers of households begin operating their own generating systems this could require changes to be made to enable home-generation systems to be coordinated with the rest of the grid.
Nevertheless, with the twin drivers of energy security and environmental compliance it is hard to imagine that the trend towards small-scale distributed power at the domestic and industrial level will lose its momentum.
Larger cogeneration plants have their problems too – often having less inherent flexibility to operate quickly in response to a changing economic background, compared with power-only generators.
If the various convergent moves towards reducing emissions and increasing energy performance in the industrial, architectural and domestic sectors do unfold as predicted, the gradual development of a high-efficiency, low-carbon market seems inevitable.
Clearly, cogeneration in general has tremendous potential to deliver under such conditions, but it remains to be seen how individual approaches and the different technologies available will fare in this new marketplace.