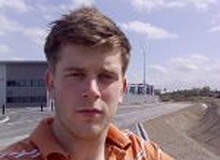 Quiet Revolution is involved in the development, construction, marketing and installation of a new kind of wind turbine called vertical axis wind turbines. Instead of looking like giant propellers, as with conventional wind turbines, they turn with a vertical motion.
Rather than constructing giant wind farms on and offshore, the company will be introducing their wind turbines into the urban environment and hope to have 60 installed by 2008 (one big advantage is that they are much less noisy than the wind turbines currently installed across the country).
How did Chris Wickens become a development engineer?
Chris Wickens is an aeronautical engineer and has worked for Quiet Revolution as a development engineer for a few months, having spent the six years since he left college working for Rolls-Royce.
He holds a university degree in general engineering, which covered a wide range of topics including civil, structural, software, electrical, mechanical and aeronautical engineering in the first two years before specialising in aeronautical engineering. This is a recommended approach as it gives you a good grounding in a range of subjects and helps you to decide on a speciality.
Why is a being development engineer in a small company a good career choice?
Although working for a small company doesn't have the same security as a larger concern, Wickins finds that he is always doing something different and he feels more at the cutting edge of the company. He becomes involved in design, testing, research and development and ultimately providing the product.
He feels very fortunate to have joined such a young company. Quiet Revolution has 15 employees at the moment and although it has no company pension scheme Wickins, who is passionate about global warming, saw his chance to make a difference and do something about it by working in sustainable energy.
"I can immediately see the impact of what I am doing," he says and adds, "I have already seen one of my designs going straight into the product and that gave me a great buzz." Quiet Revolution is based in London and is probably one of the few engineering concerns to be so.
Beyond development engineering
Wickins believes that he has his dream job and that the company has potential for massive growth. The installation of vertical axis wind turbines is likely to take off over the next couple of years and they will appear not in defined wind farms, but on top of office buildings or apartment blocks in cities in the UK and Europe.
The upshot is: if you like the look of a company and want to work for them whether it is big or small, research it to find out as much about their operations as possible and then pester them for a job.