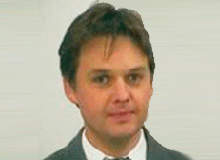 Dorian Matts manages a team of engineers and technicians who supply all the rest of the business in the area of fuels selection. This includes everything from looking at bio fuels and fuel safety through to how that fuel burns, how to control acid rain gases and also looking at oil and mechanical issues and ensuring the pressure systems are safe. The team also has to identify technology options to help the business produce electricity from fuel with near zero or reduced carbon emissions.
What is your role in the team?
My role is to try and help if you like, set direction for the guys so they understand all the priorities, and to help facilitate them doing the job.
The other thing about my role in managing a team of technical experts is I have to act as a central collator of information. We have engineers on stations and they have a broader and less detailed or less specialist technical understanding of the subject – so I've got fuel experts, I've got experts in modelling of fluids, flow transfer and that sort of thing. I have to bring all the information together from all these areas and make decisions based on the information.
One thing I do as part of my role is sit on a variety of organisations on behalf of the company who advise the Department of Trade and Industry (DTI) on the future of power generation. So I've contributed to the carbon reduction technology strategy which the DTI wrote. Also I have helped them shape some of their R&D programmes. Having an influence on where the industry and technology is going is quite a nice aspect of it so you are kind of making a difference, not just to what happens to the company, but the industry as a whole.
How did you start out?
I am a mechanical engineer but I actually graduated in nuclear engineering, which obviously is interesting at the moment because it's topical. And the reason I didn't go into a nuclear engineering career was because the industry was a bit in the doldrums when I left university so I went into a more commercial area in the power industry. I did my degree at Queen Mary, University of London.
The other thing I have, which I think is quite important in my role is a management qualification, which I did as part of the training and development within the company. I was able to do a diploma in management studies at the University of York.
What do you like about the job that you do?
One is the opportunity to manage such an excellent team of engineers and see what they can achieve in resolving problems to provide opportunities for the business to go forward.
Sometimes my biggest contribution is actually not getting involved and sticking my oar in, but actually just letting people get on with it and do the right thing. I have to make sure of course that they know and understand the issues or complications in what we are trying to do.
We've got a lot of new engineers and one of the nice things is actually seeing young engineers step up to the mark and actually take on the responsibility and deliver. That's quite good.
What advice would you give to graduates coming into the industry?
It's a great time to come into the industry and have an impact and be able to look back in a few years time and say I was part of that. Look for good rolemodels and always take action, make a difference, don't wait for things to happen – that would be the key thing. Basically if you are technically good enough you can succeed.