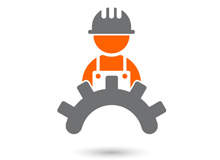 Claire Wilkinson conducts technical and economic analysis of generation projects, transmission and distribution networks and electricity markets for utilities, industrial companies and regulators internationally.
"It's a good industry to be in," Claire explains, "because electricity supply is relevant and important – everyone uses it and economies depend on it – and because of the nature of the current challenges in the industry. And you will be in demand."
From Imperial to Africa
Wilkinson's own experience bears this out. She graduated from Imperial College London with an MEng degree in electrical and electronic engineering in 2007. Since joining PPA she has been involved in a raft of projects, many in Africa.
"I've contributed to the evaluation of the technical and economic feasibility of a coal-fired power station in East Africa, project managed a review of the electricity sector in South Africa for a European utility considering investing in the region, written a training document on HVDC and guidelines for African utility regulators on customer interfacing."
Part of a recent project saw Wilkinson in Johannesburg presenting results to an international workshop. It was to prove a valuable experience. "Professionally, there were lots of important aspects to this trip. I think the most valuable experience was taking part in that sort of working activity, where you're around the client all the time, from breakfast, through the day, and at dinner time too, so you've got to put yourself out there and be the helpful and friendly consultant all the time."
Apart from an appropriate degree, such soft skills are key to being a successful power consultant. "You have to be able to communicate effectively" says Wilkinson, "writing reports, attending meetings and giving presentations and working in a team, you have to be able to explain your ideas. I think in terms of personal qualities, you have to be a bit of a people person, as you're working with people, and meeting clients / colleagues."
Good prospects in power systems consultancy
In the light of the growing world shortage of engineering skills across many industries, Claire is unhesitating in her recommendation of the sector and feels that the employment prospects are good, particularly in power system consultancy.
"I believe there is a shortage in power systems engineers at the moment, and if this isn't addressed this will pose problems for industry in the future. There is an acknowledged link between countries developing their power systems and economic growth, so a lot of developing countries have needs at the moment. And in developed countries, there are different challenges, specifically using different energy sources and the challenges this poses to our established networks."
Wilkinson explains that this real-world relevance is one of the best its of the job. "Having spent years at university working on largely fictional and often very theoretical problems, it's nice to be doing work for a real purpose."
Although she concedes that there's always a bit of uncertainty in consultancy, in the sense that you often don't know what you'll be working on next, where you might be going – or when – Wilkinson finds plenty of compensations. "It can make things quite exciting, and does mean there's variety in the work we do."
The benefits of a small company
With university recruitment events, career talks and graduate magazines tending to focus on employment in large companies, before she started working for PPA, Wilkinson hadn't really been aware of the benefits that a small firm can offer.
"Working in a small company is a great part of my job – I find the environment nurturing rather than competitive, and everyone is very willing to share their experience, and keen for me to get what I want out of my job. You feel very valued in a small organisation, see all the aspects of running the business, and get involved very quickly."
Shaping the future: With the recent seismic shifts in both the economic and environmental landscape, the shape of the power industry itself seems likely to be destined for some major changes too, so where does the future lie?
"In the short time I've been at PPA Energy, we've become more involved in innovative research projects in the UK, and I believe our involvement in this area will grow," says Wilkinson. "In addition, the global emphasis on low carbon energy will see us working increasingly in the areas of energy efficiency, renewable energy and sustainable development."
High points and low ones
Of course, every job has its fair share of high points and low ones – though it's unusual that they both happen at the same time, which was exactly what happened to Claire during her trip to Johannesburg.
"I was so excited when I was asked to go, I didn't stop grinning all day. The trip itself was brilliant – presenting to people from around 18 different African countries, with a live English / French translation going on, and two power point presentations running simultaneously in different languages."
The team had been presenting the common guidelines that they had written to representatives of regulators from all around sub-Saharan Africa and had gone over all of the standards to see if they were realistic for all of the countries and if the numbers and standards were right. Wilkinson had been documenting all the discussions, so that they could make any changes necessary and produce a report on the workshop.
"A couple of days later, when I went to start writing things up, I couldn't find any of my notes – it was a really hairy moment. All the colour drained from my face when I realised and told my line manager, and we all very nervously looked through our bags for five minutes or so, until our colleague turned up the notebook from his stack of notes. Needless to say we were all very relieved."
Job appeal
For Wilkinson, the prospect of getting involved in projects at the country or regional level seemed like a great challenge and PPA's involvement in developing countries also held a tremendous attraction.
"The job appealed to me because of the projects the company gets involved in; we'd talked about the principles of transmission pricing in lectures, and PPA Energy were designing a methodology for transmission pricing for the Southern African Power Pool – that seemed huge to me as an undergraduate.
"The opportunities to travel in this company are a big attraction too," she adds. Perhaps that's part of what she means when she says that studying electrical and electronic engineering could have taken her in many different directions. To date, it certainly has.