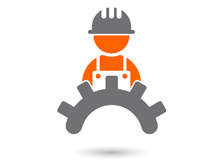 The Dinorwig power station, commissioned in 1984 and owned by First Hydro, is an engineering wonder with six turbines generating power using the water stored in the Machlyn Mawr lake at the top of the mountain. The water runs through the turbines to Llyn Peris (the lower lake) during times of peak electricity demand. During times of low power demand off-peak electricity, which is cheaper, is used to pump the water back up to the top lake.
What is the job of a maintenance manager?
"I am the maintenance manager for Dinorwig power station. This involves planning and conducting the maintenance outages for both Dinorwig and Ffestiniog power stations.
"There are regular maintenance periods and these would usually be conducted over periods of six to seven in times of low demand such as in the summer months on two turbines at one time.
"I have 35 workers on shift at any one time and I started off this way myself. There are usually 100 employees on the Dinorwig site and also 30 at Ffestiniog."
How did you start at Dinorwig?
"I have been doing the job for six months but have worked at and been associated with Dinorwig for over 16 years when I entered as a trainee. I was involved in the conversion of Ffestiniog power station to remote control using secure telephone lines in 1995, (Ffestiniog is now controlled from the Dinorwig site).
"In 1998 I was a plant engineer at Dinorwig and after that I became a control room engineer, relief engineer, relief shift manager and then shift manager. I left shift work in 2004 and moved into a planning and general operations support role, where I had to support shift managers and plan outages, maintenance and improvement projects.
"The power station has a life of 40 years but it has been very well maintained and upgraded during the past 23 years and so is likely to last a lot longer than that."
What do you like about the job?
"The job is definitely a challenge and there are new engineering problems to solve everyday. There are times when the job is monotonous but then there is project work to be getting on with.
"There is always something to be done and it can get a bit fast and furious sometimes when there are problems but that's the nature of the job. We have a very good team spirit and when things need to be done everyone pulls together.
"It's all about maintaining the security of supply; I am a facilitator managing people and processes."
What advice would you give to people coming into the industry?
"Training is a very big part of our set up and we have several graduates and apprentices. We can offer very good training and the important thing about it is we are very keen on cross skilling, which means learning about a range of different engineering skills and being involved in interesting projects across the board.
"We like to expose staff to as many new experiences as possible. We need a good mixture of people, some with theoretical knowledge and others with experience because this makes for a good team."