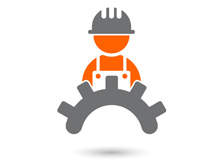 John Burnett has been an operations engineer for two years, prior to which he was in n-Power's graduate training programme for two years. Before this, his studied for a degree in mechanical engineering and he is a member of the Institution of Mechanical Engineers (IMechE). He would recommend entering a graduate training programme because, "this gives you a wide variety of experience of different types of power station and different areas of the company, so you gain a better understanding of the business."
What is the job of an operations engineer?
"The job itself has three aspects to it… the first one is running the power station on a 24-hour shift basis from the control room… this involves generating power and making sure the power station meets contract requirements within safety limits and with due respect for the environment. The second one is investigating plant problems and defects that could affect generation and the third is ensuring that equipment is safe for people to work on when maintenance activities are undertaken.
"I work 12-hour shifts days and nights, there are 12 shifts every 28 days split between days and nights with days off in between… shift work takes a bit of getting used to."
What do you like about the job?
"The thing I like about this is the variety and scope of the different engineering problems. Every day I come in and there are different things to deal with that involves liaising with lots of different people and using lots of different skills which can be quite challenging… I do something different everyday.
"The job is very fulfilling, allowing me to use all my engineering skills and providing the customer with power is enormously satisfying."
What would you like to do in the future?
"The industry gets you involved with lots of different jobs and I think it would be easy to take different jobs in the power industry if I wanted to… there are lots of opportunities in the power industry.
"But for myself I would like to stay in the power industry and possibly get a more senior position that would build on my skills.
"In our company there are plans for a lot of new building projects as older power stations close and also upgrading equipment on older power stations… it is an exciting time to be in the power industry."
What advice would you give to aspiring graduates?
"My advice to graduates coming into the industry would be to keep up with current affairs, especially on energy and climate change – read the Economist or something similar so you can answer questions in an interview.
"Do as much work experience as you can and possibly some work placements when at university and be prepared to move around during graduate training. In addition, and most importantly, learn to touch type for when you have to type reports."