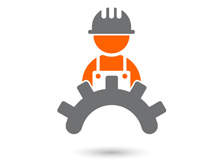 Until 2007, Jackie Carpenter was instrumental in setting up South-West England Sustainability Enterprises (SWESE Trelay), she spent ten years as MD of the national charity Energy 21 and was responsible for running the UK Eurosolar Prize.
How did Jackie Carpenter become a renewable energy consultant?
Born and brought up in Portsmouth, Carpenter qualified as a chartered mechanical engineer, gaining her degree at University College London. She started working for Brown and Root (now KBR) – one of the biggest engineering companies in the UK – as a project planner, but her aptitude and her willingness to take responsibility as well as for completing projects on time and to budget soon got her noticed. She became one of the five most senior women in the company, managing multimillion-pound projects in the UK and Russia.
In 1992, she was selected as a member of the seven-strong strategy team – the directors had set out to look for what Carpenter describes as 'mavericks' amongst their 15,000 employees, seeking those who could think outside disciplinary boxes to improve the company's long-term prospects.
Carpenter tried to influence Brown and Root from the inside – giving presentations on the benefits of clean energy to the US directors – but she felt her words fell on deaf ears. In 1993, bolstered by the public interest in Agenda 21 and the Earth Summit in Rio de Janeiro, she and partner, Iain Daycock, established their own consultancy HEBE (Helping to Engineer a Better Environment). Two years later she was to be one of the founders of Energy 21, honing her expertise in renewable energy and eventually being appointed to the Board of Judges for the Clear Skies Community projects.
The Women's Engineering Society also asked her to become president and she took this role in 2002 – 2003, using the opportunity to lecture internationally on sustainable energy. She also served on the Renewable Power Committee of the Institution of Mechanical Engineers. In 2007, along with ten others, she set up SWESE Trelay.
What are the advantages and disadvantages of working in green tech?
Carpenter's work allows her to 'walk the talk more fundamentally' as she puts it and developing Trelay's sustainable community enables her to explore her own personal goals in a way that few other jobs could. The Transition initiatives also provide her with a very practical opportunity to work at a grass roots level to help instigate local clean energy solutions – and as she explains, she 'studied engineering because problem-solving at the physical level is so rewarding'. However, she concedes that it has come at a financial cost. When she was running Energy 21, her income dropped significantly.
What are the projects of the moment?
As an expert on renewable energy, especially community-based systems, Carpenter is currently heavily involved with local Transition initiatives, working on facilitating a smooth shift from a high carbon, unsustainable economy to a resilient low carbon one.
How will things develop in the future?
Back in her Brown and Root days, she argued that although large, capable engineering companies would have their role, a sustainable future would be more local, with most firms being relatively small. She remembers making a presentation to the US directors of Halliburton, the company's owners, in which she suggested that the company stop thinking of itself as an oil company and instead as an energy and water company, aiming to supply clean water and sustainable, renewable energy, across the globe.
Her small-is-beautiful ideal is borne out by the current rise of micro, small and medium sized enterprises (so called SMEs) and start-ups in the energy sector. But that's not the only thing Carpenter has been right about. Her recent experiences with the Transition initiatives would seem to bear out her beliefs about the importance of the local, community element of green power. The first public meetings were not full of people talking about the problems and the fear, Jackie Carpenter reports. They were discussing local energy; there was an optimistic buzz and they were discussing practical, positive solutions – music to any engineer's ears.