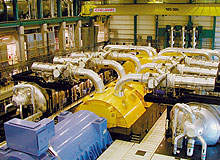 Cranes and lifting equipment are an essential but little-discussed aspect of operations at power generation sites around the world. The unique demands of the power industry mean that cranes must be able to operate in often tough environments with precision and safety. Long periods standing idle followed by a flurry of activity at short notice also mean that absolute reliability when the time comes is a must.
Konecranes, headquartered in Finland but with offices all over the world, is a specialist supplier of lifting equipment to many industries, from transport and automotive manufacturing to steel works and ports. The power industry is a challenging workplace that necessitates a customised approach. We talked to Konecranes spokesman James Bow about this highly specialised market.
Chris Lo: What is the range of applications for cranes in the power generation industry?
James Bow: The majority of it is in the maintenance of equipment. The cranes that we use are from small chain hoists lifting less than a ton, up to 250t turbine hall cranes. If you want to go slightly further afield, we also have ship-to-shore cranes; Konecranes specifically have some at Bristol that unload coal from boats. We're involved in quite a lot of the different applications – we also have small lifting equipment in sub-stations, if you go down the opposite end of the line. But for the power generation industry, they're used mostly for the maintenance side of things.
That is apart from waste-to-energy. In the waste-to-energy industry, the cranes are key to the process. They lift the waste and throw it into the burner; they're fully automated and very sophisticated. In a coal-fired power station, the big cranes are the turbine hall cranes, which are used once or twice a year. But in waste-to-energy applications, they're running 24/7 and they're very specialised pieces of kit. Regarding the nuclear industry, they have the turbine hall island, but they also have the reactor area, or the hot areas where cranes are used in various applications. There are special cranes that lift fuel rods and so on.
"In the waste-to-energy industry, the cranes are key to the process."
CL: What attributes are particularly required for cranes that will be used on power generation sites?
JB: If you take the traditional fossil fuel and nuclear power stations, I guess reliability and safety are the most important things. This isn't what we'd regard as a process industry; the cranes aren't working 24 hours a day as part of a manufacturing process.
They are there for maintenance, but when they need to be used, when a power station has an outage, when they press the button the crane has to safely and reliably move whatever items it needs to. If a power station has a two-week outage and the crane breaks, they've got a major problem.
CL: Are there major differences in crane requirements between different types of power plants?
JB: With traditional power plants, probably not. However, there are environmental issues. Some power plants, for example coal-fired power stations, can be very arduous environments because of all the dust and other particles in the air. Some power plants can be very humid, which can cause rusting of the steel beam, and it also affects the contactors, the relays and the electrical panels. We deal with some stations – I've been at one nuclear power plant in the south of England, where it's really hot and pretty humid. Then we have a contract at another site where in winter, there's ice on top of the crane because it's so high up. So I guess the crane can be the same basic unit, but we have to work out what the environment is going to be so we can tailor its design.
CL: What are the main challenges for cranes in the power industry?
JB: Power stations don't get built all that often and when they do, the equipment has to last for a long time. We're maintaining cranes on power stations that go back to the 1960s, so they're completely obsolete. You can't get spare parts, everything has to be designed – we have to work with our clients to try and modernise these cranes so they can keep running, because it can be very expensive to replace an entire crane, but you can do the job safely by upgrading it.
CL: What other services do customers expect in the power industry expect from crane suppliers?
"Power stations don't get built all that often and when they do, the equipment has to last for a long time."
JB: We try to educate our customers that when you buy the crane, that's only 25%-30% of the total cost of the crane throughout its lifetime. To keep it going through maintenance, repairs, spare parts and upgrades as the situation and technology changes – that is an important part of what we offer and we often get our customers asking for more consultation services. We have a service called the crane reliability survey, which is an engineering evaluation of the crane's current condition and what they'll need to do to it to have it continue to fulfil the customer's needs. If you build a power station in the 70s, the process has probably changed over time, so the cranes have to change as well.
CL: How can cranes be made cost-effective as an investment proposition for the power industry?
JB: We have a team of 250 maintenance engineers to give them a lot of support, but many of these plants have their own maintenance teams as well, so we offer additional services where they want an outside expert. One key thing we're looking at is safety. In all industries, safety is important, but particularly in the power generation industry. So we're often a lot of things like wire rope inspection. The wire rope is a key safety component of the crane. We have an internal magnetic system that inspects the inside of that – it's an extra cost, but the benefits of inspecting something you can't see are huge, and they seem to be liking that in the power industry.
CL: How have modern cranes evolved over the last 10 years, and how could they be improved for the future in their role in the power industry?
JB: A lot of safety features have come in the last 10 years, like a product we have called sway control. If you're moving something large around the plant, the tendency is for the load to sway. You want that load to be as still as possible for safety.
"We can fit a device on the crane that will send a GPS signal back to our headquarters."
In waste-to-energy applications, there are a lot of new features coming in like slack-rope sensors and so on, things to make the cranes a lot smarter with automation. On the environmental side, we have developed something called DynAReg, which is basically a regenerative braking system. In certain applications for waste-to-energy cranes, when the crane hook drops it creates energy and we can feed that back into the system. It wouldn't useful in a traditional power station, because the crane hook doesn't fall fast enough to make it worthwhile, but in some applications it is useful.
We're also getting pushed into new areas like remote monitoring. We can fit a device on the crane that will send a GPS signal back to our headquarters in Finland, and someone reads that daily. They can get it in real-time, or once a day or once a month. It tells you how the crane is being used, any safety incidents, and then you can get into predictive maintenance. So we can say, "We're coming to a maintenance visit next month, we'll actually change the brake as well, because the crane is telling us that this needs to be done," instead of our guy having to come back on another visit.