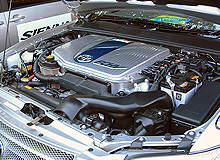 One of the main barriers to the wider adoption of fuel-cell technology, both in the UK and more generally, is the lack of truly commercial, viable and cost effective, off-the-shelf products – with most fuel-cell systems still too expensive for mass market applications.
Although fuel-cell stacks and products have been shown to work well in comparison to batteries or engines, the current suppliers are generally small, venture-funded businesses with limited resources to leverage the supply chain and complete the mass market launch of commercial products. As far as hydrogen fuel-cells are concerned, the availability and sourcing of hydrogen, particularly 'green' hydrogen also remains a significant barrier.
According to UK Carbon Trust Director of R&D Dr. Robert Trezona, "The hydrogen fuelling infrastructure is a 'chicken-and-egg' [situation] for automotive applications." To overcome this Trezona argues that publicly-funded innovation support is required to encourage private sector investment in new, lower-cost technologies alongside public-private initiatives to finance the roll-out of a hydrogen infrastructure – as has happened in Germany.
According to some observers, increased awareness through the publication of case studies, real use examples and sponsored demonstration projects might also be an effective strategy.
"The industry is lobbying the government to help clarify the role that fuel-cells play in the clean energy mix, which will help communicate the case for fuel-cell technology," says Amanda Lyne, Vice President of Strategic Business Development and Marketing at fuel-cell company ACAL Energy.
"It is now vital that the government continue to provide funding support for fuel-cell innovation."
The Carbon Trust Fuel Cell Challenge programme
In the UK, the Polymer Fuel Cell Challenge (PFCC) is a technology venturing initiative designed to develop new technologies to substantially reduce the cost of polymer fuel-cell systems. It was established in recognition of the fact that although polymer fuel-cells have a range of low-carbon applications, most materially in buildings and road transport, they are currently failing to find mass markets due to a number of factors including high capital cost.
Extensive system cost modelling, market and technology analysis carried out by the Carbon Trust has indicated that technologies emerging in the UK have the potential to reduce system costs by over 33%. If this potential could be realised it would have a decisive impact on the economic case for fuel-cells in transport and other mass markets: allowing fuel-cell products to offer lower cost of ownership than other low-carbon technologies – potentially enabling a UK carbon saving of 8-26 million tons of CO2 per annum by 2050.
"The Challenge is designed to partner with the world-class innovators behind these new technologies in entrepreneurial activities that will prove commercial potential to automotive OEMs and other key potential customers," says Trezona.
In 2010, the PFCC invested £1m in a 'world-leading' new fuel-cell technology developed by Runcorn-based ACAL Energy. The ACAL solution is potentially simpler and lower cost than conventional polymer fuel cell technology, addressing the durability and cost issues that have hindered fuel-cell adoption for decades. The company has developed a new method for the reaction of oxygen in air with hydrogen by using a low-cost liquid catalyst. Conventional polymer fuel-cells require expensive platinum catalysts to do this, and the ACAL approach achieves the same performance while offering lower costs and reduced system complexity.
Detailed Carbon Trust analysis, based on a US Department of Energy model, has shown that the technology has the potential to cut system costs, once in mass production, by up to 40% while potentially increasing durability.
According to Lyne, the PFCC has worked well within the industry and the company has received a lot of interest from national and local media as a result of its involvement. "However, I'm not sure whether this interest has been of help to the fuel-cell market, as our technology and offering is too early for commercial products," she says.
"Backing from the Carbon Trust for fuel-cell technology overall has been very important to create awareness and credibility for the technology, so this needs to be sustained to build confidence as the technology moves from R&D to early markets," she adds.
Market prospects
So, looking ahead, how confident should we be about the development of the market for fuel-cells – both in the UK and worldwide?
According to Lyne, the worldwide sector has real momentum and she genuinely believes that the automotive companies will launch products in 2015. For her, the main key to bringing costs down is supply chain investment in the automotive industry.
"In 2010, the PFCC invested £1m in a 'world-leading' new fuel-cell technology."
"The UK has a chance to be in the first tranche if it shows its commitment now by making the right noises for investment in infrastructure. Being first will give us the chance to capture the Japanese investments for European production. The other markets for hydrogen fuelled products will develop at mass level once auto markets have started," she argues.
"For non-hydrogen linked fuel-cell technology the story is more complicated. CHP still stands as an option but this needs the utility companies and government to drive the pricing in favour of such technology," she adds.
Trezona agrees that the sector is definitely gaining momentum, with fuel-cell products now being sold in decent numbers in materials-handling, leisure and telecoms back-up applications.
"Fuel-cell vehicles are now much better engineered and key OEMs are committed to launching products in 2015 in Germany and the US," he says.
In the UK, it is now vital that the government and policy-makers continue to provide funding support for fuel-cell innovation – especially since UK companies face stiff competition from US, European and Japanese competitors, all of whom benefit from substantial government support.
"[We need] the intelligent roll-out of [a] hydrogen fuelling infrastructure, building on lessons learned from Germany and California. This could start in London for taxis [and] buses," says Trezona.