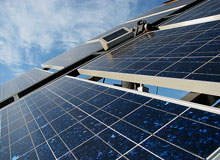 The year 2010 was one of the most successful years for the global solar photovoltaic (PV) industry, with annual capacity installations growing by more than 100% to about 16,000MW. Crucially, however, growth in 2010 was driven only by a select few markets in Europe and the US, Germany alone accounted for about 50% of the total installations.
According to GlobalData's "2011 – Year of Transition for Solar PV Industry" report  the year 2011 is expected to see about 21,000 MW of PV capacity added across the globe, a moderate annual growth of 31%. Despite the moderate growth, 2011 will be a year of transition for the solar PV industry as new markets emerge to challenge established countries.
The supply side of the solar PV industry has also evolved in 2010, growing more than 70% due to a sudden surge in module production capacity in 2010 and moderate demand growth in 2011, resulting in market that is likely to face overcapacity.
In such a scenario, the supply market is expected to undergo a transition as competition for limited demand intensifies and companies reevaluate their strategies to secure supply contracts.  The oversupplied PV market will also put pressure on PV module prices, which will force supplier firms to optimise their operational performance or vertically integrate to retain margins.
"The year 2011 will see the addition of around 21,000MW of Solar PV capacity."
Solar PV demand
The year 2011 will see the addition of around 21,000MW of Solar PV capacity, a 31% growth from the 16,000MW capacity added in 2010. The slow down in growth can be attributed to measures taken by governments in key European markets to cut support to the solar PV industry. However, the year is also expected to see the emergence of new solar PV markets
Germany has been the key driver to the growth of the solar PV market and it accounted for about 50% of global PV installations in 2010. The success of the German PV market is attributable to its feed-in tariff (FIT) program. However, the federal government has cut down FIT support in 2011 resulting in German FIT dropping 13% in January 2011 which may drop another 10% by mid-2011.
Germany's solar industry association BSW-Solar remains open to a further downward revision of FIT by the government, if PV installations reach 2,500 to 3,500MW before the end of 2011. Some market experts contest that Germany is over subsidising PV, citing how module prices have declined 15% in 2010 against a 13% FIT cut announced in 2011. Given the current situation, German Solar Industry Association BSW (Bundesverbandes Solarwirtschaft) estimates an increased installation of 6,000MW of PV capacity in Germany in 2011 from around 8,000MW in 2010.
Italy, another key European market, has also reduced the FIT as part of the Conto Energia (Energy Bill) 2011. In 2011, the FIT will be reduced periodically in three steps: by 5%-25% for rooftop installations and by 5%-27% for ground-mounted systems. This reduction is in line with the cost trend of PV components. Despite the FIT cut, the market remains lucrative as it offers an attractive internal rate of return (IRR) of around 15% to 20%.
"The year 2011 will also be characterised by an oversupply of modules."
The US, a high potential market, will see a substantial increase of PV installations to around 1,900MW in 2011, compared to the annual installations of 910MW in 2010. The market in 2011 will be driven by state and federal initiatives, such as Renewable
The year 2011 will see new PV markets such as Canada, China, India, Thailand, and the UK gaining significance in the global PV demand base. The Ontario FIT program will be the key driver for the Canadian PV market, which is expected to surpass 250MW in 2011 compared to around 192.43MW in 2010.
The Indian government's National Solar Mission as well as state-level initiatives will cause a lot of activity in the Indian solar Industry in the year 2011. Thailand has a strong pipeline of PV projects and expects to add a 44MW PV project to its portfolio in 2011. The PV capacity in the UK has increased to more than 42MW in 2010 and the growth momentum is expected to continue in 2011 as a response to a FIT introduced in 2009.
Solar PV supply
Solar PV module production capacity could surpass 39GW in 2011, compared to a PV production capacity of about 30GW in 2010. Although module companies have planned a capacity addition of more than 10GW in the year 2011, some of these capacity addition plans are likely to be deferred owing to market oversupply in a year that is expected to see a 21GW capacity installation.
In such a scenario, players with secured supply contracts are likely to go ahead with capacity expansion. However, small players will face tough market competition in securing new contracts. Companies with cash reserves will consider acquisitions in order to access supply contracts in the oversupplied markets. Companies will also scout new markets such as India, Israel, Thailand and Eastern Europe for new supply contracts.
China has emerged as a major supply base for the PV modules. Chinese companies, with financial support from local debt markets, have significantly increased their PV module production capacity. Industry players estimate the country's PV cell production capacity to reach 35GW in 2011 against an expected total global PV demand of around 21,000MW in 2011.
While the capacity expansion will result in short-term overcapacity, Chinese companies are developing the capacity from a long-term perspective. The overcapacity in China is expected to put downward pressure on module prices across the globe, as Chinese companies will provide low cost modules in order to secure module contracts.
The share of the major supply markets: the US, Japan, India, Taiwan, and Malaysia face uncertainty owing to the emergence of Chinese players. The supply base is also expected to diversify owing to increased manufacturing activity in other countries such as Canada.
Key trends in 2011
The year 2011 will see the emergence of new solar PV demand markets as countries across the globe open up their PV markets. India remains the most promising emerging country with its attractive subsidy schemes for its solar PV market. The UK is another market that has heated up owing to the FIT introduced there in 2009.
Cyprus, Israel, and Malaysia are other countries that offer subsidies and have significant growth potential. Canada has also become a hot bed for the solar PV market owing to subsidies offered by the Ontario Province. Japan has reintroduced a policy to subsidise domestic solar PV installations and is expected to regain its spot among the leading solar PV markets.
Concentration of Supply in China will also remain a key factor as  Chinese companies remain optimistic about their plans for module manufacturing capacity expansion. The companies are well supported by the domestic debt market and expect a long term demand for PV modules.
Intensifying supply competition at the beginning of 2011, is significantly higher than the expected market demand for the year 2011. Chinese companies remain optimistic about their plans to further expand solar PV production capacity.
The year 2011 will also be characterised by an oversupply of modules. In such a scenario, module prices will come under pressure as companies compete for contracts. Value chain integration will help companies expand their overall margin and retain healthy margins at low module prices.
More Details on the Full GlobalData report:
GlobalData is an industry analysis specialist company providing business information products and services. Its highly qualified team of analysts, researchers, and solution consultants use proprietary data sources and various tools and techniques to gather, analyse and represent the latest and the most reliable information essential for businesses to sustain a competitive edge.