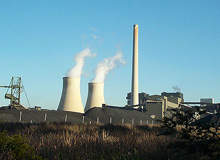 Shocking as the IEA's estimated global total of 30.6Gt in 2010 may be – a rise of five per cent from 2008 – an older issue that of strictly limiting toxic emission from power plants has recently been propelled back into the limelight. 
As the US Environmental Protection Agency (EPA) forges ahead with its proposal to establish the first-ever federal limits on the power industry's toxic releases, the wider debate between the rival stake-holders about the wisdom, need and efficacy of attempts to control substances such as mercury, arsenic and acidic gases is inevitably destined to hot up.
Toxic emissions – an old issue
"This issue of limits on toxic emissions from power plants is not new," says Lesley James, a power station technology and policy specialist for Friends of the Earth (FoE), who has worked on integrated pollution prevention and control (IPPC) programmes at the international, national and plant-specific levels.
"The EU has been controlling emissions of SO2, NOx and dust from large combustion plants since the first Large Combustion Plant Directive in the 1980s. To date, the US has preferred national caps and acid gas trading to control its emissions, which means that US plants may not all be fitted with the abatement technologies that are becoming regarded as standard in EU plants."
"The EPA's proposals would see all that change, with coal-fired power stations being regulated at a national level for the first time."
The EPA's proposals would see all that change, with coal-fired power stations being regulated at a national level for the first time, and new restrictions being placed across a whole range of toxic pollutants including chromium, nickel, hydrogen chloride and hydrogen fluoride.  However, with a 91% cut mooted, it is mercury in particular that is dominating the debate in the US. 
Some 20 states have imposed limits already, either on a percentage basis, or plant-specific emission limit values (ELVs) – or a mix of both – and the EPA had also been targeting high emitters in the past, but this approach has left power stations in different parts of the country governed by different rules. 
As Kyle Ash, Senior Legislative Representative of Greenpeace USA explains, this means "over half of coal-fired power plants in the United States do not have any mercury controls, and most of the mercury pollution in the US comes from burning coal. The average coal-fired power plant is 43 years old, so the US coal fleet is particularly old and dirty."
Costs and benefits of emission control
According to the EPA, such plants are also the cause of over half of the acid gas and around a quarter of the toxic metal air pollution in the US today – a recent American Lung Association report stating that they are responsible for more hazardous emissions than any other industrial power source.  Unsurprisingly, the potential public health benefits of regulation – said to amount to 17,000 lives saved and a value of between $59bn and $140bn by 2016 – have been widely welcomed. 
However, some have accused the EPA of talking up the benefits, suggesting that complying with the demands for new pollution-control technology would cost the industry billions of dollars each year.  While the regulator itself has indicated that compliance would cost around $11bn annually, Scott Segal, director of the Electricity Reliability Co-ordinating Council – the US leading industry trade group – points to a report which puts the bill at nearly $300bn over the next five years and also predicts job losses and rate increases of up to 25%.  The new proposal, he says, may well prove to be "the most expensive rule in EPA history."
Nevertheless, not everyone in the industry opposes greater controls. Bruce Alexander, for example, the environmental regulatory strategy director with Exelon Corp – a big investor in clean generation – has called the proposal "balanced, reasonable, and long overdue," while Michael Bradley, director of the Clean Energy Group welcomes the "certainty" that it would bring. 
Levelling the playing field for all coal-powered stations would also have an effect on other forms of energy generation too and as renewables consultant, Cerys Watkins, observes, "it should help make green energy stop looking so expensive – and that would be a big step-change for the sector."
Professor Jacqueline McGlade, executive director of the European Environment Agency, has already noted the effect that this can have in respect of CO2 releases, commenting that "we are starting to see the results of many EU and Member States' proactive policies in renewable energy. We hope that policy makers continue to build on this success to cut emissions further."  There seems no reason why the same should not prove true for toxic pollutants.
Pollution control – out to do more than pollution control?
If so, then the moves across the developed world towards increased emissions control could have major implications for the shape of the energy landscape of the future.  Some analysts, for instance, have already predicted that if the new American limits do come into force, many of the operators affected will simply choose to close some or all of their plants within the four year grace period proposed, rather than comply.  "That may be unavoidable – regrettable even," says Dr Dene Clackmann, Principal of Clackmann Associates and Chair of the Carbon Commune group, "but it must not be allowed to inform our energy policy, and neither must it derail the goal of reducing global emissions."
"Levelling the playing field for all coal-powered stations would also have an effect on other forms of energy generation too."
It is a point clearly echoed by the FoE's Ms James, who warns of the inherent danger in asking pollution control to do more than simply control pollution. "The whole issue of emissions control has been allowed to move beyond that of simply designing an effective regime for controlling environmental impacts that have been judged to warrant such control.  Now it is held responsible for wider issues such as market shares, running orders and so on – in fact, 'energy landscapes'. The very fact that arguments can arise claiming that allowing plants to run dirty is the cleanest option overall ought to alert us to the fact that something is wrong."
In her view, emissions controls should be designed to do precisely that, and no more.  This, clearly, means that there are some valid issues – the degree of flexibility, the inclusion or exclusion of start-up and shut-down periods and the monitoring regime, for instance – which do legitimately need to be considered when formulating them. By contrast, other aspects such as the need to encourage renewables, a desire for energy security and the like which are evidently not intrinsic components of an emissions control regime, she argues, should have no place in it.
"Once these issues are seen as properly separate," she explains, "attention is no longer focused on trying to pull the strings of a wider energy system where, in reality, the connections to pollution control are often no more than tenuous."
As the EPA's proposal moves towards its scheduled final adoption in November, and Europe merges its existing legislation into the new Industrial Emissions Directive (2010/75/EU), for transposition into individual Member State law by 2013, that is something which all sides in the emissions debate might do well to bear in mind.