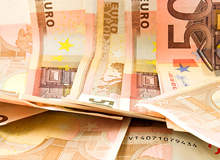 As the EU moves towards its plans to decarbonise the electricity grid and secure energy supplies, many industry experts are concerned about the large price tag that comes with building renewable power projects.
Widespread austerity measures and budget cuts across the EU are expected to slow government funding and with a lack of industry incentives, it seems likely these costs will ultimately land on the consumer's energy bill.
In the UK alone, £200bn must be invested in power plant and other infrastructure to meet its climate change targets by 2020, that's around £8,000 per household over the next eight and a half years.
Emission reduction goals have been put in place for the greater good, but these ambitious plans could turn into pipe dreams if met with unaffordable budgets. And, if these plans are achieved, industry players are concerned that new energy infrastructure will crumble before it even begins to generate power.
Achieved target scenario
Currently, the EU is aiming to generate 20% of its energy from renewable sources by 2020, and the Climate Change Act, which became law on 26 November 2008, has committed the UK to at least an 80% reduction of greenhouse gas emissions by 2050. But will these targets be met? Many energy manufacturers and producers think not and believe it would be almost impossible to complete the scope of work needed to do so.
"In the UK, £200bn must be invested in power plant and infrastructure to meet climate change targets by 2020."
The Royal Academy of Engineering conducted a study last year, which worked out that power companies in the UK would need to build a staggering amount of renewable energy developments to meet the 2050 target.
Sue Ion, visiting professor at Imperial College London explains, "We would need 38 London arrays of offshore wind, 1,000 miles of Pelamis wave machines – this equates to three miles a day over the next 40 years or the equivalent of one London underground train a day – 10,000 additional land-based wind turbines, 25 million solar panels, 2,300 Seagen marine turbines and over 25GW of biomass energy."
According to the study, the Severn Barrage would also need to be built to meet the 2050 target, a project which has now been axed. "These issues haven't been thought through properly at all, neither in terms of build ability nor cost, which you and I the consumer will ultimately bare," continues Ion.
Even if the ambitious green energy plans are met, installing renewable projects and necessary transport infrastructure can be hugely expensive. Developing offshore wind power, for example, can cost three times as much as conventional generation.
According to RWE npower Group CEO Volker Beckers, photovoltaic panels are also classed as pricey energy resources compared with coal and gas, costing German consumers between €35bn and €40bn, and contributing less-than-1% to the country's electricity supply. "If we have a European policy framework, eventually UK, Spanish and German consumers will have to pick up the bill for policy decisions."
Consumer opinion on renewable energy resources
Some power companies have made it clear that renewable energy resources needed to meet climate change targets are unaffordable and, according to an opinion poll undertaken by Populus, most customers think the same.
"Even if the ambitious green energy plans are met, installing renewable projects and necessary transport infrastructure can be hugely expensive."
In June, UK utility company Centrica revealed the results of the study, which showed fewer than half of those polled agreed it was better to have higher energy prices than to have the lights go out in the future.
Only 25% of respondents agreed with sticking with plans for creating a low-carbon industry if it meant higher bills, and just 1% would be prepared to pay an extra £500 on their annual bill to ensure decarbonisation and security of supply.
Sir John Banham, business leader chairman of chemicals and precious metals Johnson Matthey, believes there's "no way" the public will be willing pay more for their power to decarbonise the electricity system, but, he says, there are ways consumers can save themselves money by saving energy, and all public policy should be directed to enabling and encouraging those reductions in waste.
"According to our calculations at Johnson Matthey, the average household could save itself something like £2,000 a year if people would simply stop wasting energy on a large scale," says Banham.
"To say to the public that your duty is to bankrupt yourself by saving the world is not a very attractive political proposition, but to say that you can help save the world, and yourself £2,000 a year, is a very good proposition, and entirely possible if we simply take today's technologies an apply them to our homes, in public buildings and on roads."
Government subsidies for power generation
Government subsidies are an alternative method of payment that could be used to finance new power technologies, rather than forcing customers to foot the bill.
"Only 25% of people agreed to sticking with plans for creating low-carbon industry if it meant higher bills."
But, with European economies dwindling, country leaders could struggle to shield consumers from this burden, as Banham points out, "Forget the government, they haven't got any money. In Spain, people can't afford the cost of subsidies. The implied subsidy of 20GW of offshore wind is roughly our national defence budget. It's absolutely, completely unaffordable." Banham argues that what the EU should be doing is encouraging and enabling the adoption of early technologies that promise cleaner, cheaper energy. "One of our customers is bringing to market a system in California that converts natural gas into electricity and sterile water for 5¢/kW/h. This technology has huge promise around the world," he adds.
Driving down costs of renewable energy
Renewable resources are important to today's energy supply, but it is clear they cannot feasibly stand on their own without alternative reserves like coal and gas helping to take a load off the electricity demand.
Some politicians have told consumers their energy bills will not increase because energy efficiency is going to reduce demand, a view the University of Oxford official fellow of economics Dieter Helm believes to be false.
He argues that once customers realise the cost of offshore wind and other energy-saving projects is landing on their bill, they may turn their back on the climate change agenda. "Politicians who go down this route without thinking about the constraints on the consumers and the industry, may be the enemy of the good which is really addressing climate change," he adds.
Beckers seconds this argument and insists there has to be a diverse mix of energies and competition between technologies to ensure suppliers drive costs down. If governments continue to pick 'winners', he says, the opposite will happen.