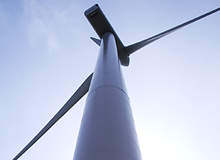 Brazil, Egypt, the Republic of Korea, the Philippines, Vietnam and South Africa are all at the forefront of a wind power renaissance being led by emerging economies within South America, Asia and Africa.
Brazil's Proinfa programme has attracted investors towards its wind power sector and is expected to grow at a CAGR of 21.73% during the forecast period 2009-2020.
While in Egypt, the total wind resource potential is around 100,000MW, of which 430MW is already explored and the government expects cumulative wind installations to grow at a CAGR of 24.33% to 2020.
On one side, as Korean wind players are focusing on their export markets and upcoming domestic offshore wind market, the Philippines and Vietnam have started focusing on exploiting their huge unexplored wind resource potential of 76,567MW and 99,991MW, respectively.
South Africa has also established itself as the leading African country in the wind energy sector thanks to government support, with renewable energy feed-in tariffs introduced in 2009 and plans to implement a binding target of 25% of power demand generated through renewable energy by 2025.
Such government initiatives are expected to encourage the exploration of 59,978MW wind resource potential in South Africa.
Brazil wind energy market overview
"Brazil, Egypt, the Republic of Korea, the Philippines, Vietnam and South Africa are all at the forefront of a wind power renaissance."
According to the Electric Power Research Centre, Cepel / Eletrobras, the wind energy potential for Brazil is estimated to be 50,000MW (megawatts).
The northeast, southeast and southern regions of Brazil have the best wind sources, both in terms of wind speed and capacity.
Wind energy complements hydropower during the dry season and increasing wind energy capacity will offset the risk of low rainfall, which negatively affects hydropower.
Brazil has plans to increase its wind power electricity generation.
This expansion is expected to attract investments of about $6 billion over the next two years.
Brazil's Energy Research Company (EPE), in its national energy plan 2030, has set a target of 4,700MW of capacity to be generated through wind energy by 2030.
In December 2009, the country's National Electric Energy Agency (ANEEL) conducted its first wind-only power auction. More than 1,800MW of wind power capacity is expected to be added through these contracts, with delivery scheduled for before July 2012.
This auction is expected to add 71 wind power plants across the north and south-eastern regions of the country. The projects are expected to attract investments of $11.2 billion in the next 20 years.
With increased government support through incentives and direct subsidies, the cumulative installed capacity for wind energy in Brazil is expected to show an upward trend during the forecast period from 2010-2020.
From a cumulative installed capacity of 600MW in 2009, the Brazilian wind energy market is expected to achieve a cumulative installed capacity of 5,220MW by 2020, growing at a CAGR of 21.73%.
Republic of Korea wind energy market overview
Korea has the potential to develop its wind energy sector due to its advanced applications in heavy industry such as shipbuilding. However, with a wind resource potential of around 27,000MW, the country's geographical conditions are not suited for wind power projects due to limited land availability and limited wind in certain regions.
"Brazil's Proinfa programme has attracted investors towards its wind power sector."
These issues encourage Korean wind market players to opt for foreign markets, and therefore Korean companies are concentrated either as the supplier of wind turbine components or as turbine manufacturer.
Among the component manufacturers, Taewoong, Win&P Ltd, Hyosung Corporation and Pyeong San are some of the key players. Taewoong is strategising towards the overseas market with long-term supply contracts with wind turbine manufacturers such as Vestas, General Electric and Siemens.
South Korea's cumulative wind installed capacity was 364MW in 2009. With government support programmes such as the green growth policy and FITs, the country's wind energy market is expected to expand.
Furthermore, the expected renewable portfolio standard (RPS), scheduled to be adopted in 2012, will encourage investments in the wind energy industry.
South Africa wind energy market overview
South Africa is endowed with some of the best renewable energy resources in the world.
Because of its geographical location and geological formation, South Africa has vast reserves of wind and solar energy. If properly exploited, these resources can provide the country with secure, reliable and clean sources of power while stimulating economic growth and job creation.
Recent technical assessments by the South Africa Wind Energy Association (SAWEA) of economically viable locations for wind farms, using independently sourced meteorological and topographical data, show South Africa has the potential to generate up to 70,000MW (184 TWh (Terawatt hours)) of wind energy if electricity network and political constraints were not a problem.
This would provide 42% of the total electricity required by 2025. Currently, South Africa's electricity market is dominated by coal and nuclear energy. However, low reserve margins are shifting the interest of power producers towards the exploration of alternate sources of energy to meet the rising electricity demand.
The state-owned utility Eskom is vertically integrated and controls the generation, transmission and supply of electricity to the country. As a result, it makes it difficult for independent power producers to access the South African electricity market.
Against this backdrop, the country's wind resources are not much explored, with 22MW of cumulative installed capacity in 2009.
Egypt wind energy market overview
"South Africa has also established itself as the leading African country in the wind energy sector."
The Egyptian government took measures towards the development of the nation's renewable energy sector in the 1980s.
The New and Renewable Energy Authority (NREA), set up in 1986, was responsible for the assessment of renewable energy resources, the introduction of different clean energy technologies and support initiatives taken by the local market players.
In February 2008, the Egyptian Supreme Council of Energy approved a plan which stated that 20% of the total electricity produced in the nation should come from renewable energy by 2020.
Out of this total renewable energy target for Egypt, wind energy accounted for 12% of electricity production by 2020, which roughly accounts for 7,200MW of grid-connected cumulative wind installed capacity. This target has increased the interests of private investors in this region.
Additionally, the MOEE announced in August 2009 the allocation of 630,000 hectares of government land in the provinces of Beni Suef, Minya and Assiut for wind energy development.
Against this backdrop, the wind power installed capacity has grown from 145MW in 2005 to 430MW in 2009, at a CAGR of 31.23% during the period 2005-2009.
Recently, the government has also planned to invite bids for the construction of a 1,000 MW wind farm to be located in the Gulf of Suez, which will be tendered on a build-own-operate basis. Such active government measures are expected to boost the cumulative installed capacity of wind energy in Egypt.
By 2020, the cumulative wind power installed capacity is projected to reach 4,720MW at a CAGR of 24.33%.
Philippines wind energy market overview
With a wind resource potential of around 76,600MW, the country had a cumulative wind installed capacity of 33MW. In this context, the wind resource potential of the country has not been significantly explored due to the long gestation period, the lack of infrastructure support and high installation costs.
Presently, the country has a 33MW wind power project from the Northwind Power Development Corporation, Bangui and Ilocos Norte.
Recently, the energy department of Philippines  approved 26 renewable energy projects of approximately 466MW, which will generate an initial investment of $277m.
The government is also focusing on developing actions plans to boost its wind energy capacity. However, the government has set up FITs under the renewable energy act, and it still has to set the range of tariffs for different renewable technologies. With various kinds of incentives for renewable energy project developers, suppliers, fabricators and manufacturers, this law is the most comprehensive renewable energy law in Asia.
With more than 70,000MW of unexplored wind resource potential, a large number of power companies are showing an interest in this country. In 2010, 14 energy companies, including EDC, Alternergy, Philippines Holdings Corp, Trans Asia Oil and Energy Development Corp, Petro Energy Resources, UPC Renewables Corp and Northwind Development Corp have established the Wind Energy Development Association (WEDAP) of the Philippines.
This will facilitate investment in the Philippines' wind energy sector by supporting the development of wind power projects, as well as influencing the framing of lucrative policies under the renewable energy act.
More details on the Full GlobalData report:
GlobalData is an industry analysis specialist company providing business information products and services. Its highly qualified team of analysts, researchers, and solution consultants use proprietary data sources and various tools and techniques to gather, analyse and represent the latest and the most reliable information essential for businesses to sustain a competitive edge.