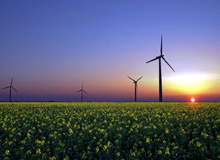 For years, the renewable market has been waiting for its time in the limelight. Now, thanks to new directives set against climate change and new signatories to the Kyoto Protocol, this market has finally been getting a look in at everything from transport to power plants.
However, it could be argued that this growth has not come organically, having instead been forced by these pressing issues. There is also the concern that the renewables sector, however much it believes in its efforts, might not be ready for large-scale growth just yet, though this is not necessarily the fault of the emerging market.
For years, in every nation across almost every industry, the recruitment space has been crying out for engineers. And the response has been constant. Engineering in all areas is not attracting the interest it did in the past, making it impossible to keep up with growing demands.
In an expanding new area such as renewable energy, this problem takes on a whole new light.
SKILLS SHORTAGE
This lack of engineers can in no way be attributed to the renewables sector. Since the 1980s, large-scale automation within all industries has led to a steady decline in the number of students taking up engineering, scientific and technical courses, and a reduction in the number of available apprenticeships.
With the increasing demand for skills in the renewable energy sector coming at a time when the industry is experiencing an ageing workforce, the stakes are high. Even though a younger generation is now starting to realise the potential for career opportunities in this area, the speed of sector growth has meant a shortage of immediate skills, slowing down the rate of investment in new projects.
WIND AND SOLAR POWERS THE FUTURE
As an island, The UK in particular can benefit from marine renewable energy projects. But before these can take place vacancies need to be filled.
Regen SW, the South West's renewable energy agency, is trying to tackle this issue head on. It says it hopes to foster long-term economic growth by developing leadership in renewable energy technologies and increasing the number of renewable energy projects on the ground.
"The speed of sector growth has meant a shortage of immediate skills, slowing down the rate of investment in new projects."
Just recently, the UK government gave planning approval for the world's first large-scale wave farm off the coast of Cornwall. 'Wave Hub' will be the UK's first offshore facility demonstrating the array of wave energy-generation devices.
Nick Harrington, the SWRDA's Wave Hub project manager, says the diverse range of skills needed to ensure the marine renewables sector continues to flourish will mean a whole new level of challenges for renewable energy operators, and opportunities for people young and old wanting to enter the sector.
"It is clear to me that the pace of development is now beginning to accelerate and there should be more jobs within all the engineering disciplines, including marine, in the near future," he says.
The problem Harrington has experienced is finding recruits with the right combination of skills.
"Project developers need project management skills plus financial and technical skills,' he explains. "To gain consent you need environmental scientists and people with experience of getting planning consent. There are niche specialities in resource assessment, fisheries, navigational safety and so on and all of these people require business skills."
In Western Europe, the same can be said about the solar industry. There, at BP Solar's Spanish headquarters, CE&A manager Mariana Diaz says project managers tend to be recruited from other industries due to the level of expertise required.
"Project management in the PV environment is the key skill [we will require] over the next few years [but this is] unlikely to be obtained from recent graduates," she says. "This skill requires significant experience and expertise, so it is not an ideal job to start a career. These people are usually taken from other industries." 
RENEWING ENERGY EDUCATION
No matter how you look at it, education is where it all begins. Unfortunately, the renewables sector is competing with every other area that requires engineers at present. Peter Morris, chairman of the Welsh Executive of the Professional Association of Teachers (PAT), believes that in the UK, the problem lies with the government's education policy. He thinks that this neglects the engineering sector as a result of the government's drive to try to get as many students as possible through university.
"From an educational perspective, I do have some concerns about the number of qualified technical and engineering specialists being trained," he says. "There is only a finite pot of education money available from the government and this is being spread too thinly, mainly due to the ridiculous target of trying to get 50% of people under 30 through university by the year 2010."
"Project managers tend to be recruited from other industries due to the level of expertise required."
Carron Engineering and Construction – a division of Carron Energy based in North Yorkshire – operates combined heat and power (CHP) in engineering, construction and renewables. Executive assistant Linda Fisher, who has been working on the company's green challenges, says the sector is increasingly facing competition from other areas of engineering.
"The problems facing the renewable energy market are not unique to this sector," she says. "There are shortages of skilled engineers throughout the engineering industry.
"The skills gap, an ageing workforce, the fast pace of technological change and retention of staff are all issues to be dealt with.
"But the renewables sector must compete against the power, oil and gas sectors which are often better funded and have higher pay and benefits to retain staff. It is easier to obtain funding for conventional projects, and large oil and gas projects are more attractive to engineers."
GAIN SKILLS TO MOVE FORWARD
Acre Resources, based in London, is a leading recruitment agency specialising in environment, CSR, sustainability and climate change. Recent research by the company indicates a 200% increase in specialist jobs relating to climate change between May 2006 and May 2007.
Tom Leathes, one of Acre's directors, says that while there is no shortage of people looking to pursue a career in renewables sector, not enough candidates have the right skills, experience and technical ability to do these jobs in a competent manner, especially the more senior positions that are in demand.
"The renewables sector must compete against the power, oil and gas sectors which are often better funded and have higher pay and benefits to retain staff."
"For the more senior roles our clients are looking for people with the ability to build a long-term strategy for their development of clean and green energy," he says.
This usually requires someone with experience in building renewable energy projects, environmental impact assessment and planning permission requests, as well as directing large-scale procurement and project management. Even one or more junior positions will require people with proven UK experience and specific knowledge on policy, in addition to a relevant degree and practical knowledge of renewable energy. But despite all this, it is still the technical skills that are really in demand.
"It is difficult to fill the role of the technology developer," adds Leathes. "There are lots of people out there with technical environmental and energy experience, and increasingly they are taking this experience and applying it to positions within the renewable energy sector." These types of positions not only require technical knowledge and experience but the appropriate level of strategic, political and communications skills, especially within large companies. Finding people with the
right combination of the two is never easy.
WHERE JOB OPPORTUNITIES LIE
Geographically, the options for new recruits are incredibly open, given the large number of projects taking place to tackle energy demands and climate change. Even developing countries have new markets set to overcome issues of supply.
"The development of carbon trading has led to the wide-scale building of 'offset projects', from biomass generators to wind turbines, used to generate carbon credits," Acre's Leathes says. "This is a market where there is a shortage of people equipped with the experience to meet demand."
Almost every country in the world has tried in one way or other to develop a renewable market. China, India, the US, Brazil and Nigeria have all, for example, become leaders in the bioenergy sector. The US, Brazil and Germany currently lead the way in biofuels , while the leaders to date in the geothermal area are the US, Philippines, Indonesia, Italy and Mexico.
Canada, China, Brazil, the US and the Russian Federation are forerunners in hydropower, while France is the leader in ocean and tidal energies and western mainland Europe concentrates on solar photovoltaics. The US, Israel, Turkey and Japan are also top performers in solar thermal power while France, Denmark, Japan and the US focus on organic waste. The US, Germany and Spain are the only three significantly investing in wind power.
This landscape is without doubt going to change in the future, as more countries and companies jump on the renewable bandwagon. But one thing each will have in common will be the reliance on the skills required to push projects forward.
How quickly each nation can act to accommodate its new reliance on renewables to decrease carbon emissions and meet energy demand, will depend on its ability to attract new recruits and educate experienced staff to take on important issues of the future.