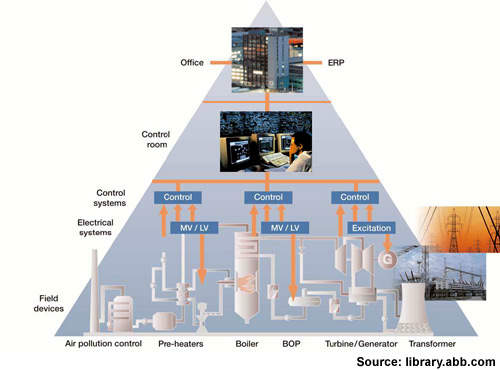 Fossil fuel plants need sophisticated automatic control systems to meet environmental regulations consistently despite varying fuel qualities and production demands. Boilers, turbines and generators have to operate reliably and safely, particularly during the potentially hazardous start-up and low-load operating phases. Combustion must be instantaneously optimised, as must flue gas cleaning systems and turbine and generator startup and operation.
RETROFIT OR REPLACE?
Increasing peak demand with limited power reserves in many countries is adding pressure to existing plants. Failing components can cause serious damage, with shut-downs for repairs often costing above €10,000. Failures can increase according to the bathtub curve as the system ages, and spare parts can be hard to find and so become more expensive. Costs can be particularly high when existing systems suffer from high down-time for repairs. Older turbines can often operate beyond their original life expectancy, making better control even more important.
This can often make digital control systems worth retrofitting, since a new system only needs to prevent one major outage. Faster processing, lower cost and smaller sizes are making digital turbine control increasingly attractive. Some controls on older plants will need to be replaced for safety or environmental reasons.
Elsewhere, cost-benefit analyses will tell whether a retrofit is worthwhile. This should take into account capital investments, availability costs (existing downtime versus time taken for retrofit), operating and spares costs, and efficiency and maintenance savings.
Several major manufacturers have advanced modular process control systems for complete control of different plant types. The decision is not straightforward. Plants have unique needs depending on factors like the fuel and turbine type, boiler size and type, combustion conditions and demand.
How well do you
really

know your competitors?

Access the most comprehensive Company Profiles on the market, powered by GlobalData. Save hours of research. Gain competitive edge.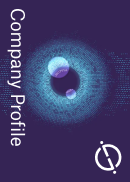 Company Profile – free sample
Thank you!
Your download email will arrive shortly
Not ready to buy yet? Download a free sample
We are confident about the unique quality of our Company Profiles. However, we want you to make the most beneficial decision for your business, so we offer a free sample that you can download by submitting the below form
By GlobalData
Operation must be fully automatic, with automatic start-up and shut-down of turbine and auxiliary systems, and load, frequency and temperature during all the operating stages. Automation systems must also be open, and meet industry standards so software integrates seamlessly with other plant systems, field devices and field buses.
"Automation systems have to address a power plant's whole lifecycle."
The critical parameters need fast control. Outside the immediate control loop, key performance ondicators have to be tracked by the wider monitoring loop. That includes information on machine and component conditions, which allows predictive maintenance like condition and loop monitoring to prevent machine failures and minimise downtime.
In the long term, performance also needs continual improvement, which means that automation systems have to address a power plant's whole lifecycle.
INNER CONTROL AND PROTECTION LOOP
Gas turbines experience large temperature changes during the starting sequence, with high thermal stresses giving higher risk of damage. Fuel supplies must be limited during start-up to prevent thermal damage, and turbine speed changes must be limited to keep below the maximum allowed turbine temperature. Burner management and inlet guide vane control should maximise thermal efficiency during part load operation. Compressor surge control is particularly needed at start-up and during rapid power changes, with fast temperature-limit control.
Systems need to monitor burner combustion performance. Accurate fuel control of huge turbines can be difficult, with conventional fuel meters often not having the required accuracy or response times. Accurate gas flow is needed to control the fuel valves to ensure accurate mass flow control.
Thermo-acoustic phenomena in the burner can also be a major concern. Pressure fluctuations increase NOx and other emissions because of unsteady temperature distributions. They can also greatly stress the combustors, reducing lifetimes. Controls therefore need to address these combustion instabilities.
During retrofits, digital circuits can as elsewhere replace hard-wired ones for controlling servo valves and other equipment needing high-speed calculations. Drift of setpoints and other parameters mean that older control systems need larger safety margins. New or retrofitted controls can therefore boost power and efficiency levels and reduce wear.
"New or retrofitted controls can boost power and efficiency levels and reduce wear."
AUTOMATION OPTIONS
Toshiba's D-EHC (Digital Electro-Hydraulic Control System) includes a range of controls for start-up, acceleration, speed, load, exhaust temperature and inlet guide vane (IGV) control. The IGV control changes the IGV angle on a schedule of corrected speed, which is a function of the compressor inlet temperature and the gas turbine speed when the gas turbine is started up. The IGV control also modulates the IGV angle to keep exhaust temperature high during part load.
Another Hitachi module – the gas turbine protection system – monitors turbine temperature, speed, vibration, flame, fire, lube oil pressure, compressor operating limit and running reliability of the gas turbine control system. The protection system trips the gas turbine if its signal corresponds to a trip condition through the triple-redundant master controller.
Systems must have open connections. Alstom's Alspa P320 system is based on internet, Ethernet, fieldbuses, Unix, WinNT and client-server technologies. The system works with both gas and steam turbines and generating equipment. It provides automatic voltage regulation and excitation control up to 10,000A, with steam turbine governor and controller up to 1,500MW. The system has scalable computing based around a high speed fieldbus, with standard components allowing selectable redundancy (1/1, 1/2, 2/3) schemes for key functions. It separates safety functions into small independent blocks.
Boilers and steam turbines need automatic sequence control and monitoring. Retrofits can find it worth replacing control systems for burners, sootblowers, hydraulic equipment, vibration monitoring, and turbine governor and protection.
Environmental emissions control is essential and, for boiler control, Metso Automation highlights several main causes of high NOx. These include incorrect O2 levels and other settings, burner tilts, and secondary air and OFA (overfire air) damper positions. High NOx can also indicate boiler air leakage, dirty boilers, and O2 sensor or CEM (continuous emissions monitoring) system problems. Metso Automation's PCF Combustion Optimizer is a supervisory level control application for optimum combustion control of pulverised coal fired boilers. The application is suitable for optimisation of both hard coal and brown coal firing alone or in conjunction with oil or gas firing.
"Environmental requirements may also cause demand for more stringently optimised combustion."
The purpose of the PCF application is to achieve easier and more stable operation, minimise flue gas NOx emissions and to improve the combustion efficiency, while keeping selected process variables such as steam and material temperatures within acceptable limits.
When obtaining a more stable combustion the O2 content in the flue gases can be minimised, leading to a higher overall boiler efficiency and more economical operation.
Optimised combustion control is especially suitable for firing low-quality non-homogenous coal and for boilers that have a need to operate on varying load levels. Environmental requirements may also cause demand for more stringently optimised combustion.
BENEFITS OF CONTROLLED AUTOMATION
Boiler and turbine are closely linked, and digital turbine control systems control the flow to steam turbines using turbine throttles, governors, and control valves. Control systems prevent dangerous operating conditions using setpoint controls, and open and closed-loop control. Steam turbine control systems have to include steam turbine automatic startup and protection, speed/load control, and servo valve control. Automation should include turbine-specific electro-hydraulic and hydraulic systems, and electrical generator auxiliaries like excitation system, synchronisation, and generator. Steam turbine control can include rotor stress calculations and select the best accelerations, speeds and generator loadings.
Coordinated boiler/turbine control improves stability, responsiveness and thermal efficiencies. That gives tighter overall control of plant operations; and a concise view of key plant and turbine parameters. Emerson's Ovation® expert control system, designed specifically to meet the unique challenges of the power generation industry, provides tight start-up control of acceleration and pressure for quick and efficient turbine starts, as well as safe turbine shutdown through a controlled reduction of generator load at a designated rate. Automatic turbine protection control ensures safe, efficient operation during abnormal conditions and events.
HRSGs must also be tied into the control system, and this is not always simple. The steam turbine requirements set the steam conditions for combined-cycle systems, but in a CHP system the steam demand, steam pressure and temperature are all set by the process requirements. Here as elsewhere, redundant controls may be needed for critical elements.
"Coordinated boiler/turbine control improves stability, responsiveness and thermal efficiencies."
Controls have to be deterministic, to ensure response within a determined time, with fast response times fast. The Ovation system, which features a mission-critical, fast Ethernet network for high-speed communication of plant information; a powerful controller with fast duty cycle; and analogue, digital and special-purpose turbine and boiler I/O modules, can simultaneously execute up to five process control tasks at loop speeds down to 10ms. Each control task has I/O process point input scan, control and output scan.
Ovation offers seamless communication with intelligent field devices, widely adopted bus standards such as HART, Foundation fieldbus, Profibus DP and DeviceNet, and integrated asset management software to deliver predictive intelligence to operations and management personnel. The Ovation system is a key technology that powers Emerson's PlantWeb® digital plant architecture, a digital bus-based system that incorporates high-speed communications networks, intelligent field devices, wireless communications, asset management software, and bus I/O technologies.
Decisions for all control and protection systems are made by the plant operator, so operator interfaces must also be easy to use. Often, operators have only been able to choose between discrete operating load levels, and have found it slow and difficult to change loads to desired levels. They should also be able to come on line quickly at start-up or after a fault, which is essential for peaking units. Often, conditions causing a turbine shutdown either correct themselves or can be quickly corrected. After the safety checks, control systems must therefore allow fast automatic restart.
OUTER MONITORING LOOP IMPROVES EFFICIENCY
"Power plants must always know their exact boiler and turbine efficiencies, and take immediate action when they drop."
Maximising availability means moving the maintenance focus from reactive to proactive, preferably based on performance monitoring. This continuously compares actual plant and equipment performance to the expected values. Performance monitoring involves gap analysis, looking at deviations between performance and design values for key performance indicators.
A major effect on reliability is how closely equipment operates to its design limits over various speeds and loads. ABB's Optimax software optimises combustion using predictive control to reliably find the best setpoints for improving the heat rate and reducing emissions like NOx. The system can recommend when to blow soot based upon changes in heat-transfer data.
Steam generator components are stressed by varying steam pressures and high thermal stresses during start-up and shutdown. The varying loads lead to cyclic strain exhaustion, and the flow of hot steam causes time-dependant creeping.
Both of these affect service life. Boiler protection and burner management systems ensure boiler furnace safety and fuel shutdown. ABB's BoilerLife system tracks life consumption based on fatigue and creep of its major thick walled components. Systems can have pulverised coal flow monitoring and carbon content in ash measured in real-time.
ABB recommends monitoring for components with operating temperatures exceeding 350°C and/or those subjected to frequent changes of operating conditions. This applies to high and intermediate pressure rotors in reheat turbines, turbine casings, valve housings, crossover pipes and pipe elbows.
Power plants must always know their exact boiler and turbine efficiencies, and take immediate action when they drop. Metso Automation reports that a 1% improvement in boiler efficiency means annual fuel savings for large boilers of up to €200 000. The company's boiler performance monitoring can be used with fluidised bed boilers, pulverised coal fired boilers, oil/gas fired boilers and grate-fired boilers. The extensive storage of history data enables also long-term monitoring of gradual component deterioration and thus better scheduling of maintenance.
Metso Automation's Machinery Condition Monitoring System similarly monitors the exhaust levels of boiler components. Real-time performance monitoring with simulation and calculation helps maximise efficiency under various operational conditions. Steam plant optimisation helps optimise the operating mode, and enables flexible load allocation between different plant units. The software also helps with energy budgeting and negotiating power contracts,
"A 1% improvement in boiler efficiency means annual fuel savings for large boilers of up to €200 000."
ABB's AdviseIT Turbine Lifetime Monitoring continuously computes the effect of actual operation on service life of steam turbine components and associated valves. It provides operators with information related to service life of the steam turbine. The software tracks turbine life consumption based on fatigue and creep of steam valves, casing and rotor. That leads to improved turbine maintenance scheduling, based on actual documented service life.
Siemens' SPPA-M3000 similarly monitors individual components and systems. Calculations for gas turbines include heat balance (inputs, outputs and losses), main performance parameters like turbine inlet temperature, specific fuel consumption, heat rate, thermal efficiency and electrical efficiency. The SPPA-M3000 helps develop maintenance strategies, and integrates power plant and business data.
Siemens recommends looking at auxiliary items when upgrading plant automation systems. Vibration monitoring equipment should be added or upgraded to monitor the health of the rotor and associated bearings. Sensors can often profitably be added to monitor temperatures of bearing lube oil and metal, valve metal, steam chest and elsewhere. The system should continuously measure and monitor key parameters, and alert the operator when any begin to indicate weakness in the turbine components. That can include bearing failures, imbalance or misalignment and shaft cracks.