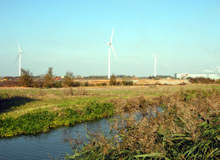 When Surya nightclub opened its doors the public in July it turned the world on to a unique power source: people. Crystals underneath the wooden floorboards at the London club compress when clubbers stand on the dance floor and an electrical current is generated. The piezoelectricity is fed back into the club's energy supply, powering all its lights and air conditioning.
"I'm not a scientist but I've been told that up 60% of the club's energy requirements can come from this dance floor," says the club's owner, who calls himself Dr Earth. "Let's hope people can take this and use it all over the world. We want to push people to use this technology everywhere."
The innovative power generation at Surya is indicative of a world in which developed countries need to reduce emission levels by 25%-40% by 2020. As the clock ticks, manufacturers and scientists are looking towards increasingly weird and wonderful ways to supply power to industry and, in some cases, feed energy back into the national grid. Here's a selection of the best.
Floating wind turbines
Four companies were vying to build the world's first floating wind turbine but British company Blue H, which trialled a prototype of theirs in December and were set to launch the real thing off the coat of Italy in late July, look to have beaten Statoil, Statkraft and Sway to the punch.
Anchored offshore to take advantage of the more powerful winds, the floating turbines send electricity ashore using undersea cables. They promise to be more economic than existing offshore turbines, which sit on fixed foundations on the seabed, and could help minimise problems with planning and have less impact on shipping, military radar and coastal seabird populations.
"We need some new industrial thinking on the technology," says Carl Erik Hillesund, vice president for offshore wind development for Stakraft. "Up to now, people have just focused on taking onshore wind turbines and putting them offshore. That has caused a lot of hassle and mistakes."
Construction waste
Ze-gen Inc. was formed in 2004 with the aim of developing gasification technology that could convert construction waste into a synthesis gas (syngas), a mixture of carbon monoxide and hydrogen, which they say can be used to offset the consumption of fossil fuels in conventional power and industrial boiler facilities.
"Four companies were vying to build the world's first floating wind turbine."
They set up a commercial-scale demonstration gasification facility in New Bedford, Boston, and in June they reported preliminary synthesis gas data that confirmed their expectations.
The New Bedford plant is producing syngas with a combined carbon monoxide and hydrogen yield of 70%, which means it can be used to generate renewable electricity.
"Our positive test results are arriving at a time when fossil fuel prices are reaching historical record levels," says Bill Davis, president and CEO of Ze-gen Inc. "And this [the Ze-gen syngas] offers one more renewable energy source to meet the energy requirements of the country."
Food waste
US frozen food manufacturer Bellisio Foods is pioneering a method of transforming waste into useful energy. In 2004 they installed an anaerobic digester, a large tank in which bacteria breaks organic material down into natural gas, at their production facility in Ohio.
Such has been the success of the digester they are now installing a second 5.25-million-gallon tank at a cost of $6m. When complete, Bellisio aims to process all its food waste each day, producing enough energy to power two of the plant's nine boilers. After an estimated four-and-a-half-year payback period, the company expects to save $1.3m a year in energy, landfill and transportation costs.
"It's great project; we're proud of it," says Ryan Wright, utility and sustainability manager for the Bellisio Foods plant in Jackson. "In addition to the cost savings, it's the right thing to do."
Anaerobic lagoon
In June McCain Foods unveiled a new anaerobic lagoon at its Whittlesey factory which converts waste water into a biogas, which is stored and used to produce electricity through a gas burning generator.
Used in conjunction with the site's three wind turbines, the lagoon will allow the site to produce up to 32,200MWh of electricity a year, which equates to 70% of the plant's power needs. When not operating at full capacity, surplus energy will be sold back to the national grid.
"Innovation is at the core of our company and we are proud of our commitment to improve the environmental impact of our preparation processes," says McCain Foods' CEO Nick Vermont. "Through committing £15m to the construction of the anaerobic lagoon and three wind turbines at our Whittlesey factory, we can ensure the long-term competitive sustainability of the plant. We hope this demonstrates that a large scale manufacturing plant can operate efficiently while
significantly reducing its carbon footprint."
"US frozen food manufacturer Bellisio Foods is pioneering a method of transforming waste into useful energy."
Wave power
In July Japanese sailor Kenichie Horie completed the 4,800-mile journey from Hawaii to Japan in a boat fired solely by the power of the sea's waves. The boat, the Suntory Mermaid II, is the world's first fully seafaring boat to be powered using wave energy to move the two fins at its bow, which propel it forward.
"Fossil fuel will run out one day," says Dr Yutaka Terao, whose department of naval architecture and ocean engineering at the Tokai University School of Marine Science and Technology were responsible for engineering the propulsion system for the Mermaid.
"So I have studied wave propulsion as a promising way to save energy. A wave-powered boat can transform wave energy into a propulsive power that moves the craft forward."
However, the idea of entire fleets of wave powered ships merrily sailing the ocean waves will remain a distant dream unless a way can be found to speed the process up. The Mermaid travelled at an average speed of 1.5kt, which is slower than humans walk, meaning the trip took nearly four months instead of the ten days it would have taken in a regular diesel-powered boat.
Sun power
In July General Motors announced that, with the help of partners Clairvoyant Energy, Veolia Environmental and the government of Aragon, they were installing the world's largest rooftop solar photovoltaic power installation to their assembly plant in Zaragoza, Spain. The 85,000 solar panels will cover two million square feet of rooftop space and generate 12MW of power when they become operational later in the year.
"Clairvoyant Energy is delighted to be working with GM as we share their vision of reducing greenhouse gas emissions," says Clairvoyant Energy CEO David Hardee. "Our company goal is to create a variety of solar electricity solutions as compared to fossil fuel electricity processes by 2014 and the way to get there is through lower costs and higher efficiency."
Solar power has been 'the next big thing' in energy for years but technological innovation and soaring oil prices are pushing the environmentalists' dream source of power toward becoming a more commonplace reality. Lux Research Inc, which tracks emerging technologies, predict that the solar industry will grow by 30% a year to $71bn by 2012.
Outlook
Our weird and wonderful collection of green power projects demonstrates the innovative thinking of a number of individuals and businesses working towards a cleaner, greener future.
"The Suntory Mermaid II, is the world's first fully seafaring boat to be powered using wave energy."
But is the world any closer to solving problems on a wider scale? Are any of the alternatives we've looked at suitable for mass production?
"I don't believe so," says Steven Knell, energy analyst at Global Insight. "It's encouraging to see this bespoke approach to renewable energy but what works in one place won't necessarily work in another and these ideas don't necessarily address the major problem, which is that the distribution network in place at the moment is driven by fossil fuels.
"For these weird and wonderful ideas to work on a bigger scale, it would take a major change in government support for renewables. The only areas that could come through without government support would be the more conventional areas like wind, solar and geothermal but we need to realise that the answer lies in finding solutions that work at local level. There is no cookie cutter solution."