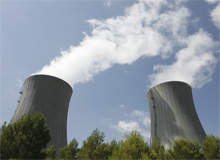 Under a new long-term energy plan, South Korea will build eleven new reactors with a generating capacity of 1,400MW each by 2030. This will make nuclear power the biggest source of electricity in the country, according to the country's energy ministry.
With power demand in the country increasing by more than 9% a year since 1990, will this move towards nuclear meet projected future electricity needs? Ian Hore-Lacy, director of Public Communications at the World Nuclear Association, thinks it will. He also believes the strategy will work economically.
"South Korea going nuclear is a good thing, as it is cost competitive," he says. "The only challenge would be that it is capital intensive but this is mainly a problem in the building stages, not later on."
"South Korea will build eleven new reactors with a generating capacity of 1,400MW each by 2030."
South Korea has always relied heavily on fossil fuels for power generation. Currently about 40% of the country's electricity comes from its 40 coal-fired plants and 20% from natural gas. The remaining 40% is provided by nuclear reactors.
The country's first nuclear reactor was built in 1977, starting commercial operation in 1978. Eight reactors followed simultaneously in the eighties.
Today South Korea is one of the world's largest importers of oil and gas. And as a result it remains vulnerable to international price rises, paying increasingly high prices for its raw materials. According to The World Nuclear Association, South Korean energy policy has not only been driven by considerations of energy security, but also the need to minimise dependence on these imports.
Another driving force behind plans to go nuclear is the need to reduce 1.8 million tons of greenhouse gases by 2012 to comply with global environmental regulations. The government is now aiming for nuclear power to become a major element of electricity production and has laid down ambitious plans to make this happen.
The world stage
The benefits of going nuclear go beyond that of capital investment and increasing energy sources. For South Korea, going nuclear is also about prestige. The South Korean Ministry of Science & Technology's nuclear energy development plan for 2007–11 projected that South Korea should develop its nuclear industry into one of the top five in the world. This means approximately 60% of electricity will be derived from nuclear energy by 2035.
With so many countries opting to go nuclear, the global nuclear scene is currently led but not restricted to western powers. South Korea's emergence onto the nuclear scene would boost Asia's presence in the market. Presently, Japan is the only country in Asia with an active nuclear construction programme and has had several new units go online in the past three years.
"South Korea should develop its nuclear industry into one of the top five in the world."
Ian Hore-Lacy believes such a move could place South Korea on the world nuclear stage. With billions of dollars worth of deals with international nuclear players, South Korea is clear on its goals.
South Korea's Doosan Heavy Industries won a deal close to $200bn to build a nuclear power facility for key nuclear player Westinghouse Electric, with equipment scheduled for supply by August 2014.
This deal has been closely followed by news that Toshiba Corp IHI Corp and South Korea's Doosan Heavy Industries & Construction will join hands in nuclear reactor production, South Korea's Yomiuri Shimbun newspaper reported.
As South Korea's companies continue to strike deals with international players, the country looks set to not only cater for its nation's energy security but to make a definite imprint on the global nuclear market.