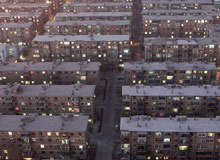 Next year, all roads lead to Copenhagen. The Copenhagen Climate Conference (COP15) that kicks off on 30 November 2009 is the biggest and most important meeting since Kyoto. Hosted by the United Nations Framework Convention on Climate Change, it will seek to update and revise the Kyoto Protocol which ends in 2012. Governments, lobby groups, conservatives and radicals alike agree that the outcomes from Copenhagen will be critical to the future of energy use on this planet.
The Danish capital feels like the right place for the summit. Europe is leading the charge for change with EU directives, such as phasing out high-energy filament light bulbs in 2009. And the Little Mermaid, symbol of Copenhagen, seems to embody a sort of eco- and ocean-friendly idealism. As such, she would probably like the fact that next year renewable energy will get closer to becoming the world's second-largest source of electricity, behind coal. It's due to overtake that of natural gas worldwide after 2010. Comprising energy generated from sustainable sources such as wind, solar, geothermal, hydro, tide and wave power, renewable energy is growing at an average rate of 7.2% per year compared with natural gas's 1.8% a year.
Gas developments to watch in 2009 include Sub-Saharan Africa steadily increasing its production and export of the fuel. And late next year will see the first section of the Central Asia Pipeline open, delivering 4.5 billion cubic metres of natural gas from Turkmenistan to China's Xinjiang province for distribution. Natural gas prices in the US are expected to fall.
But for all the good work being done, with the current economic downturn it will be a battle in 2009 to keep the agenda focused on combating climate change with new energy initiatives. Globally, we are still heavily reliant on fossil fuels and will continue to be next year with a lot of fossil-fuel dependent development going on in the BRIC (Brazil, Russia, India, China) nations in particular.
The International Energy's Agency's (IEA) World Energy Outlook for 2008 is a roundup of that body's findings so far, with projections for the industry up to 2030. Dr Fatih Birol, chief economist with the IEA says that in recent years many governments have put energy policies in place that seek to address climate change and energy security – shoring up and protecting supply. But governments that are now preoccupied with the financial crisis may not push those policies as strongly as they were doing a couple of months ago.
"This would be a pity – a short-term, myopic approach that would hinder us to address the long-term strategic challenge of climate change and energy security," Birol says.
"With the current economic downturn it will be a battle in 2009 to keep the agenda focused on combating climate change with new energy initiatives."
Oil – reduced demand but problematic supply
In the IEA report, the agency revised downwards its projected figures for oil demand in the next few years to 2013, due to volatile prices per barrel and flatter GDP growth worldwide. Since the release of the report, IEA head Nobuo Tanaka has flagged the possibility global oil demand could actually decline if a slump occurs in the economies of China, India or the Middle East.
America's Energy Information Administration agrees saying in its December outlook the economic slowdown would lead to further reductions of global energy demand and additional declines in crude oil and other energy prices. It states that the average price of West Texas Intermediate (WTI) crude oil will fall from $100 per barrel in 2008 to $51 in 2009. Furthermore, the body says: "With the assumption of a fragile economy throughout 2009, along with lower projected crude oil prices, annual average retail gasoline and diesel fuel prices in 2009 are projected to be $2.03 and $2.47 per gallon, respectively."
Moving forward, oil supply over the next 20 years could be a problem, and is something that must start being addressed. The IEA estimates capacity equalling six times that of Saudi Arabia today needs to be brought on steam before 2030 to meet demand. While there is enough oil in the world to last another 40 years at current consumption levels, a lot of it is hard to access due to its location or a lack of adequate infrastructure. Investment to the tune of $26 trillion is required in energy infrastructure from 2007 to 2030, of which about half will go to power, the other half to oil and gas exploration and development.
IAE's Tanaka says: "While upstream investment in oil and gas has been increasing in recent years, this has mostly been due to higher unit cost. The [IAE Outlook] study emphasises the need more upstream investment both in new and existing fields."
China and the ongoing issue with emissions
Even the most optimistic in the industry agree that we have to start unshackling ourselves from oil-dependency. In 2010, Copenhagen's Little Mermaid statue will be sent to Shanghai for the Expo 2010. If she has become a symbol of hope for climate change this visit is entirely appropriate, as China is a huge player in the energy market.
Already the world's biggest coal producer and consumer, and the country with the highest CO2 emissions, China's ongoing energy use is of enormous global consequence. According to the World Resources Institute EarthTrends, China accounts for 15% of the world's energy demand, most of which is satisfied by fossil fuels.
"Perhaps more important for China, however, are domestic concerns such as severe urban air pollution, energy security and sustained economic growth."
"China's current path of energy growth is not sustainable and with its stated goal to quadruple GDP by 2020."
China's current path of energy growth is not sustainable and with its stated goal to quadruple GDP by 2020, it will need to concentrate quickly on energy efficiency, renewables and reducing pollution.
America is the second-biggest CO2 emitter, coal producer and consumer with 49% of US electricity coming from coal – compared to a world average of 40%. New president Barack Obama has pledged to clean up his country's emissions and to look at reducing the US's reliance on the fuel by looking at more renewables.
The nuclear answer
Nuclear power, which delivers around 15% of the world's energy, will also feel the impact of the economic downturn. South Africa recently announced it would not be going ahead with plans for a $10m nuclear reactor, which would have been the country's second.
However, India will increase the amount of nuclear power on its national grid by 1,500 MW in 2009. The Wall Street Journal comments: "Nuclear power will grow [in 2009] if only because of demand for electricity and big nuclear plans in China and the Middle East. But South Africa's retreat is the latest reminder that nuclear power isn't immune to global economic contagion affecting everybody else."
Altogether, 2009 is going to be a year of shifting boundaries for the energy industry. On the one hand you have a flailing global economy taking up a lot of attention and then you have steadily increasing energy demand from the BRIC bloc. And with next year seeing Europe host COP15 it is likely that a continued focus will be put on renewable-energy schemes worldwide. For example, wave power is being investigated in Australia and at a new facility off the UK's Cornish coast, which may become the largest in the world. Both moves the Little Mermaid would surely approve in this volatile and increasingly changing energy environment.