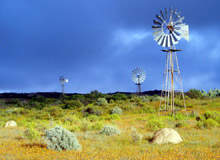 As South Africa's newly appointed President Jacob Zuma sets about assembling his cabinet, much can already be made of the decision to divide the energy and mining ministry into two separate entities.
The African National Congress (ANC) party has promised a new energy strategy to tackle power shortages and cut greenhouse gas emissions that presently account for a staggering two-fifths of the continent's overall figures.
Although critics have voiced concern at the inexperience of Dipuo Peters – the relatively unknown minister selected to front the new energy portfolio – analysts have welcomed the split that could potentially allow for a greater focus on the individual challenges at hand, especially in light of the financial downturn. Furthermore, by dividing the cabinets, the ANC hopes to remove some of the red tape that suffocated the previous ministry's performance.
"The African National Congress (ANC) party has promised a new energy strategy to tackle power shortages."
The new integrated energy policy hopes to meet growing demands for gas, oil and electricity while also addressing global warming concerns.
As one of the least energy-efficient nations in the world and the least efficient in Africa, the ACN and South Africa face a steep challenge, albeit one that one already has relative groundwork in place.
For a start, the party is able to take on the state-owned utility company Eskom's five-year expansion plan, which aims to add new plants across South Africa to avoid a repeat of last year's nationwide power cuts.
Furthermore, in March 2009, South Africa's national energy regulator (NERSA) announced the introduction of a system of feed-in tariffs designed to produce 10TWh of electricity a year by 2013. The new tariffs, which are differentiated by technology, lean in strong favour of renewable energy sources and therefore offer a clear financial incentive for future investors to develop power supplies along that path. ANC has also reportedly recognised the need to open the door to private power firms and give them a bigger say in helping to fill the country's prominent power supply gap.
With plans to enforce an emissions cap in South Africa by 2020-25 and an additional goal of generating 15% of the country's electricity from renewable sources by 2020, such policies are a necessary step forward. South Africa currently generates approximately 93% of its electricity from coal, 5% from nuclear and 2% from renewable power sources.
The new 20-year feed-in tariff for wind power will be $0.14/kWh, which compares generously to Germany's rate of approximately $0.016 – a country widely regarded as the model of feed-in tariff implementation. Elsewhere, hydro power will be measured at $0.104/kWh and landfill oil will stand at $0.10/kWh.
Solar South Africa
"The new integrated energy policy hopes to meet growing demands for gas, oil and electricity."
South Africa's hot arid climate gives solar power obvious appeal. Scientists estimate that every year, each square kilometre of desert receives energy equivalent to 1.5 million barrels of oil. With South Africa's barren Northern Cape terrain famed for its relentless sun and dust, it seemed inevitable that the region would be earmarked as a potential solar energy hotspot.
In 2008, Eskom began making plans to build a solar plant near Upington – a popular holiday destination in the Northern Cape Province – capable of generating 100MW. Until now escalating costs have plagued the project but the latest feed-in-tariffs could renew interest in solar.
Another initiative involving solar power was the Central Energy Fund's (CEF) recent decision to push forward the installation of solar-powered traffic lights at critical intersections in South Africa's major cities. Partly a measure to prevent traffic disasters during electricity blackouts, the scheme also hopes to promote the increased use of the renewable energy source. Currently around 20 such traffic lights have been installed at a cost of approximately $35,000 each and CEF is expected to invest roughly $11.5m on 400 intersections in the future.
Hydro power
Hydro power also has some potential for South Africa, albeit largely imported, and is expected to play a much larger role in satisfying the wider African continent's growing energy needs. Already some African nations, including the Democratic Republic of Congo, Ethiopia, Uganda and Zambia have invested in hydro power projects and are highly dependent on the energy source.
"There are plans to enforce an emissions cap in South Africa by 2020-25."
African hydro power plants such as Kariba in the Kariba Gorge of the Zambezi River between Zambia and Zimbabwe, and Cahora Bassa on the Zambezi in Mozambique, have helped expand available electricity to urban and industrial areas. Not only have these projects helped spur economic growth in their respective regions, but they have opened up the export of electricity to other African nations, most notably South Africa, Nigeria and Egypt.
Although South Africa currently derives very little of its energy from hydro power, Eskom recently awarded a contract to a joint venture led by Italian firms Impregilo and CMC to construct an underground works and reservoirs for the Ingula pumped storage project.
The $795m Ingula plant is to be built roughly 350km south-east of Johannesburg and is scheduled to commence operations in 2013. Last year, Eskom awarded Voith Siemens Hydro Power Generation the contract to supply electro-mechanical equipment to the project. The company will supply four pump-turbines each capable of an out of 342MW.
Such investments in combination with a more clear-cut energy policy from the new South African government could finally help to solve both the country's limited power resources and reduce emissions.