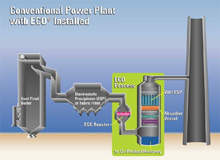 Governments and utility companies worldwide are trying to reduce pollution from fossil-fuelled power stations. However, the efforts are an example of W. Edwards Deming's warning against optimising the separate parts of a system at the expense of the whole system. And that has come directly from the way energy markets have been privatised globally.
Power producers are paid purely by how much energy they sell, making it unprofitable for them to encourage end users to reduce their consumption. Changing this is something only governments can do, but it is something they have thus far failed to achieve.
The best approach to emissions reduction is a standard quality improvement effort, looking top-down at the process of generating and distributing electricity. That starts from the outputs – the energy actually consumed by end users, and works backwards through the fuel conversion processes to the inputs – the fuel itself burned by power stations. Savings from the measures with the fastest repayments pay for the more expensive measures.
"Savings from the measures with the fastest repayments pay for the more expensive measures."
Reducing energy used by consumers
It is ironic that the most fruitful energy saving measures – reducing energy use by customers – are also the most neglected. These are where the shortest repayment times come – often as low as three years.
Programmes like Energy Star in the US identify best practice for products, homes, buildings and industrial plants. These, though, are primarily information campaigns.
The power industry also needs a massive expansion of initiatives like the Weatherization Assistance Program already in place for low-income US families: energy efficient lights, insulation, refrigerators, air conditioning and the like soon repay initial capital costs.
Governments should also be investing large scale in new technologies such as LED lighting and photovoltaic panels to bring down prices and improve efficiencies. And stronger legislation is needed to eliminate unnecessary energy hungry products.
Apart from information campaigns, there seems to have been two main 'control mechanisms' for reducing consumption: putting up energy prices and 'guilt'. A clear example is the attempt to reduce stand-by consumption of electrical equipment.
Equipment manufacturers introduced stand-by as a great new convenience feature. Governments watched them do it, and users were persuaded to buy the equipment. Now they are being made to feel guilty about using it. That is no way to get people behind efforts to conserve energy.
Moving back a stage, to electricity distribution, Smart Grids, like those envisioned in the EU, will help (for example) shift loads to off-peak periods, but in themselves they will save relatively little energy. In the 1990s, UK energy consultants made money by putting more meters into company premises. These didn't help save energy, instead they generated huge amounts of data that was never actually used. Similarly, the money going on Smart Grids would often be better spent on improving maintenance and inefficient distribution infrastructures.
Pollutants as process 'outputs'
The major efforts on reducing pollution now focus on power stations themselves, with coal-fired plants being easily the worst offenders. The US Department of Energy's (DOE) Innovations for Existing Plants (IEP) Program has done extensive R&D work on SCR (selective catalytic reduction) systems for SO2 and NOx after the pollutants have been produced. Companies like Babcock & Wilcox produce a range of different systems, and integrated systems like Powerspan Corp's ECO can remove a mixture of pollutants including mercury and particulates.
"Advanced NOx control technologies such as Praxair's oxygen-enhanced combustion reduce emissions by up to 60%."
Improvements to control systems are often some of the lowest cost measures. At Brandon Shores in the US, Emerson's Ovation works with its SmartProcess Selective Catalytic Reduction (SCR) system to greatly improved SCR efficiency, giving 250-ton NOx reductions and saving $200,000 from reduced NOx credit purchases.
Other techniques prevent the pollutants from being produced in the first place. The International Energy Agency's Clean Coal Center website discusses progress with Low-NOx burners (LNBs), along with other measures like overfire air, reburning and flue gas recirculation. Advanced NOx control technologies such as Praxair's oxygen-enhanced combustion reduce emissions by up to 60%.
However, that still leaves the largest pollutant by volume: CO2 . This is an inevitable byproduct of burning fossil fuels, so can only be removed after combustion – with geosequestration being the aim.
In Australia, the CO2CRC initiative is demonstrating Post-Combustion Capture (PCC) at the Hazelwood coal-fired power plant. In the US, the NETL post-combustion website outlines projects directed at the use of solvents, solid sorbents, membranes and other techniques to separate CO2 from flue gases. Technologies include aqueous ammonia, advanced amines, ionic liquids, metal organic frameworks, and amine-enriched sorbents. The separated carbon dioxide will then need to be compressed, which will form a large parasitic load without new, low-energy compressors.
Pre-combustion, NETL is studying oxyfuel combustion to improve the economics of CO2 capture. Like the post-combustion efforts, it can be retrofitted. Chemical looping processes will prevent direct contact of air and fuel to produce a relatively pure stream of CO2 that does not need to be separated from flue gas.
"Geosequestration is the only technology available to make deep cuts in greenhouse gas emissions while still using fossil fuels," a CO2CRC representative said. And it doesn't yet exist.
"Chemical looping processes will prevent direct contact of air and fuel to produce a relatively pure stream of CO2."
Improving the coal burning process
Some of the largest immediate practical gains will come from improving inefficient coal power stations using, for example, fluidized bed drying. In Australia, Hazelwood is also piloting a project using internal heat recovery to dry brown coal to cut moisture content from 62% to 12% to improve burning efficiency and reduce emissions.
Another effective method for improving fuel conversion is to improve control. EPRI has reported on CO2 emissions reduction through heat rate optimisation for coal-fired plants, for example.
Fuels as inputs to the power generation process
While gas- and oil-fired power stations emit less pollution than equivalent coal fired ones, they still emit huge amounts of carbon dioxide. The best way to reduce pollution is not to produce it in the first place, which means that we should be investing in renewable resources.
And that needs commitments like China's recent announcement that it plans to produce up to 100GW of solar and wind power by 2020. Other governments should similarly be aiming more of their huge economic stimulus packages towards low-carbon developments, or yet another opportunity to match the 'green' rhetoric will be lost.