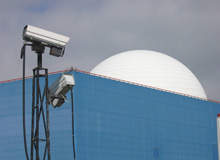 The pressure on power generators to install the latest technologies that will increase the life of a plant or make it more eco-friendly is presenting unforeseen logistical challenges for the UK power sector. These pressures, coupled with the push into nuclear power, are forcing companies to reassess their construction strategies and plant management techniques.
Industry leaders will meet at two key events in September to review best practices and ensure they realise the potential opportunities of today's power sector. At the ViB Power Plant and Heavy Lifting conference in London on 15-16 September, safety and logistical challenges will be discussed in full. Later in the month, key players in the nuclear industry will meet at ViB's Plim + Plex conference in Chicago, US, to debate the strategies being taken to enhance the economic competitiveness of nuclear plants.
Feeling the weight
After World War II, the UK experienced an unprecedented power boom. Demand was insatiable and in response coal-fired power plants were rapidly constructed across the country. This boom period lasted until the 1980s. However, energy requirements remain strong and many of these polluting plants are being converted into cleaner facilities.
For logistics managers, these retrofits present new challenges. Gone are the huge sky cranes and derricks that were used to build new plants on greenfield sites. Instead, much of the heavy lifting is being carried out in an internal section of an ageing plant where safety and manoeuvrability issues are causing concerns.
"Energy requirements remain strong and many of these polluting plants are being converted into cleaner facilities."
Driven by EU legislation such as the Large Combustion Plant Directive, which aims to reduce acidification and ground level ozone throughout Europe by controlling emissions of sulphur dioxide and nitrogen oxides and dust, companies such as Doosan Babcock Energy are finding that emission-reduction refits are forming an ever larger part of their work. But while these companies are taking on more demanding tasks, a debate has begun regarding equipment suppliers' ability to keep up.
Doosan Babcock Energy rigging, transport and logistics manager John Huntington says that in many ways the traditional crane industry is not ideally suited to the work that the power industry is conducting.
"The cranes that we are using now are those that have been developed for other industries and have been made to fit our requirements," says Huntington. "In the past, they were more specialised towards the power industry."
As far as the crane industry is concerned, Huntington says that the lack of specialised crane designs from manufacturers and the 30 years gap since the last coal-fired power plants were built in the UK have resulted in a halt in innovation. In response, power industry construction companies are beginning to change their approach when talking to these manufacturers.
"Instead of us going to crane companies and asking them what they can provide, we tell them what we want," says Huntington. "If we think we need to develop new cranes that will meet our requirements then that's the way we will go."
With Huntington comparing the options offered by the crane industry to that of picking a standard model from a car showroom, bringing the development of lifting equipment in-house could be a real possibility.
Nuclear horizon
While legislation is forcing the UK conventional power industry to focus on retrofitting old plants with clean technologies, the nuclear sector is trying to increase its reach and extend the life of its plants. A recent government study found that the UK should aim to triple the share of electric power that is derived from nuclear sources by 2030. As the majority of the UK's ten nuclear plants will come to the end of their lives by this date, the pressure is on to build new plants or find a safe way of keeping these existing facilities in operation.
In 2008, a nuclear power station and a coal plant went offline within minutes of each other causing blackouts in some parts of the UK. Although a coincidence, this highlighted the lack of spare capacity in the UK grid system. About half of all nuclear plants in the country have been decommissioned and based on today's plant life schedules, by 2023 only one plant that currently exists will still be running.
"Power industry construction companies are beginning to change their approach when talking to crane manufacturers."
The Wylfa Nuclear Power Station in Anglesey is one of the UK's oldest plants. It recently gained a life-extension of nine months beyond its due closure date. The magnox-type reactor will now keep producing electricity until December 2009 and some have hailed it as the start of an even longer life-extension programme.
Meanwhile, more than half of the nuclear reactors in the US are coming to the end of their 40-year lifecycle. To continue operating these will need to obtain new licenses through a complex process that is regulated by the US Nuclear Regulatory Commission, which may take years to complete.
Ending the global reliance on oil, coal and gas may be some environmentalists' dream. In reality, however, these fossil fuels will make up the majority of the global power mix for some years to come. In the meantime, reducing emissions from existing power stations while investing in alternative sources, such as nuclear power, will go some way in curtailing the impact of energy production on the environment. Making sure retrofit technologies and plant management techniques are up to scratch will be crucial in securing the most efficient use of the UK's power sources.