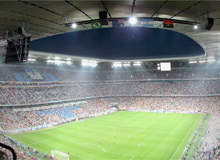 In June 2010, South Africa will be cast into the limelight as football fans from around the world gather at the game's biggest tournament, the FIFA World Cup. When the last championship was held, in Germany four years ago, more than 16 million people descended on the 12 host cities. Throughout the four-week celebration, 64 games were played, 17,000 staff worked to make sure each kick-off went smoothly and 147 goals were scored.
As football fever begins to grip South Africa, the country is beginning to prepare for an equally high number of visitors, and its utility Eskom is readying itself for an immense drain on its power grid. The country is well known to suffer from power shortages. From 2007 it has resorted to the practice of load shedding, where it actively cuts power to some to ensure supply for others, and in January 2008 the South African Government was forced to call the deepening power crisis a 'national emergency'.
Bets are now being placed as to whether or not it can confidently host a tournament of such magnitude – and ensure constant power to the numerous stadiums and countless venues where the fans will stay or watch the matches.
South Africa's tight capacity
In Germany, it was found that electricity consumption for the four-week period at the 12 stadiums used – where an average 53,000 people attended each game – was 13GWh or 170MW for each match. Eskom managing director of distribution and head of the 2010 project Ayanda Noah says that unfortunately for the utility, the tournament is being held during the country's winter season a period where the supply is tight.
"Powering [the World Cup] in this period of tight capacity will require more than just an effort by Eskom. The role of the public and their commitment to energy-efficient practices is vital to a successful event," he says. With this attitude Eskom is not shying away from responsibility and passing blame on to the public, instead it has come to a sensible conclusion that all must play their part following a systematic risk assessment.
Eskom has examined all elements within its generation department, transmission division – responsible for the network of about 28,000km of transmission lines – and its distribution network, which provides links to the municipalities that act as the final electricity suppliers. In addition, it has benchmarked possible power demand against past events including the FIFA World Cup 2002 in Korea and the Confederation of African football African Cup of Nations tournament in Ghana during 2008.
"The World Cup tournament is being held during South Africa's winter season a period where the supply is tight."
It has come up with the concept of a 2010MW 'virtual power station' – a scheme combining Eskom initiatives and consumer contributions to produce savings that equate to 2,010MW. Steps such as compact fluorescent lights replacing traditional incandescent light bulbs and the switch to solar water heating are both helping towards this end.
Due to the low reserve margin that Eskom operates with, the electricity supply system remains vulnerable for the next five to seven years until new base-load power stations come on stream. However, the steps put in place to reduce demand, to increase coal stockpiles and to complete essential maintenance in the summer period in the months before the tournament will assist in reducing risk.
Stockpiling
Increasing its stockpile to 40 days compared to the minimum requirement of 20 days will go some way to providing a cushion when demand peaks, but Eskom is also focused on increasing overall supply for the tournament. It has accelerated its new build programme and is returning to service power stations that were mothballed in the 1980s when South Africa had excess capacity.
But increasing the number of watts being fed into the grid is not a task that can be done overnight. Econometris Treasury Management economist George Glynos says that stepping up its new build projects in time for the world cup may be more expensive than the utility initially bargained for when it was bidding to hold the championship because of its need to raise capital in a global recession.
"It is has got to be taken in the context of what is happening internationally because it is bigger than just being a local issue. [Eskom] is trying to raise money but it is fighting against governments that are also raising capital because their tax collections are going down," Glynos says. This results in higher borrowing costs and ultimately the cost of building a new plant rockets. As the global economy recovers, international commodity prices are likely to rise, also putting pressure on Eskom's budgets.
"I think South Africa is going into a period now where it will become one of the most expensive producers of electricity in the world instead of one of the cheapest, where the cost of electricity will be one of the most expensive," he adds. To tackle this, one strategy Eskom could take is to produce more than it needs and then raise capital through selling electricity to nearby countries. "I would hope that it has the strategic foresight to do something like that. I think it has learnt its lesson of running without much of a reserve. It has to plan ahead and it has to build more stations than it needs."
Unlocking Eskom's potential
As a more immediate solution in time for the world cup, Eskom will be working closely with the Southern African power pool (SAAP). This was created with the primary aim of establishing a common market for electricity to provide a reliable and economical supply to all member national utilities.
"Can South Africa confidently host a tournament of such magnitude?"
It is also working with SAAP, as well as the Department of Environmental Affairs and Tourism, to implement its Green Goal 2010 strategy (building on the Germany's Green Goal 2006 efforts) using sustainable principles in the areas of energy, waste, water and transport when hosting the games. "Working with SAAP will also unlock a considerable renewable component into the energy mix as the southern African region is blessed with immense potential for the development of sustainable energy," Noah says.
Back-up generators will almost certainly secure supply during matches in the stadiums but whether fans that have flocked to the country will be always able to access power round-the-clock is still a matter of uncertainty.
Noah says that Eskom is confident it will be able to deliver sufficient bulk electricity supplies throughout the tournament but admits that power cuts are still a possibility and can never be eliminated.
The 'feel good factor' of hosting the tournament is certain to boost the South African economy and push Eskom into the forefront of the minds of potential power investors. "Ultimately investors look at the bottom line and if it makes sense to them they will enter the market and if it doesn't they won't. Feel good only takes you so far, it might get you noticed but the final decision goes down to numbers," Glynos says.
Hosting the FIFA World Cup would put a strain on even the most developed of infrastructures. For South Africa, it is a challenge of enormous proportions. But, with adequate planning and foresight from Eskom, if all goes well it could be a major endorsement for the country as a whole. Leaving the main debate to concentrate on where it should be – who will win on the pitch?