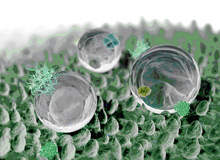 Coatings designed for the energy sector have a uniquely difficult and delicate balance to strike. On the one hand, they must be robust enough to meet the demands of their intended job and achieve it under some of the most challenging of conditions, while on the other, conform to stringent environmental, health and safety and performance criteria.
Inevitably, the need to achieve this acts as a major driver on R&D investment among coatings manufacturers. For some, however, notably small- to medium-sized companies, these recurring demands are often not easily met, particularly not now. Nevertheless, despite the vagaries of the wider economy, the market appears surprisingly buoyant, particularly for those product applications intended for energy sector end-users.
The recent Frost & Sullivan European Protective Coatings Market report predicts a 2015 value approaching €945m – a rise of nearly 8% on 2008 – and it is clear that the power generation, oil and gas industries are leading the way.
Along with infrastructure and civil engineering, these segments of the coatings market are, it seems, growing markedly faster than the water, manufacturing or construction sectors.
It is a trend that independent health and safety consultant Richard Lightman has also seen developing. "There's a lot of interest in coatings at the moment," Lightman says.
"The Frost & Sullivan European Protective Coatings Market report predicts a 2015 value approaching €945m."
"It was the 20th anniversary of Piper Alpha in 2008, so fire protection is still high on the list for the energy sector as a whole, but each segment also has its own focus.
"Pipe coatings have been pretty big in oil and gas this year, for instance – there's been some interesting stuff coming along, especially in insulation and corrosion protection. On the power side, ash abrasion and scrubber coatings are what I've been hearing most about and the upsurge of wind generation has been having its own effect too."
Fire protective coating
The potential severity of fire – the extreme high temperatures and the speed at which they are reached, along with the concomitant hazards of explosion and structural collapse – makes particular demands on fire protection coatings intended for the energy sector.
In addition, the complex site electrical infrastructure combined with the ongoing demands of routine maintenance often conspire to further exacerbate the potential danger that fires at power plants, offshore platforms or refineries can pose.
Although each type of facility inevitably presents its own specific challenges, intumescent coatings and the like remain an essential element in the 'prevention, resistance, response' of the fire protection hierarchy – and the continuing relevance across the whole sector.
Consequently, the market is well served by an effective "who's who" of coating manufacturers, including names such as Akzo Nobel/ International Protective Coatings, Ameron, Donelli, MCL Unitex, Norisol, PFP Systems and Sigma.
Green power
The growth of interest in renewable energy, wind power in particular, has sparked its own flurry of activity within the coatings industry, as many energy policies around the world have taken on something of a green hue. Offshore wind turbines, for instance, face essentially the same challenges as any similarly located oil or gas platform, which unsurprisingly means that they share many of their coatings requirements too.
The upshot of this is that companies with experience in the power and offshore markets, such as Akzo Nobel, Ameron and Sigma, have found new applications for their existing, tried-and-tested products, as well as a strong potential driver towards further new developments.
One such distinctly novel idea that has already sparked considerable interest was recently unveiled at GE's Global Research Facility in Niskayuna, New York – a super-hydrophobic nanomaterial. Biomimicry is becoming a major force across a wide swathe of material technologies and its use for coating systems is an acknowledged area of growth.
"Biomimicry is becoming a major force across a wide swathe of material technologies and its use for coating systems is an acknowledged area of growth."
In this case, GE's scientists were inspired to create their new coating by the way water droplets naturally remain discrete spheres on lotus leaves, rather than collapsing and wetting the whole surface. As GE Global Research advanced technology programme leader for nanotechnology Margaret Blohm told visiting journalists in mid-October, this nanomaterial's structure is designed to allow a falling droplet's surface tension to be maintained, keeping its shape intact.
The coating is shortly scheduled to undergo testing on residential-scale wind turbines, to see if its unique properties can be used to help avoid icing on the rotating blades – and by so doing circumvent the additional drag loads that occur when ice forms. If the trials are successful, it could herald enhanced efficiency for wind generation and possibly lead to advances in the control of similar problems in aircraft too.
Whether this approach will ultimately scale-up and enjoy extensive commercial usage on wind farms around the world still remains to be seen, but the wider advance of novel technologies into the energy sector is inevitable. Already biomimetic and nanotechnology-based coating systems are being touted as potential future solutions to a range of problems including corrosion in pipes and tankers, gas-hydrate formation, drilling-bit wear and marine bio-fouling. New ideas are emerging all the time.
The industry stands poised to embrace greater challenges – as much in meeting increasingly stringent environmental constraints as in functioning in some of the globe's most demanding geo-physical environments. It is small wonder then that, as Lightman says, there are such interesting developments coming along.