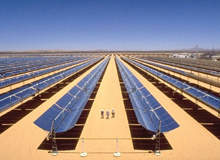 Mitsubishi Electric Corporation recently announced that it had developed the world's first technology to maximise output power in photovoltaic (PV) systems by incorporating a new maximum power-point tracking (MPPT) system in PV inverters. The technology, which works with a single PV inverter, achieves the maximum power point even when part of a PV array is hidden by shadow or dust.
Mitsubishi says it aims to incorporate this technology in its products in the near future, which might go some way to silencing critics of solar technology, who have long focused on the sometimes unpredictable, inefficient storage capacity and ultimate output of some solar plants.
Renewable energy research focus
German engineering and manufacturing company MAN Diesel and Turbo, which builds turbines used in solar power projects, says it is focusing its research work on renewable energies. MAN's Turbo business won an order to supply a steam generator turbo set with a capacity of 50MW to the Spanish solar power station Andasol 3. The machine train with intermediate superheating was specially designed for use at the Spanish solar project.
"Solar is expected to become one of the major players in the global power-generation business."
The technology uses an entire water-steam circuit that adapts the steam turbine accordingly. MAN says the technology achieves "significant improvements in effectiveness with an efficiency of the entire solar power station". The station, which uses part of the solar energy generated during the day, feeds into thermal storage units. This enables energy production and power supply to be planned, even during the night. This advancement has led MAN to make some bold statements on the future of solar power. At a company presentation, vice-president of MAN Turbo's steam turbines business Ole M Hansen told power-technology.com, "Solar will become one of the major players in the global power-generation business, overtaking other forms of energy."
This sentiment was echoed at a recent solar conference in a speech to delegates at Solar Power International 2009 in California, where the CEO of the US-based Solar Energy Industries Association (SEIA), Rhone Resch, said that solar stood in the mainstream of American energy – squarely alongside fossil fuels and nuclear power. According to the Edison Electric Institute, solar accounted for 13% of all new utility announcements and filings last year, up from 6% in 2008.
"Regardless of who you ask, solar has a bright, clean and exciting future," Resch told delegates. The SEIA is now pushing for more legislation across various US states to make solar more widely accessible in businesses and homes. The group is also lobbying utilities to bring about less reliance on fossil fuel-based energy systems by switching to solar and other forms of renewable energy in areas that can harness the energy from the sun continuously. But legislation to support the growth of renewables has moved at a relatively slow pace in the US, which has paved the way for European and Japanese engineering companies to take the lead in this sector.
The sun shines on the developing world
While the US works hard to catch up with countries such as Germany, developing nations also see a bright future in developing and using solar power systems. It is widely believed that poorer nations can benefit from solar energy, which can help them without having to use highly polluting fossil-fuel-based coal-fired power plants. China's Suntech recently announced it was teaming up with Pakistan's alternative energy development board. Elsewhere, thermal solar company eSolar said it was expanding in Africa and partnering with an Indian company to build solar power plants in India over the next decade.
One of the biggest and most ambitious global solar projects is being led by a consortium of 12 European businesses. The Desertec Industrial Initiative aims to supply Europe with 15% of its energy needs by 2050. Desertec aims to produce solar-generated electricity with a vast network of power plants and transmission grids across northern Africa and the Middle East.
"Solar stands in the mainstream of American energy – squarely alongside fossil fuels and nuclear power."
The first stage will be to build a massive solar energy field across the Sahara Desert, utilising concentrated solar power technology (CPS) using parabolic mirrors to focus the sun's rays on containers of water. The heated water will then power steam turbines to generate electricity 24 hours a day, 52 weeks of the year. The aim is then to transport the electricity great distances to Europe, using high-tech cables that are designed to suffer little conductive loss of power.
The Desertec initiative is expected to surpass any other comparable project but it remains to be seen whether it will be completely successful and silence critics who argue the cost of powering such a plant cannot be outweighed by total energy output.
But technology providers such as Mitsubishi, Siemens and MAN are working tirelessly with plant designers to create more-efficient ways of harnessing the maximum amount of energy from the most powerful source we have at our disposal, all part of the massive push to move away from fossil fuels and avert the effects of climate change.