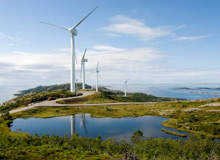 The wind power industry has emerged as a powerful and popular player in the renewable energy sector. The small wind turbine market has increased in Europe and the US while large offshore wind farms have become commonplace. With renewable energy still growing, the companies making the technology to take this sector forward are currently at the top of their game right now.
Ahead of two major Arena International wind power events – Wind Power Transmission and Distribution 2010, UK, and Wind Power Asset Optimization, US, we take a look at some of the major wind generation companies that have made their mark through innovation and continuous improvement.
A2SEA
A2SEA was established in 2000 with transport, installation and servicing of offshore wind farms as its core business. The company describes itself as the most experienced installation contractor in the offshore wind market.
In 2002 it installed turbines on Denmark's Horns Rev, the world's first commercial-scale wind farm.
Since then its vessels have gone on to install more than 500 wind turbines and 300 foundations.
A2SEA says it covers the installation of most turbine types, a wide range of monopile sizes and transition pieces, and specialist lifts such as offshore accommodation blocks and metmasts.
Enercon
"With renewable energy still growing, the companies making the technology to take this sector forward are currently at the top of their game right now."
German giant Enercon was founded in 1984. Since then a small team of engineers has developed its first E-15/16 wind turbine with a rated power of 55kW. The changeover to gearless technology was made in 1992 with the first Enercon E-40/500kW.
This technology, with its innovative drive system and few rotating components, enables almost friction-free energy flow, according to the company. Enercon also claims its product reduces mechanical stress and operating and maintenance costs to increase the service life of the systems.
Today there are more than 13,000 Enercon machines installed worldwide in over 30 countries, with a combined capacity of more than 15GW. Analysts believe the company holds approximately a 14% share of the global market.
Gamesa
Gamesa Corporación Tecnológica is a wind turbine manufacturer, project developer and operator. The company is a market leader in Spain and has installed more than 18,000MW of its main product lines in 20 countries over four continents.
The annual equivalent of this production amounts to more than four million tons of petroleum a year and prevents the emission into the atmosphere of over 27 million tons of CO2 a year. The company has a portfolio of more than 21,000MW of wind power in Europe, the US and Asia.
GE Energy
GE is one of the world's leading wind turbine suppliers and boasts more than 13,500 wind turbine installations worldwide comprising more than 218 million operating hours and 127,000GW/h of energy.
With wind manufacturing and assembly facilities in Germany, Spain, China, Canada and the US, GE's product portfolio includes wind turbines with rated capacities ranging from 1.5 to 3.5MW and support services ranging from development assistance to operation and maintenance.
GE's offshore wind business recently acquired Norwegian company ScanWind to increase its product offering even further to serve the expanding offshore wind turbine segment.
Iberdrola
Iberdrola is one of Europe's largest generators of renewable capacity and plans to double its output to 18GW by 2012. The company develops, constructs and operates renewable power plants and manages the sale of the electric power produced.
The group is the top-ranked wind player in Spain and Greece, as well as second in the US and UK following its acquisition of utility group Scottish Power.
Iberdrola Renovables claims the largest base of operational renewable assets and the largest portfolio of future projects in the world, with more than 54GW in the pipeline.
Its current portfolio reveals its top three markets, with 4,450MW operating in Spain, 2,318MW in the US and 617MW in the UK. Operating in 20 countries, the rest of the world includes 761MW of wind. Overall, 44% of the company's installed capacity is located outside of Spain.
The company's strategic plan for 2008–12 envisages investment of more than €18bn over the next five years in order to more than double its installed renewable capacity to 18GW. This is from an initial renewables capacity of little more than 1GW in 2001.
Nordex AG
Nordex offers a range of multi-megawatt wind turbine products from 1.5 to 2.5MW, including a turbine suited for offshore applications. The group also offers three different rotor sizes – up to a diameter of 100m – for its 2.5MW turbine to suit a range of applications.
According to the company, its third-generation 2.5MW series turbines – the Gamma Generation – combines the latest research and development with technical know-how and experience from a decade of operation to meet today's market requirements.
With exports accounting for over 90% of its business, the company has offices and subsidiaries in 18 countries
REpower Systems AG
"Iberdrola Renovables claims the largest base of operational renewable assets and the largest portfolio of future projects in the world."
REpower Systems was founded in 2001 and its product ranges include turbines from 2-5MW and its machines have been installed at thousands of wind projects. The REpower 5M 5MW turbine – one of the largest turbine's in the world, with a rotor diameter of 126m – has been designed primarily for offshore wind farms and the company is currently installing three of its new 6 MW 6M turbines onshore in Germany.
REpower has offices in Germany along with subsidiaries and associated companies in France, Spain, the UK, Greece, Australia, China, Portugal, Italy to name a few.
REpower expects further strong growth on the global wind energy market in the next few years, initiated primarily from Europe and the US.
RES
Renewable Energy Systems, or RES, is one of the world's leading wind energy developers with core activity focused on the development and construction of wind projects. The company, which is part of construction company Sir Robert McAlpine, develops, designs and operates wind farm projects worldwide.
Current developments are led by North America and the Caribbean, where RES has built 3,071MW of wind capacity and has a further 382MW under construction. In Scandinavia and Europe RES has built 558MW of wind and a further 455MW under construction, while in Australia and New Zealand a further 436MW are in development.
RWE Innogy
RWE Innogy is a renewable energy developer, owner and operator. The company, which emerged from the German giant RWE, is making huge investments of at least €1bn a year on renewable energy in Europe.
RWE Innogy is the renewables development arm of the mighty RWE AG, one of Europe's largest utilities. The company plans, builds and operates renewable facilities, and aims to grow its capacity in its core European market with a focus on wind technology.
Especially strong in the home market of Germany and in the UK, the company started with capacity of 1,100MW. The expansion of onshore and offshore wind power capacities will remain the driver for RWE Innogy's growth in the future.
Sinovel Wind Corporation
Sinovel is among the world's top-ten largest turbine manufacturers and is taking advantage of the massive growth in its home market of China.
The leading manufacturer of large-scale wind turbines in China, it was the first company to introduce 1.5MW and 3MW machines into the country. Sinovel has produced more than 1,500 units of its 1.5MW machine and has a production capacity of more than 1,000 units a year.
In June 2008 AMSC received a $450m order for core electrical components for Sinovel 1.5MW turbines. The contract called for shipments to begin in January 2010 and to increase year-over-year through to the contract's completion in December 2011.
Vestas Wind Systems
Vestas has over 25 years experience in the wind power business. Its turbines are tested at special centres before results are verified and certified by independent organisations.
Vestas installed its first wind turbine in 1979 and now employs more than 19,000 people. It is currently recruiting on the back of what it describes as 'robust long-term growth prospects.' The company's product portfolio comprises turbine models from 850-3MW.
The company says it continuously monitors a large number of the turbines in operation to determine how the turbine design can be optimised and to use the data and knowledge to make turbine operation more reliable and cost-effective.
Wind Power Transmission and Distribution 2010 takes place on 3-4 June in Manchester, UK.
Wind Power Asset Optimization takes place on 21-22 June 2010 in Dallas, Texas, US