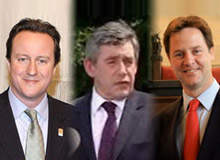 Some commentators have described climate change issues as the elephant in the election room, seemingly high on the political agenda but low on the discussion list for the UK's upcoming general election. Outside of the election campaign, climate change is a hot topic and the parties must set out their policies that will later be debated on the world stage. While the UK's Green Party by its very nature puts the issue at the top of the agenda, it has not always been clear exactly what each of the three main political parties would do to ensure energy security, reduce carbon emissions and even where they stand on the controversial issue of civil nuclear power.
Climate activist group Friends of the Earth recently criticised the Conservative party for not adopting its package of key measures to reduce UK emissions. These pledges include achieving a 42% reduction in UK greenhouse gas emission by 2020, an international agreement on cutting emissions and sufficient investment in switching to a low-carbon economy. Friends of the Earth said, however, that its plans were supported by Liberal Democrat and Labour political candidates.
Meanwhile, leading business organisation, the CBI, which represents about 240,000 British businesses, says that, in the longer term, the UK needs "to develop a broad energy mix that includes new nuclear plants, clean coal, gas, wind and other renewable sources". In the run up to the May leadership contest, power-technology.com takes a look at what the three main political parties running for power promise in their political manifestos.
"Climate change is seemingly high on the political agenda but low on the discussion list."
Labour: towards a low-carbon revolution
The current government says that the UK is a transition economy: from high carbon to low carbon. In its manifesto, Labour says that "to avert the catastrophe of unchecked climate change we have begun the shift to a different kind of an economic future".
Labour has set targets to achieve its "low carbon revolution" as set out in its manifesto. It pledges to:
achieve approximately 40% low-carbon electricity by 2020 and create 400,000 new green jobs by 2015
make greener living easier and fairer through "pay as you save" home energy insulation, energy-bill discounts for pensioners and requiring landlords to properly insulate rented homes
move towards a "zero waste" UK, banning recyclable and biodegradable materials from landfill
link together new protected areas of habitat, maintain the green belt, increase forest and woodland areas.
The Labour Government says it has established a low-carbon policy "as one of the principal engines of economic recovery and future growth".
Conservative: climate change levy
In its manifesto, the Conservative Party attacks the current government's green policies by saying its "performance on emissions has been criticised by environmental groups and that the UK has the worst record of any major EU nation when it comes to renewable energy.
The Conservative Party says the UK must cut its carbon emissions to tackle the challenge of climate change. The party claims it will do this by encouraging private sector investment "to put Britain at the forefront of the green technology revolution, creating jobs and new businesses across the country".
"The UK needs 'to develop a broad energy mix that includes new nuclear plants, clean coal, gas, wind and other renewables'."
The party aims to create the UK's first green investment bank, which will draw together money that is currently divided across existing government initiatives, leveraging private sector capital to finance new green technology start-ups.
The party also claims it will reduce UK greenhouse gas emissions and increase its share in the global markets for low carbon technologies.
The Conservatives plan to provide the financial backing to create "a low-carbon economy". The manifesto states that a "credible and sustainable price for carbon is vital for adequate and timely investment in new electricity generation".
They pledge to "reform the climate change levy to provide a floor price for carbon, to deliver the right climate for investment in low carbon energy production". The party then plans to increase the proportion of tax revenues accounted for through
environmental taxes.
Liberal Democrats: protecting the planet
The Liberal Democrats claim to offer a change from 65 years of governments run by the Conservative and Labour Parties. Their manifesto offers a distinct alternative to the other two parties. Instead of a chapter devoted to the green issues and energy matters, as with Labour and Conservative, the Liberal Democrats have chosen to include green boxes in each chapter spanning jobs to finances in an attempt to show how green living is part of everyday life.
The Liberal Democrats say they will block the building of new coal-fired power plants and reject the Labour Government's current plan for a new generation of nuclear power plants.
When it comes to domestic energy use, the Lib Dems say they will ensure "social tariffs" are available "to guarantee the best price for all those in most need". Green targets include:
beginning a ten-year programme of home insulation, offering a home energy improvement package of up to £10,000 a home, paid for by the savings from lower energy bills
setting a target for 40% of UK electricity to come from clean, non-carbon-emitting sources by 2020, rising to 100% by 2050, underpinned by guaranteed price support. Ensuring that at least three-quarters of this new renewable energy comes from marine and offshore sources
setting out a clear renewables route map to 2050, covering grid access and investment in electricity networks, develop new incentives to promote renewable heat
blocking any new coal-fired power stations unless they are accompanied by the highest level of carbon capture and storage facilities
rejecting a new generation of nuclear power stations; based on the evidence that nuclear is a far more expensive way of reducing carbon emissions than promoting energy conservation and renewable energy
improving energy efficiency in the commercial and public sectors by strengthening the carbon reduction commitment energy efficiency scheme.