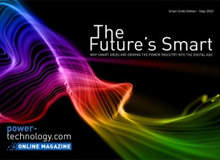 Using an engaging mix of editorial, images, video and animation, the online magazine will bring you in-depth coverage into the latest technological developments that are moving us towards a stronger, smarter and more reliable grid. To view the issue, click here.
The utility industry is in the midst of great change, facing the urgent need to enable more efficient energy delivery and reduce greenhouse gases, whilst updating a aged transmission and distribution network.
Within this changing environment, the smart grid is being viewed as one of the most important innovations, with the capacity to store and regulate mass quantities of information for energy users across the world.
Smart grid technology and implementation
This issue explores how the deployment of the smart meter and its associated advanced metering infrastructure (AMI) will impact every part of the power industry. Ozge Ibrahim speaks to SAP and Verizon to uncover the emerging technologies.
Mitch Beedie looks at how virtual power stations could be the answer to increasing efficiency and ensuring supply from renewable sources are key priorities in promoting their uptake. Accenture's Shahid Ahmed looks at the journey utilities need to take as they move towards a smart grid communications infrastructure.
Funding, investment and opportunities
The issue also looks at the investments being injected into the smart grid market from utility companies and governments alike. Market advisory firm Zpryme shows us the top ten countries investing stimulus funds, with a special focus on the opportunities in China. Elsewhere, GlobalData looks at the top ten projects in the US that will benefit most from stimulus funding. In video we have President Obama announcing his vision of a new energy future and second round stimulus funding.
To view the issue, click here.